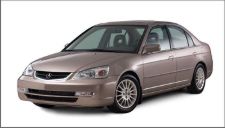 Canadian-only Acura Offers Good Value
1.7 EL Basically a Bargain
By Jim Bray
Acura's 2001 1.7 EL is a marvelous bargain that makes luxury and performance almost as affordable as a garden variety Honda Civic or Toyota Corolla.
That's the good news.
The bad news is that, unless you're a Canadian, you can't get this snazzy set of wheels.
Unfortunate? You bet! That's because, for the comparatively affordable price of $23,500 Canadian (or about $59.95US - okay, I'm kidding, it would be closer to $19,000 US, which is part of what makes it such a bargain for Canucks)  you get Honda's marvelous VTEC engine technology coupled with just about all the creature comforts you could want.
Based on the Honda Civic sedan, the Acura EL has been available in Canada for a few years now, but the 2001 model (as is the 2001 Civic) is an all new incarnation. It gets its power from an aluminum alloy, 1.7 liter SOHC 16-Valve VTEC Engine that cranks out a decent 127 horsepower @ 6300 RPM and 114 pound feet of torque @ 4800 rpm. Those aren't heady numbers, of course, but having driven the EL for a week I can safely say it has all the power and torque you need in a car of this ilk - and in fact it goes like heck! This silky smooth, high revving engine also comes with Multi-point Programmed Fuel Injection (PCM-F).
My tester, thankfully, came with the standard 5 speed manual transmission and it's a real pleasure to shift at any point in the revs, but if you let the VTEC kick in at the higher revs your shifts will be a lot more fun. The only option, for $1000 Canadian, is a four speed automatic that, while undoubtedly a fine slushbox, will undoubtedly take a lot of the fun-to-drive quotient out of the package.
The EL's front suspension consists of MacPherson struts with stabilizer bar. This is the same configuration that caused some media angst when it appeared on the 2001 Civic because it replaces the supposedly superior double-wishbone of the previous model. Maybe it is inferior, but in the real world it doesn't matter a whit: this car handles surprisingly well for what's basically a gussied up Civic.
The rear suspension is independent double-wishbone with coil springs and stabilizer bar, and the shocks are hydraulic gas pressurized all around.
Handling is also helped by the EL's Variable power-assisted rack-and-pinion steering and a good set of all-season, 185/65 R15 tires.
Okay, that covers the "go" part of the equation. The "stop" part is accomplished by four wheel disc brakes (the fronts are ventilated as well) equipped with an anti-lock system. Stops are firm and straight and comfortable.
Inside the Acura EL is an all leather and plastic (the plastic, includes the "wood" accents, which are actually quite handsome) interior that's very comfortable. The heated driver's seat  (the passenger seat is also heated) is very comfortable and offers good support - including good lateral support for when you take the car onto those delicious twisty bits of road. Pedal feel is first rate, as is their placement, and Honda has stuck a driver's left foot rest in the perfect place for the length of my legs.
Both front seats offer plenty of room and the back seats will hold three in a pinch, and even the unlucky soul who gets stuck in the center of the rear will have a better time of it because there's no "transmission tunnel" hump to intrude on the interior space. The rear seat also splits 60/40 and folds down to offer extended storage for the already-large trunk.
Creature comforts abound, with a few small and relatively unimportant exceptions. You get CFC free air conditioning with a micron air filtration system, a power moon roof, and a 120 watt AM/FM/CD stereo system with four speakers. The audio system quality is fine, though not outstanding - and here's where one of those small omissions come in: there are no stereo controls on the steering wheel (you only get cruise control buttons).
Another slight oversight is the placement of the front cup holders: they're forward of the gear shift, which means you have to reach for them and possibly take your eyes off the road. I would have preferred to see them farther back, more in the area occupied by the hand brake. Not only that, but the fake wood cup holder cover (a nice touch that'll keep grunge out of the depressions) didn't fit quite as well as it should, either: it appeared to be ever so slightly warped so that one corner of it stuck up a bit. This was the only fit and finish complaint and it's pretty nit picky.
Other minor complaints were the positioning of the driver's seat armrest, which I thought got in the way of operating the gear shift to a certain extent. This is easily fixable, however, by folding the armrest up. Then there's the air conditioning control: when you put the heating/ventilation system onto the defrost/defog settings, the air conditioning automatically comes on, which is a really nice touch. Unfortunately, it stays on when you switch back from defrost/defog (Hyundai's Santa fe, on the other hand, takes care of this automatically) - and I noticed a slight decrease in oomph when accelerating while the a/c is activated, which manifested itself mostly as a slight hesitation as the revs passed through the area of 3000 rpm.
Still, if these are the most major complaints I could find, and they were, this must be a pretty spiffy set of wheels!
And it is.
You also get Power Windows with Driver's One-Touch Auto-Down, power door locks with a keyless entry system, lighted interior switches, time delayed fading interior lights, and a tilt steering wheel. Instrumentation includes everything you need, including a tachometer, and it's well laid out and easy to read.
On the outside, Acura fits the EL with body colored bumpers, side moldings and door handles, front splash guards and heated mirrors. You also get a nice, and non-tacky, set of alloy wheels and, in Honda tradition, the radio antenna is built into the rear window. This latter is an interesting point and shows Honda/Acura's attention to detail: the antenna works fine, and the fact that it's in the rear window, rather than the front windshield, means it'll be cheaper to replace the front windshield if necessary.
Safety features include the abovementioned ABS, as well as driver and front passenger air bags and dual threshold side air bags with front passenger seat occupant size and position sensors. There's also a built in security system.
In all, the Acura 1.7 EL is a very nice car to drive and to live with. While if I had the budget I'd opt for something a tad more high end (like its cousins, the TL or CL Type S), I wouldn't hesitate to pony up to the bank manager to finance an EL. Since our primary personal car could be considered comparable to this model, except that it's nearly  ten years old now, the EL would make a fine replacement for it.
Oh, for those lucky readers who aren't living in socialistic Canada, you can get probably eighty to ninety per cent of the Acura EL by opting for the top of the line Honda Civic sedan EX.