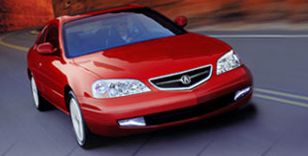 Acura Waves a Red Flag to a Bull
3.2 CL Type S a Road Rocket
by Jim Bray
Acura's 2001 3.2 CL Type S is such a missile you may want to purchase a radar detector to go with it.
Its 260 horsepower and 232 pound feet of torque launch it almost as if it had solid rocket boosters, which makes it an easy target for officers looking to shoot a few motoring fish in a barrel. The bright, fire engine red color of the 2002 model I drove for about a week didn't help: I might as well have had a "ticket me!" sign.
Needless to say, driving the CL Type S is an "accelerating" experience.
The Type S is the enhanced version of the standard 3.2 CL, a two door coupe that reminds me of my old 1983 Toyota Supra, except that it's a few generations more advanced and doesn't whine and rattle the way my Supra now does whenever I spur it on.
In short, it's a fine personal sports coupe that offers you a lot of fun for your $31,000.
The heart of the car is a 3.2 liter single overhead cam VTEC V6 engine that redlines at 6900 rpm. Acura says it'll take you from zero to sixty in a heartbeat more than 6.5 seconds; I didn't time it (being too busy hiding the silly grin on my face), but sixty mph comes, and passes, very quickly.
This lovely engine is fitted with Programmed Fuel Injection (PGM-FI), a Direct Ignition System, and mated to a slick-shifting 5 speed "Sequential Sportshift" automatic transmission. This tranny is basically an automatic you can shift manually and while it's a lot more fun than just sticking it into "Drive," it still isn't an honest to goodness manual.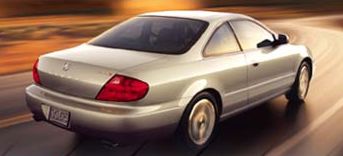 Keeping you from becoming airborne at the first turn is independent double wishbone front and independent multi-link double wishbone rear suspension with gas-pressurized progressive valve shocks. Couple this to the Type S' 17 inch cast aluminum alloy wheels and P215/50R17 Michelin tires and you have a car that's as nimble as it is fast - and which offers good road feel.
Bringing CL's 3509 pounds to a halt are big four channel anti lock disc brakes with four wheel speed sensors and electric/hydraulic control. Stops were straight and smooth, and the ABS hardly ever felt it necessary to activate.
As if all this tech stuff isn't enough, Acura has also given the Type S a Vehicle Stability Assist traction control system. It works well, though I had no trouble beating it when irresponsibly peeling out on wet roads. The technology caught up quickly enough, however, and I could almost hear a "tut tut" coming from the car's speaker system.
That speaker system is part of the car's AM/FM/Cassette/CD stereo with in dash 6 disc changer. This 6 speaker system is probably the car's weakest link. Oh, it's fine, but it didn't sound as good (or play as loudly) as the one in an Acura MDX I drove a while back. If that's the biggest problem with the CL, however, that's pretty minor.
The rest of the interior is leather and (rather handsome, actually) plastic wood. The very comfortable driver's seat features 8-way power adjustment (the front passenger's seat has 4-way power adjustment), and the remote keyless entry system activates the memory feature that positions the seats and outside mirrors.
The automatic climate control system filters out pollen, dust etc.
It's easy to find a comfortable driving position in the CL; even the back seat's decent for two adults - and the trunk's so big you could probably store a few more passengers there. Anyone for a drive in movie?
A small, potentially dangerous downside to the CL is its large side-mounted mirrors, which can block your view of cross traffic at intersections.
The CL was a real gas during a trek onto mountain roads, felt stable at all speeds and handled the twisty bits and hills with aplomb. It went through its share of gas, too, but that's to be expected if you spur it along as if it were a thoroughbred.

If all this performance is a tad intimidating, the regular CL is a little bit more restrained. It has the same engine, but "only" puts out 225 horsepower and 216 foot pounds of torque. It also saves you a couple of grand.
Ah, but that Type S rocks!