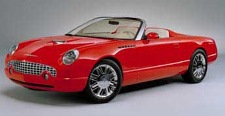 Carmakers Wielding Some Wild Wheels in 2002
Looks like another Good Year Coming!
by Jim Bray
The 2002 automobile model year may seem almost like getting married.
Why? Well, depending on the manufacturer and model, auto consumers will be treated to "something old, something new, something borrowed" – and you can rest assured that many of the models will be available in blue.
"Something Old" that's new again is the 2002 Ford Thunderbird, an exciting new rear wheel drive two seat convertible that's easily the most interesting T-Bird since the days of sequential turn signal lights.
The new Bird continues the retro-look trail blazed by the Plymouth Prowler hot rod, Chrysler PT Cruiser, and the new Volkswagen Beetle, though I think it does the best job of the bunch at capturing the spirit of an old-time vehicle. I saw the new Thunderbird at a recent auto show, where it was displayed next to a 1956 T-Bird, and the heritage is unmistakable. I'll take my hat off to Ford – as long as the end quality lives up to the promise.
The convertible will also have an optional hard top that features the old port hole look from days gone by. Though the vehicle's appearance is "dated" (in the nicest way), under the Thunderbird's sheet metal is a car reflecting the state of Ford's art. It's powered by a 3.9 liter Double Overhead Cam V8 engine (rated at 252 horsepower at 6100 rpm and 267 lbs.-ft. of torque at 4,300 rpm) and features four wheel independent suspension, anti-lock disc brakes, traction control, and variable-assist rack-and-pinion steering.
Alas, it appears that, unfortunately, the car will only be available initially as a five speed automatic.
"Something New" includes new flagship models from Lexus and Infiniti. The Lexus SC430 replaces the terrific SC400 sport coupe that set the world on fire with its combination of luxury and performance combined with radical (but beautiful) styling, while the new Infiniti Q45 tries to regain some direction for a good car that had the bad luck of being overshadowed by the original Lexus LS400.
The new Lexus coupe is a sleek and sexy two four seat (well, four in a pinch) roadster with an almost-silently-operating convertible hard top. The coupe gets from zero to sixty in 5.9 seconds, thanks to a 4.3-liter, double-overhead-cam Ultra-Low Emission (U-LEV) V8 engine that cranks out 300 hp and 325 lb-ft torque. Inside, not surprisingly for a Lexus, is just about every creature comfort one can imagine.
Infiniti says its third generation Q45 offers a complete rethinking of the performance luxury sedan and promises an exhilarating driving experience. It's still powered by a 4.5 liter V8, but now it lays 345 horsepower, with 333 foot pounds of torque, onto the road.
The Q45's styling is new and avant-garde, which doesn't necessarily mean it's attractive. As with the original Infiniti flagship, however, it is definitely unique and, beauty being in the eye of the beholder, that isn't necessarily a bad thing. The interior is typically state-of-the-art yet, compared with some of its competition, seems comparatively restrained in its execution.
The SC430 and Q45 are only available with 5 speed automatic transmissions. This is a particular shame for the Lexus, 'cause a standard would make it a real hoot to drive.
On the upside, Lexus promises that its IS300 "BMW-beater" will have a stick shift available in about another year.
"Something Borrowed" could apply to the new line of Subaru Imprezas, which borrow from the company's rally heritage to create the line-leading Impreza WRX Sedan and wagon.
Redesigned and reengineered for 2002, Impreza WRX is touted by Subaru as a lot of fun to drive. Power comes from a turbocharged two liter, sixteen valve four cylinder low emissions engine that puts out 227 horses and 217 foot pounds of torque; 80 per cent of the peak torque is available at 2,200 rpm, so this thing should pull!
The WRX offers either a 5-speed standard transmission (Hooray!) or a four speed automatic. The slush box is fitted with a new Variable Torque Distribution (VTD) enhancement to its all wheel driving system.
The 2002 Imprezas are slightly bigger, offering more head, shoulder and (rear) leg room.
Other Impreza models include the RS Sedan, TS Sport Wagon, and Outback Sport. They're equipped with Subaru's 2.5 liter, 16 valve low emissions 4 cylinder engine.
"Something Blue?"
Me. I can't afford any of the cars here!