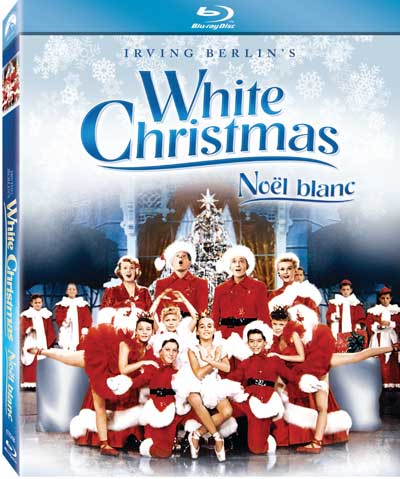 "White Christmas" on Blu-ray
Timeless Musical Classic
Paramount's 1954 movie "White Christmas" is a wonderful holiday classic that gets better with successive viewings.

Starring Bing Crosby, Danny Kaye, Rosemary Clooney, and Vera-Ellen, and with excellent music by Irving Berlin, it's a song and dance extravaganza that warms the heart - and on this new Blu-ray release it looks better than ever, hands down.

After saving singing star Bob Wallace's (Crosby) life during a World War II attack, Phil Davis (Kaye) wriggles his way into Wallace's act and his life as the crooner is embarrassed into showing his gratitude for Davis' selfless act.

This means that, after the war is over, Davis' solo act is transformed into the hugely successful "Wallace and Davis" duo, which takes the US by storm and eventually turns to producing their own lavish shows.

One winter after performing in Florida, shortly before their Christmas break, they audition a sister act Betty and Judy Haynes (Clooney and Vera-Ellen) as a favor to an old army friend, and the romantic sparks immediately fly.

The sisters are booked for a gig at a ski lodge in Vermont for the holidays and Davis connives a way to get his partner and him there to advance the romance he so dearly wants miserable old Bob to have with Betty Haynes (Clooney). As it turns out, the ski lodge is owned by Wallace and Davis' old army boss General Waverly (retired), played to sad puppy-eyed perfection by Dean Jagger.

His lodge is in serious financial troublebecause, while it's December, there's no snow and therefore no customers - so Wallace and Davis combine forces with the Haynes Sisters to mount a big-time production to get bums in the seats to keep General Waverly in the black.

The songs, including "White Christmas," "Sisters," "The Best Things Happen While You're Dancing," "Choreography," and many more, are classic Irving Berlin. The choreography is outstanding (Vera-Ellen and Danny Kaye light up the screen with their steps), and the performances are simply wonderful, though we thought Dean Jagger's characterization was a little too pathetic for someone who had been a strong male role model - but that's undoubtedly what the director intended.

That director was Michael Curtiz, the man behind such legendary screen classics as "Casablanca," "The Adventures of Robin Hood," and "The Charge of the Light Brigade." His shots are masterful, to say the least.

Even the sets are spectacular. The movie was shot almost exclusively on sound stages and if you look closely you can tell (especially with the 1080p quality of the Blu-ray), but even the outdoor locations of the ski lodge, the WWII camp, and others, are beautifully crafted and look natural.

The Blu-ray definitely does the glorious widescreen VistaVision picture and colors justice, finally. Detail is exquisite; you can practically count the threads on the military uniforms and the many various and colorful costumers. Speaking of color, this movie has a very broad range of color, thanks to the different settings and the many costumes used in the musical numbers. On our DVD version of the movie, reds (especially) tended to smear quite a bit but here they're rich and glorious - and you can tell distinctly different shades of the same colors.

Overall, it's a tad oversaturated, but that may be due to the film stock used originally. Flesh tones look a little - and just a little - weird, but overall we're delighted with this 1080p/24 (1.85:1) transfer.

The audio is the weakest link. It isn't particularly dynamic on either the dts HD Master Audio 5.1 track (which still sounds mostly mono to us) or the restored mono version. And it's pretty low: we had to crank it up about five settings from our usual default just to make it listenable. Chalk it up to the original source and its age.

Extras include a retrospective interview with Rosemary Clooney, who also does a running commentary on a second audio track. There are also two trailers included, an HD look at the transition of the movie from screen to Broadway stage, another one on the music of Irving Berlin and Danny Kaye sings "Joy to the World." There are also featurettes on Rosemary Clooney and Bing Crosby.

White Christmas, from Paramount Home Entertainment
120 minutes, 1080p Widescreen (1.85:1), dts HD Master Audio and restored mono
Starring Bing Crosby, Danny Kaye, Rosemary Clooney, Vera-Ellen
Produced by Robert Emmett Dolan
Written by Norman Krasna, Norman Panama and Melvin Frank, Directed by Michael Curtiz


Jim Bray's columns are available from the TechnoFile Syndicate.