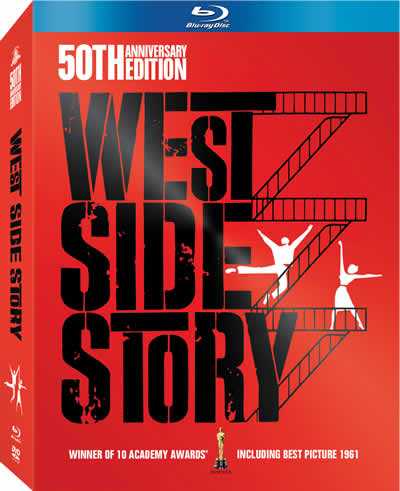 West Side Story on Blu-ray
One of Hollywood's greatest musicals is nowa vailable on Blu-ray, and for the most part it's a great release.

There's one thing unforgivable about this release, though, and it's a glaring flaw to anyone who really knows this movie. More about that later.

West Side Story, the Romeo and Juliet as New York street gangs story, was nominated for 11 Oscars, winning 10 including Best Picture, and they were well deserved.

The movie is a true masterpiece that passes the test of time. The opening twenty minutes, which includes the overture (played over an abstract artwork that turns out to be the New York skyline) and the prologue sets the scene beautifully, introducing us to the Jets and the Sharks and clearly showing their hatred for each other – all set to Leonard Bernstein's great music and with Jerome Robbins' fabulous choreography that blends dancing with fighting. It really must be seen to be appreciated.

The Jets are the heroes, though they're capable of some pretty unheroic actions. Riff (Russ Tamblyn) is their leader, who took the reins after gang co-founder Tony (Richard Beymer – the film's Romeo) outgrew the gang and got an honest job. The Sharks, the other heroes, are led by Bernardo (George Chakiris), whose younger sister Maria (Natalie Wood) is our Juliet.

Tony and Maria meet at a dance and it's love at first sight, but they're from different worlds, so their star crossed romance is doomed from the start. They don't care, though; love is blind.

Maria tries to get Tony to stop an upcoming rumble between the Jets and the Sharks, wanting peace between the gangs not only because it's the right thing to do but because it will also make her and Tony's doomed relationship possible. But things go terribly wrong when Tony intervenes in the fight, and Riff – his best friend - and Bernardo both get killed.

On the run, Tony waits at a friend's for his love to join him, but she's delayed and instead sends her friend and Bernardo's love interest, Anita (Rita Moreno), to give Tony a message. This plan also goes horribly awry and, thinking Maria is dead and he's lost forever, Tony takes to the streets again hoping to join her in death.

This quick rundown of the plot doesn't come close to doing justice to this masterpiece of musical tragedy, but we don't want to spoil it for those who may not have seen West Side Story yet.

Naturally, the movie is peppered with liberal helpings of music, song and dance, including such showstopping numbers as "America," "Tonight," "Officer Krupke," "Somewhere," and "Cool." The musical numbers are terrific, as is the score, and the cast is wonderfully exuberant. Robbins' choreography captures the teen frustration beautifully without making the audience lose its suspension of disbelief when these toughs start dancing through the streets (despite this reviewer's wife's comment about them "flitting about"!).

A wonderful, wonderful film experience that will leave moved anyone whose heart isn't made of stone.

The Blu-ray definitely does the subject matter justice, though it isn't perfect. The first flaw - and it's a big one - is that for some reason not apparent, the picture fades to black and then back in again during the overture, just before the lines on a colored background magically morph into the live action stuff. What's with that?

It probably isn't enough to make this package not worth owning, but it sure is annoying! And there appears to be no reason for it.

Other than that, the picture quality is for the most part wonderful. The 1080/24p image is bright and clean and colorful, with fine detail and good depth. It looks positively glorious, except for the odd shot where the color appears off. Overall, however, this is the definitive version so far.

The audio, which has been remixed into DTS-HD Master Audio 7.1, is about as good as one could hope for from a film of this vintage. There's not a lot of surround use, though there's some, but they've made excellent use of the three front channels, especially the main stereo speakers that handle the orchestrations. Some of the dubbing is obvious (Most of the main actors' singing was dubbed), but overall the fidelity of the soundtrack is excellent.

The three disc set we received (two Blu-rays and a DVD) includes a second BD of extra material over and above the stuff on disc one. The main disc includes "Pow! The Dances of West Side Story," In-Movie Viewing Experience, which is pretty self explanatory. There's also a song-specific commentary by lyricist Stephen Sondheim. "Musci Machine" lets you access the songs directly.

The second disc includes "West Side Memories," a vintage feature in which they've reassembled the surviving cast and crew members and get them to opine about their experiences of some forty-odd years ago. It's actually very good!

You also get "A Place for Us: West Side Story's Legacy," and a storyboard to film comparison section.

Other than the disgusting fade out/in, we take off our hats to MGM for their beautiful Blu-ray version of a true classic. We hope they release it again corrected - and let owners of the current disc exchange them for free.

West Side Story, from MGM Home Video
152 min. 1080p/24, DTS-HD Master Audio 7.1 surround
Starring Natalie Wood, Richard Beymer, Russ Tamblyn, Rita Moreno, George Chakiris
A Robert Wise Production
written by Ernest Lehman, Directed by Robert Wise & Jerome Robbins



Jim Bray's columns are available from the TechnoFile Syndicate.