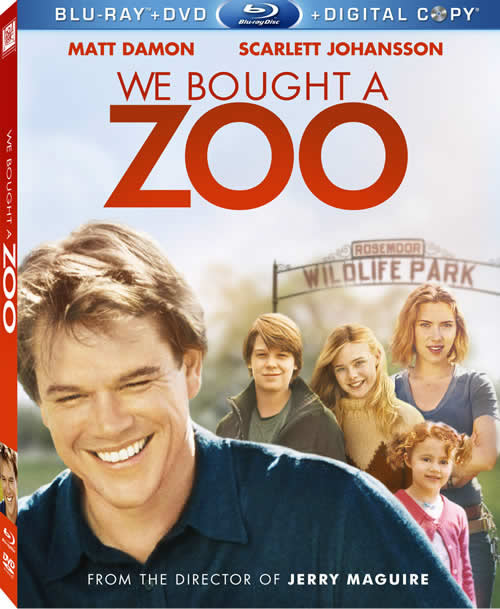 We Bought a Zoo on Blu-ray
How's that for a title that makes you say "ho hum?" It's too bad because, sappiness and predictability aside, We Bought a Zoo is a sweet and compelling movie from a fine director.

Cameron Crowe is that director – famous for Almost Famous, Jerry Maguire, Vanilla Sky, and others. Based on a true story by writer Benjamin Mee (played here by Matt Damon, of "Team America World Police" - okay, he wasn't actually in that film - fame) We Bought A Zoo follows the ups and downs of Mee and his two kids as they toss their old lives away and embark on a new and life-changing adventure. Strangely enough, given the title of the film, they buy a zoo.

Mee is a widower who still pines for his late wife after six months which, given how much he loves her, doesn't seem like too long a time. He's doing okay, but there's a real hole in his life.

Not only that, his teenage son, Dylan, appears to be falling under the influence of the dark side. He's a talented artist, but his work has become more bizarre as his thoughts cloud. He's also been suspended – then expelled – from school.

The only one who appears unscathed, is seven year old daughter Rosie – a cute, perky and precocious kid you just know is going to be central to the plot.

Mee decides it's time for a big change – a move out of the city and to something new. After looking in vain for the right place, they discover this small, closed down zoo that needs plenty of work to get it up and running again. Benjamin sinks everything he has into it, and then their new task becomes getting the zoo up to code again so it can be reopened, while rebuilding his and his family's lives in the process.

The zoo comes with a built in crew of its own, led by chief zookeeper, Kelly (Scarlett Johanssen) and backed up by a very competent but typically Hollywood diverse gaggle of larger than life characters. And there are animals, too, of course, chiefly some beautiful big cats, a bear and, much to Dylan's eventual chagrin, a bunch of snakes.

Also along for the ride is Thomas Hayden Church playing Mee's brother, in a role quite similar to Bonnie Hunt's sister role in Jerry Maguire. He's basically the voice of conventional reason whose advice is ignored by Benjamin.

Will they be able to rebuild the zoo, get it open and profitable again and put their shattered lives back together again?

Of course they will!

There aren't really a lot of unexpected twists here, nothing really surprising happens, and it really does border on schmaltz at a goodly number of times. And yet it works. And it works well. We found ourselves smiling, tearing up, cheering (silently, fortunately), and really wanting this nice family – and their growing extended family of friends and employees – to succeed.

Crowe does a nice job here of taking what might seem to be a bit of a flaky Disney-style movie and making a movie that works on every level. It isn't a kiddie film, but rather an adult story kids can enjoy as well. There's no sex, no cussing of note (so you don't really need the "family friendly" soundtrack that's also offered), some beautiful animal scenes, and characters you really care about.  

And while you'd expect Damon and Johansson's characters to hook up, they don't, really. Oh, they may going forward, but that's after the credits have rolled. Meanwhile, the real romance is between Mee and his dead wife (though she doesn't really appear on camera except for one very brief scene at the end) – and instead of it being creepy or maudlin, Crowe makes it seem natural and proper.

So what we get is your typically "feel good" movie, except that this one is also a very good movie that just happens to make you feel good in the process of it unspooling before your eyes.

The Blu-ray is also very good. We received the three disc combo pack that includes Blu-ray, DVD and digital copy.  The video quality is great, with a nice and clean picture that brings the lovely cinematography to life very well. Colors are nice and rich, detail is fine indeed, and the image shows very nice depth, with excellent black levels.

We reviewed the DTS-HD Master Audio 5.1 surround audio track (as mentioned, there's also a "family friendly" track you don't really need), and it's also first rate. Cameron Crowe is known well for his use of music – usually via popular recordings he uses to enhance the mood – and this film is no different. And it sounds really good. In one instance, he plays the instrumental intro to Tom Petty's "Don't Come Around Here No More" as a background to where Dylan gets kicked out of school, a delicious choice used deliciously the same way he used Petty's "Free Fallin'" in Jerry Maguire, when Maguire's life is in free fall but he doesn't realize it yet.

The rest of the sound works very nicely as well. Every channel is used, whether it be for ambience, animal sounds, whatever. When the bear barks loudly, it comes across so strongly you can imagine what must be going through Mee's head at the time. Rain splattering around you, animals in the distance – and of course dialogue – all comes through beautifully. Not quite reference stuff, perhaps, but very enjoyable.

Extras include an audio commentary with director Cameron Crowe, Actor JB Smoove and Editor Mark Livolsi, and it's a very enjoyable one.  There are also some deleted and extended scenes, a gag reel and an hour-plus-long Making of.. documentary in five parts, that's well worth your time.

"Their Happy is Too Loud" looks at the score, by Jónsi. "The Real Mee" has nothing to do with The Who's Quadrophenia, obviously, though Crowe is known to have made great use of Who music in past features. Here, of course, it's a look at the real story of Benjamin Mee, in his own words as he walks you through his real zoo in England.

There's also a photo gallery, an animated short "Scrat's Continental Crack Up" and the trailer for "Alvin and the Chipmunks: Chipwrecked." It's stafe to skip both of these.

You also get the theatrical trailer and BD-Live.

We Bought a Zoo, from 20th Century Fox Home Entertainment


Jim Bray's columns are available from the TechnoFile Syndicate.