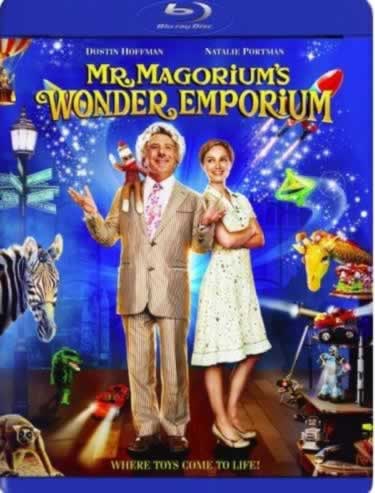 A trio of interesting family-oriented films has made its Blu-ray debut, films of varying quality and which had varying box office success. The best of them is The Water Horse - Legend of the Deep, which plays with the Loch Ness monster legend, while the worst is Alvin and the Chipmunks, a weak attempt at making the singing rodents relevant to the 21st century.
We'll save the best for last; if you can't wait, follow the links above.
Mr. Magorium's Wonder Emporium on Blu-ray disc
This movie really tries hard but in the end it's more or less a snoozer. And that's too bad; the idea is cute. And kids may enjoy this gentle tale.
Mr. Magorium (Dustin Hoffman) is the eccentric and long lived owner of a magical toy store in downtown wherever. Among all the glass and concrete towers of this urban jungle sits his little, old fashioned toy store, where the toys - and even the building - have lives of their own.
The store is managed by Molly Mahoney (Natalie Portman), who doesn't want to be there but it beats screwing up her courage and taking a chance at following her real dream of being a musician. And some kid with a bunch of hats likes to hang around the store as well.
Magorium, who's more than 200 years old, sense his impending "departure" (Light bulbs die, he's merely going away) and hires a tightly wrapped accountant (Jason Bateman) to bring his affairs into order - a big job since it appears he's never even filled out a ledger, let alone operated a spreadsheet - so he can leave his little empire to Mahoney, whether she likes it or not.
The movie has its moments, and its magical charm (we liked in particular the store's reaction to Magorium's demise and its rebirth under the now-confident Mahoney's regime), and its theme of having the courage to dream and to excel is a good one. And it isn't as dark and preachy as Charlie and the Chocolate factory, to which it can be compared fairly.
Hoffman is a terrific actor, but here he seems to be combining his Dorothy Michaels characterization with Johnny Depp's Willy Wonka, and it just doesn't work. It's almost as if he's there for the paycheck, which may be unfair but which is the impression we got.
Portman and Bateman are fine as Mahoney and Henry the "Mutant" accountant. She's pretty and pleasant and carries the film as well as possible, though sometimes you just want to reach into the screen and slap some sense into her (which we suppose means her performance worked) while he brings a sense of being grounded in reality until circumstances force him to change his world view.
The best performance comes from the kid. Zach Mills' Eric Applebaum is the most three dimensional of the characters, as well as the most interesting. Who'd have thunk?
The Blu-ray disc features a crisp and sharp 1080p widescreen (2.35:1) picture, as of course it should. The movie is full of wonderfully bright colors and they come across on the 1080p home theater very well. Black levels are very good and so is the depth.  
Audio is also very good. Fox has released the disc, as usual, with dts HD 5.1 Master Lossless audio and it shows. There's good, though quite subtle, surround use that provides good ambience and the overall balance and directionality is very nice.
Extras include, well, nothing. Weird.
Mr. Magorium's Wonder Emporium, from 20th Century Fox Home Entertainment
94 min. 1080p widescreen (2.35:1), dts HD 5.1 Master Lossless audio
Starring Dustin Hoffman, Natalie Portman, Jason Bateman, Zach Mills
written and directed by Zach Helm
Alvin and the Chipmunks on Blu-ray disc
What started as a novelty act has turned into a major moneymaker for the Bagdasarian family, not that there's anything wrong with the free market. There've been hit singles, including a "classic" we hear every Christmas season that forms the basis for the antics that take place in this rather weak attempt at updating the concept.
We had trouble making it to the end, though we did - and we even sat through the extras!
David Seville (Jason Lee), the "pen name" of Ross Bagdasarian, the man who dreamed up the Chipmunks (What? They aren't real?), is a song writer looking for his big break. Simon, Theodore, and Alvin are, not surprisingly, chipmunks. And Ian Hawke (David Cross) is an evil capitalist, the type of person Hollywood often trots out as a villain in its attempts to make millions of dollars from the capitalist system. And Cameron Richardson is Claire, the necessary love interest.
The Three Rodents' paths cross with Dave's when their tree is cut down and set up as a Christmas tree in the lobby of Jett Records' building. They end up going home with Dave and, as rodents will, tearing his house apart - in this case in the loveable way that only animated rodents can do (there's no biting to speak of, no bubonic plague, etc.), driving Dave nuts but (when he learns they can talk, and sing) also giving him the inspiration he needs.
So he sits down to write again, coming up with the infamous Chipmunk song in which Alvin is hollered at and wishes for a hula hoop. It becomes a huge hit, propelling the Chipmunks to a lucrative career with Jett records under the wing of the evil Ian, who sows division between Dave and the critters in his evil search for the evil dollar - until finally at the end the Chipmunks realize where their true familial relation lies and run out on what would undoubtedly be iron clad contracts if singing chipmunks were real and could enter into such agreements.
It's about that subtle and imaginative.
The Chipmunks this time around are realized via CG as opposed to the hand drawn illustration and animation that made them famous through years of TV shows, comics and the like. And they're well done.
Heck, the whole production is well done. They just needed a writer who wasn't tasked with putting lipstick on an old concept and hoping we wouldn't notice it was devoid of freshness (it takes more than updating old songs with funky new arrangements to show imagination).
The Blu-ray disc looks and sounds good, but who cares? The presentation is 1080p, 1.85:1 widescreen, with dts HD 5.1 Master Lossless Audio and we can't really fault the presentation. The picture is sharp and clean and colorful, the sound is very good, with nice use of the surround channels and good fidelity in the musical parts.
Extras include "Chip-Chip-Hooray", a feature on the history of the Chipmunks, and it's pretty interesting. But you can also read it online for free...
You also get a featurette on the music, as well as some trailers.
Okay, kids might enjoy it, but there are far better films than this, especially if you don't want them to start buying into the "businessmen are evil" mantra that emanates so often from the businessmen in Hollywood who greenlighted this film.
Alvin and the Chipmunks, from 20th Century Fox Home Entertainment
91 min. 1080p, 1.85:1, dts HD 5.1 Master Lossless Audio
Starring Jason Lee, David Cross, Cameron Richardson, Justin Long
Written by Jon Vitti and Will McRobb & Chris Viscardi, directed by Tim Hill
The Water Horse, Legend of the Deep on Blu-ray disc
Then there's The Water Horse, a delightful fantasy "from Walden Media who brought you The Chronicles of Narnia."

As with Narnia, the movie is set during World War II, this time in Scotland where an artillery regiment has been sent to protect the Scots coastline from Nazi submarine invasion.

Here's how the package describes the film: " When a lonely young boy named Angus discovers a large, mysterious egg along the shores of Loch Ness, no one is prepared for what lies within. He soon discovers that the strange, mischievous hatchling inside is none other than The Water Horse, the loch's most mysterious and fabled creature! But with the Water Horse growing ten times its size every day, Angus finds it increasingly difficult to keep his new friend a secret. Two-time Academy Award(r) nominee Emily Watson (1998, Hilary and Jackie; 1996 Breaking the Waves), Alex Etel, Ben Chaplin (The Thin Red Line), David Morrissey (The Reaping) and Brian Cox (Running with Scissors) star in this heartwarming tale from director Jay Russell (Tuck Everlasting) and written by Robert Nelson Jacobs (Flushed Away).

That doesn't really do the movie justice. Angus is more than lonely, he really lacks direction as he waits in his father's workshop for him to return from the war. He doesn't know, though his mother does, that his father has been killed, so rather than being allowed to grieve and pick up the pieces of his life, he continues in limbo.

Then he finds a funny-looking egg and takes it home, where it hatches and out pops the cute little critter he ends up naming Crusoe (after Robinson Crusoe) and keeping as a pet.

The problem is that the estate in which he lives has been taken over for the duration by the artillery, which makes keeping secret the existence of Crusoe very difficult - especially since he wants to live in water (such as a bathtub) and grows larger by leaps and bounds.

Eventually, Angus is convinced by the new handy man (Ben Chaplin) to put Crusoe into the Loch by which they live, and history is born as bystanders catch glimpses of "Nessie".

Alas, some of these bystanders are artillerymen who want to hunt down the creature - a creature not afraid to defend itself.

It's a bit silly, but in all a wonderful family story of growth, loss, responsibility - all shot in some absolutely gorgeous locations in New Zealand and Scotland. The Water Horse itself is brought to life beautifully by the wizards of Weta Digital who raised the special effects bar with their work on Peter Jackson's Lord of the Rings trilogy and King Kong.

 The movie is presented in 1080p high definition, at an aspect ratio of 2.40:1, and the picture is marvelously clean and free of artifacts. The colors are rich and deep, with black levels that give the overall look nice depth.

Audio is Dolby TrueHD 5.1 and it is also first rate, with nice rumbling bass when required (for example, when the artillerymen fire up their big guns) and excellent use of the surround channels.

Extras include some deleted scenes and some very nice featurettes on the story itself (it's from a book by Dick King-Smith, the same person who wrote the story upon which the movie Babe was based), the characters, the production (including some nice footage of the wonderful locations), and of course the creation of the special effects. There's also a "virtual Crusoe" game in which you can raise your own Water Horse.

Easily the best of these three films, we highly recommend it for family viewing if you want fun, whimsy, wonder - and real imagination.

The Water Horse, Legend of the Deep, from Sony Pictures Home Entertainment
112 min. 1080p, 2.40:1 widescreen, Dolby TrueHD 5.1
Starring Emily Watson, Alex Etel, Ben Chaplin, David Morrissey and Brian Cox
written by Robert Nelson Jacobs, directed by Jay Russell


Jim Bray's columns are available from the TechnoFile Syndicate.