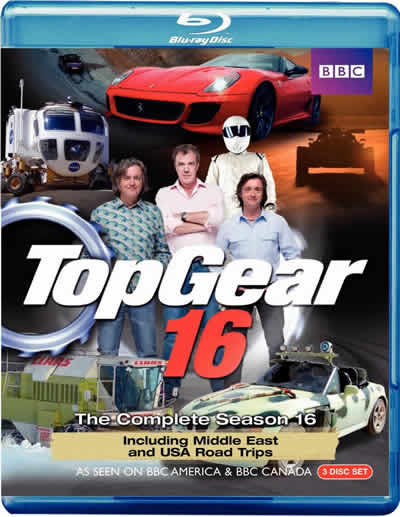 Top Gear Season 16 on Blu-ray disc
By Jim Bray
August 8, 2011

Probably the most entertaining car show on TV today, Top Gear, is shown around the world and has also spawned spinoff series. But if you really want to watch it the way it should be seen, you really should experience it on Blu-ray.

How else can you chuckle at every nook and cranny of Jeremy Clarkson's face – let alone revel in the rich colors of the many vehicles they cover and the locations they inflict themselves upon on the show?

Season 16, which consists of seven episodes and a couple of specials, is the first one I've had a chance to view on disc, either Blu-ray or DVD, and now I'm hooked. I've been watching the show for a few years on BBC Canada (It also runs on BBC America) and was made an addict by its humor, irreverence, and of course the panoply of great wheels they feature, even if plenty of them aren't available in North America - and even if they were they're priced out of reach of most mere mortals.

The charm of the show comes not only from the vehicles, but from the hosts: lead presenter Jeremy Clarkson, and his rhythm section consisting of Richard Hammond and James May. Each of them bring likeable personalities to their duties and have great chemistry with each other. Hammond and May also display the patience of Job, and keep their humor intact in the face of the basically insufferable (but "lovably so") Clarkson, who bullies and cheats his way through their challenges (and the show itself).

Season 16 brings us a new Stig, the show's faceless "tame racing driver." The old one apparently spilled the beans as to his identity and in this season is now referred to as "Sacked Stig." The new one is introduced during the show's Christmas special, which sees Jeremy, Richard and James as "Three Wise Men" (more like three "wise guys," if you ask me, which you probably didn't) heading from the East (Iraq, as it turns out) to Bethlehem. He then takes up his duties as the test driver of the hot laps they run with most of their test cars – as well as performing as mentor to the stars they regularly put into their "reasonably priced car" to compete in a celebrity hot lap contest.

The season also sends the team to America for a road trip through some of the eastern states, culminating in a race through Manhattan as they attempt to see which of their supercars is the best. This time, perhaps because they realize there are many Americans who watch the show, their British arrogance toward the colonists is kept mostly under wraps - and that's very welcome.

There's another road trip, to Albania, where they perform their usual histrionics with a Rolls-Royce, Mercedes-Benz and a "Bentley", as well as the typical comparisons they do that let us lust after the cars while they impart totally useless information about them.

For example, Richard Hammond goes to South Africa to see if a Porsche 911 Turbo S – which just happens to be the car after which I lust the most, since I took it on a road trip of my own earlier this year (though Hammond's is a Cabriolet) – can cover a mile faster than an old Volkswagen Beetle, which they correctly remind viewers is the spiritual foundation of the mighty 911.

This might seem like a no brainer but, in typical Top Gear manner, they hamstring the mighty Porsche by taking it off its natural element – asphalt – and force it to compete instead on a salt flat with less traction – and then they give the Beetle a bit of an advantage, bypassing its ancient and anemic powertrain by dropping it from a helicopter hovering a mile above the finish, er, spot.

As a newcomer to the disc-based Top Gears, I was intrigued by the supplementary materials, which include a tour of the Top Gear facility (the office and the hangar in which they shoot the program), behind the scenes looks at stars tackling the show's reasonably priced Kia, and a few other interesting and entertaining tidbits.

It was eye opening getting to watch some of the season's shows on the three disc set within a few days of having watched the same shows on cable TV. The lack of commercials on the disc, coupled with the time to let the shows unfold with no consideration required to sandwiching them into an hour of broadcast time with commercials, makes them flow much better.

And of course the high definition picture doesn't hurt, either. I've been watching Top Gear on SD cable, at its 480i resolution, so the leap up to 1080i makes a huge difference. Not only can you see every blemish on the presenters' faces but, as mentioned, the cars (which are supposed to be the reason we watch, but which are only part because the show's just so darned entertaining in its own right) and the exotic locations also benefit hugely from the high def picture.

Also, if you've been watching Top Gear in SD with the sides sliced off, you'll probably also like the fact that the Blu-ray is in 16x9 widescreen.

Audio is only stereo, but the quality is very good. You don't get the roars and burbles of the engines nearly as well as you would if you were really there, but it's a lot better than what my cable channel offers.

Now that I've entered the disc-based world of Top Gear, I'm hoping Warner Home Video will release a boxed set with all the seasons I've missed. Sure, the shows are out of date and the cars may not even be made any more – or would be changed substantially at least – but it doesn't matter. With TV unfortunately being, with few exceptions, a vast wasteland, Top Gear stands out as not only a terrific car show, but a show entertaining enough to keep the interest of people other than "petrol heads."

copyright 2011 Jim Bray
TechnoFile.com

Top Gear, Season 16, from Warner Home Entertainment
417 minutes, 1080i widescreen (16x9), stereo


Jim Bray's columns are available from the TechnoFile Syndicate.