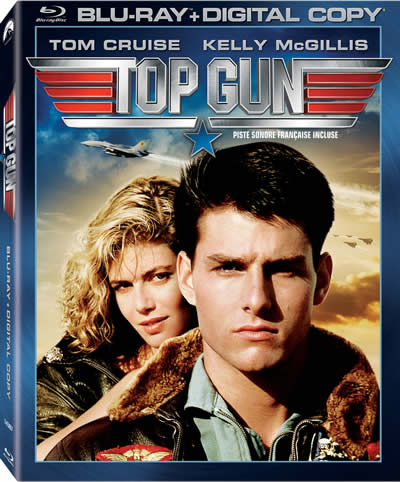 Top Gun on Blu-ray
By Jim Bray

If there were ever a guilty pleasure for pilots, it's Top Gun, the 1986 action flick that stars Tom Cruise as a cocky Navy jet pilot with enough baggage to fill the overhead bins of an A-380.

The film came out just a couple of years after my flying "career," which consisted of about 100 hours of single engine, fixed wing aircraft (Cessna 150 and 172) flying for pleasure in the mountains of British Columbia. I dragged my wife and kids to a Calgary theater to see the movie on its debut, because I wanted to experience those F-14 Tomcats on the big screen with big sound.

I'm glad I did; the flying scenes are great. But the rest is soap opera-ish and rather predictable (well, the flying sequences are pretty predictable too, but they have airplanes!), enough so that you can pretty well shut off your brain and only re-engage when the jets fire up - and then only partially.

Tony Scott's film opens with hotshot pilot Pete "Maverick" Mitchell (Cruise) and his mates on duty on an aircraft carrier sailing the Indian Ocean, when a couple of Russian MiGs (well, they aren't really MiGs, not surprisingly) crash their airspace and send their adrenaline level skyrocketing. Maverick's an excellent pilot, but (surprise, surprise) he's dangerous and reckless. The rules are meant for others.

Despite that – or perhaps because of it – Maverick and his compadre and cockpit-mate "Goose" (Anthony Edwards) find themselves at the Navy's elite "Top Gun" training school, where the best of the best – those, dare I say it, who have "the Right Stuff!" – hone their skills and compete to be the, well, best of the best.

Lots of clichés, eh? Well, that's Top Gun!

Competing against Maverick is a plethora of pilots, led by his nemesis "Iceman" (Val Kilmer), and instructors (including Tom Skerritt and Michael Ironside) who see his potential, but who also know his edge needs to be tempered if he's to reach it.

The estrogen among all this testosterone is provided by the lovely Kelly McGillis, whose "Charlie" is a ground-based instructor on enemy aircraft, upon whom Maverick sets his sights. More estrogen comes from Meg Ryan, as who plays goose to Goose' gander.

The competition is great fun to experience vicariously, the cast is at their young, attractive and lusty peaks, and the flying scenes are a blast to watch, especially if you have a really large screen and the sound to accompany it.

This is also one of the 1980's films that also spawned its share of hit records and music videos, including Kenny Loggins' "Danger Zone" and Berlin's Oscar-winning "Take My Breath Away," the latter of which could have been used during a couple of nifty in-flight maneuvers, but which instead is actually more connected with necking.

The film is still fun, but after 25 years it's even hokier than it was then and that makes it hard to keep from squirming in the home theater. But there are the flying scenes…

The Blu-ray is a two disc "25th Anniversary Edition" the disc of which seems pretty much like the earlier Blu-ray release. It also comes with a digital copy on a DVD.

A nice touch: the BD takes you right to the main menu, without forcing you through a bunch of trailers and "You'll burn in Hell if you copy" warnings that are Hollywood's way of thanking you for your business.

The Blu-ray picture is presented in 1080/24p and it surely won't go down as one of the great reference discs, but it looks okay. There's a bit of depth, the colors are deep and rich, and detail (including grain) is copious. If you're expecting some of those "pop off the screen" titles, you're in for a disappointment, but overall I still enjoyed it.  

Audio comes with two lossless choices: Dolby TrueHD 5.1 and dts-HD MA 6.1. The mix delivers nicely, with very good imaging and oomph". Channel separation is good, and this enhances the experience of the jets flying by – the reason I was there in the first place. And the dogfights sound great!

Supplements appear to be the same as from the earlier Blu-ray release so either there's nothing else available or these extras are the best there ever were. The truth is probably somewhere in the middle…

First up is an audio commentary track, with a group of folk apparently recorded separately that includes director Tony Scott, producer Jerry Bruckheimer, writer Jack Epps, Jr., as well as a trio of technical advisors. "Danger Zone: The Making of 'Top Gun'" is a full length, six part documentary that gives more info than you could probably want unless you're the ultimate "Top Gun" geek. The nicest thing about the doc is that it's entertaining, too.

You also get some Multi-Angle Storyboards with optional commentary by Scott, a gallery of videos made during the production, TV commercials and an interview with the young Tom Cruise. "Best of the Best" is a pretty good look at the real training facility that's probably every guy's dream vacation.  

Top Gun, from Paramount Home Entertainment
109 min. 1080p widescreen (2.35:1), Dolby TrueHD and dts-HD MA
Starring Tom Cruise, Kelly McGillis, Val Kilmer, Anthony Edwards, Tom Skerritt
Produced by Don Simpson and Jerry Bruckheimer,
Written by Jim Cash & Jack Epps, Jr. Directed by Tony Scott


Jim Bray's columns are available from the TechnoFile Syndicate.