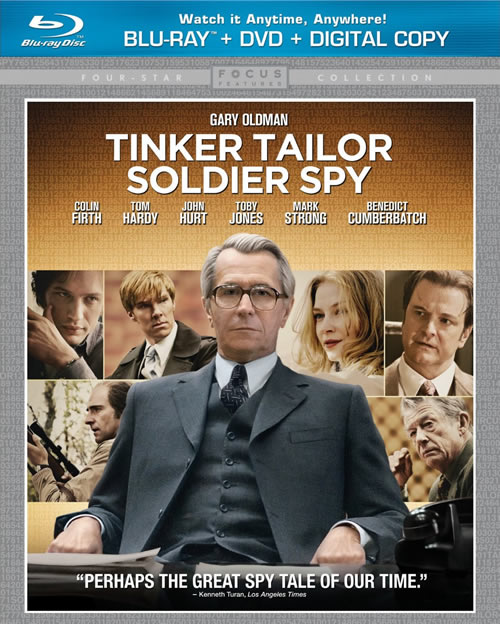 Tinker Tailor Soldier Spy on Blu-ray
by Jim Bray

Remember that old saw that you can't tell the players without a program? Well I'm not sure if a program would have helped this latest filmed version of John le Carre's cold war spy thriller.

Don't get me wrong; there's plenty to like here, including some nice performances and a look that really helps set the scene and fill the place with atmosphere - which undoubtedly helps the actors breathe as well!

But it seems you need to have read the original novel or perhaps seen the old miniseries with Alec Guinness, neither of which I have, to make any kind of sense of this very confusing flick.

The movie is about retired spy George Smiley (Gary Oldman) who's brought back to "The Circus" (his old spy agency) to catch a mole who's actually working for the Soviets instead of the Brits.  

And that's about all I got.

Okay, that's an exaggeration, but my goodness, does this film jump around or what? We hear a character reminisce and suddenly we're flashing back to the actual incident, then back again. And again.

There's so much back and forth here – and I'm not talking about the banter between the characters! – it's like being in an out of control time machine. At least Smiley doesn't run into a younger version of himself in person; otherwise we'd have time travel conundrums piled on top of the rest of this film's issues.

The cast is very good, with such names as Colin Firth and John Hurt joining Oldman - as well as Tom Hardy, Toby Jones, Ciaran Hinds, and other whose fame seems to have escaped me. They all turn in good, though apparently very restrained in a kind of British "stiff upper lip" manner, performances. Why, it almost seems at times as if they know what's going on - and they're the ones who aren't supposed to know!

The intricate plot details the kind of high stakes chess game that was undoubtedly real life cold war espionage as well, featuring a delicious assortment of people of dubious character and varying skills, talents and breaking points. It's the kind of film we've seen many times before, but less coherent in this case.

It's too bad; a good spy thriller can be a hoot, an edge of the seat ride, and a real brain teaser; this one ended up challenging our patience more than our reasoning powers.

Despite that, it's a pretty decent Blu-ray. The 1080/24p picture is presented at an aspect ratio of 2.35:1, and it is deliciously 1970's spy thriller in appearance, with a dark and brooding look, but with the abundance of detail you expect from Blu-ray. There's even a touch of grain that contributes to the authentic feel of the film.

The audio track is excellent. Presented in 5.1 DTS-HD Master Audio, there's plenty of surround use to provide nice atmosphere – which ironically works against the authentic feel of the video 'cause movies in this era were more mono and stereo than surround. Still, I like an immersive sound field and enjoyed this mix very much.

Besides the rear channel activity, dialogue is always clear and centralized where it should be, the overall sound is clean and crisp and there's even a surprising amount of low frequency punch in places.

Extras include a reasonably entertaining commentary track featuring director Tomas Alfredson and Gary Oldman, and a short feature on the production that kind of gives a leg up on the plot, so maybe you could check it out before watching the main feature.

There's also nearly an hour of interviews, including about a half hour with John le Carre himself, plus opining from Oldman, Firth, Hardy, Alfredson and co-writer Peter Straughan. The le Carre one is quite interesting.

The five deleted scenes would have made the movie even longer, but they are actually quite watchable.

Rounding out the extras are stuff like BD-Live, the pocketBLU app and My Scene, and our sample also had a DVD copy and instructions and a code for downloading (or streaming from The Cloud) a digital copy.

Maybe my family and I are just too stupid to understand such a brilliantly intricate motion picture, but we found Tinker Tailor Soldier Spy – which I had looked forward to – a true ordeal in the home theater. That said, I must admit to being intrigued enough to be contemplating a second viewing to see if that helps, though I have a feeling that urge will take a back seat to the urge to watch something new, or something older that I know I'll enjoy.

After all, there are only so many hours in the day and there's plenty of competition…

Tinker Tailor Soldier Spy, from Universal Home Entertainment
128 min. 1080/24p, DTS-HD Master Audio 5.1


Jim Bray's columns are available from the TechnoFile Syndicate.