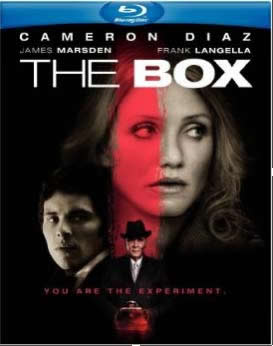 The Box on Blu-ray disc
From the director of Donnie Darko comes this strangely compelling tale of a couple whose humanity is tested via a strange box that shows up on their doorstep.

Richard Kelly's neat mind game is based on Richard Matheson's Button, Button, the latest in the writer's many works that have found their way into some pretty neat productions over the years. It starts out seeming as if it's going to be a one trick pony – the moral decision represented by the Box. Then it gets interesting.

The box's human face (well, kind of!) is a Mr. Arlington Steward. The box, and Steward's offer that accompanies it, come at a fortuitous time for  Norma and Arthur Lewis (Cameron Diaz and James Marsden). His application to become an astronaut has just been turned down and the school at which she works announces they'll no longer give free tuition to their son, both events combining to throw a monkeywrench into their lives financially.

The million dollars that could accompany the mere push of a button (and how that million dollars could really help them) counterbalanced by the emotional detachment of it only being some stranger's death – makes for an interesting hook. But can it sustain a movie?

Probably not, if that's all there was to the story. But the Decision (To push or not to push? That is the question) is dealt with fairly early, leaving well more than an hour to fill up with the consequences.

And that's what this movie is really about: consequences. Through a very strange and kind of circuitous route, the Lewises find that their decision has drawn them into an increasingly disturbing nightmare of consequences that culminates in another life and death decision – but one much larger and closer to home than the initial one.

But who's behind it all? We want to find out who Steward (Frank Langella) represents, but do we? And maybe we missed something, but by the time the end credits rolled we didn't know if the perps are aliens, supreme beings or whether it's just some weird secret government program that's going on.

It's delicious, in a kind of head-scratching way.

The movie really starts to veer into strange territory when Steward repeats to the Lewises a phrase he used earlier, but with perhaps an ominous new meaning - and a story that could turn really predictable at that point races ahead toward a conclusion we're already thinking could happen, but really hope doesn't. 

It's a creepy film, but entertaining. We went in not expecting much, but were surprised very pleasantly.

The Blu-ray disc is pretty good, too, with a good presentation and some nifty extras.

The widescreen 1080p picture looks nice and clean, with good color and contrast, but it mostly doesn't pop out of the screen at you like some good Blu-rays do. Steward's face is undoubtedly coolest to be grossed out by in high def, and it is very well done, and the other special effects also come through very well. The picture comes off as a little soft, but that could be a deliberate attempt to make it look as if it were shot in the same 1970's in which it's set.

The audio is presented in dts HD Master Audio. Warners seems to be embracing that format over Dolby TrueHD increasingly and, while we have nothing against the Dolby format (which sounds just fine on plenty of titles), we kind of like dts – so we're happy. The sound on The Box is good – perhaps not absolute reference quality but more than enjoyable enough for this film. The fidelity is good, dialogue is clear and the musical score, which seems designed to make it seem as if there are ants under your skin, is delivered beautifully. The sound field envelops you, sinking you into the unreality of the plot.

There's also a decent selection of extras, including a commentary by director Richard Kelly. "The Box: Grounded in Reality" is a featurette that looks at "How family experiences helped director Richard Kelly expand a classic short story for the screen," and you also get a selection of "Music Video Prequels" that don't seem a lot like music videos to us but which are pretty cool anyway.

There's also a short look at the special effects (which were not only very good, but were unexpected going in – after all, it's just a movie about a couple and a box, right?). We enjoyed best the look at Richard Matheson, whose work we've enjoyed for many years. It's short, but does give us a pretty good introduction to the author.

The Box, from Warner Brothers Home Entertainment
116 min. 1080p widescreen, dts HD Master Audio
Starring Cameron Diaz, James Marsden, Frank Langella
produced by Sean McKittrick, Richard Kelly and Dan Lin
written and directed by Richard Kelly


Jim Bray's columns are available from the TechnoFile Syndicate.