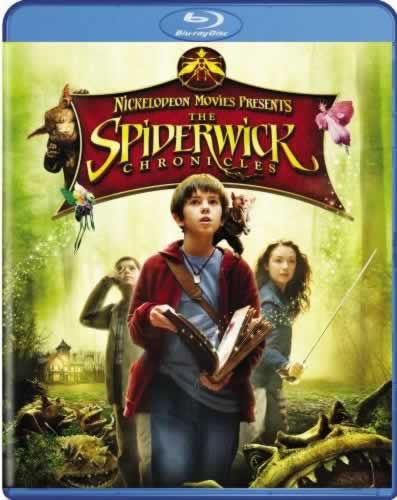 The Spiderwick Chronicles on Blu-ray Disc
The Harry Potter books and movies are undoubtedly the gold standard these days when it comes to juvenile fantasy. And in that fine tradition comes the Spiderwick Chronicles, an imaginative tale as American as Potter is British.

Not quite the level of a Potter film, perhaps, but not bad either.

The dysfunctional and now fatherless Grace family (it seems most Hollywood families are dysfunctional these days) moves into the Spiderwick Estate, which was passed on to them by their great aunt. Twin brothers Jared and Simon (played by Freddie Highmore) and their sister Mallory (Sarah Bolger) aren't particularly happy about being dragged there; they're also not particularly happy with each other and with their lives, which are being torn apart by the breakup of their parents.

It's an all-too-familiar scene of children being forced to grow up earlier than necessary so they can cope with the fact that the adults they love and on whom they depend are behaving like children.

The fantasy begins when Jared finds a long-forgotten (or so it appears) book with a warning on it not to read it. Naturally, he ignores this and starts reading, discovering in the process that the world he thought he knew is a lot different than he thought, that it contains magical creatures such as Brownies, Goblins and Ogres - kind of like stepping through the movie screen and finding yourself in a live action version of Shrek, but without the laughs.

Thimbletack (voiced by Martin Short) is a Brownie with an Incredible Hulk-like secret. He's also Jared's chief liaison with this new world, and chief cheerleader in his new quest to save his family and his world from a horrible fate dreamed up by the evil Mulgarath (Nick Nolte). And thus begins another epic battle between good and evil, with plenty of nifty special effects to make it so much more interesting and believable.

Naturally, his siblings and his Mom (Mary-Louise Parker) don't believe him until later in the movie (much later for Mom), by which time and much to their chagrin they've had their noses rubbed in it .

 We didn't like this film upon first sitting down to it. We watched about three quarters of an hour and didn't like the characters (way too much angst on screen for what we'd expected would be a lighthearted fantasy) and the situation seemed contrived. So, just when the fantasy aspect was starting to take over, we shut it off.

But we went back to it the next day. Good thing, too. Upon returning, the movie seemed a lot better and the story started to move along at a healthy clip. In the end, we're glad we went back, because if you let it unfold, The Spiderwick Chronicles is actually a pretty darn good family flick.

The performances, especially those of Freddie Highmore, are very good and the film has a wonderful look that's enhanced by excellent CG creatures and effects.

We still have some angst about the Blu-ray disc itself, though. The 1080p picture looks very good at its 2.35:1 aspect ratio. Colors are rich, the picture is clean and offers good depth as well. It doesn't leap out of the screen at you, but it's very good.

The Dolby TrueHD 5.1 audio is a little disappointing. There isn't nearly as much surround immersing us in the experience as we hoped there'd be, and we had to crank it a tad to bring it to our normal listening levels. The mix is good, but it never really made us feel part of the film.

And we had a big problem actually playing back the disc. During the scene where the kids finally meet old man Spiderwick, our disc froze. We tried everything from rebooting, jumping ahead and then scanning back, to cussing with wild abandon, and the best solution was to jump ahead to the next chapter and scan back. Despite that, we couldn't scan all the way back or it would lock up again, so we ended up missing most of the initial battle at the Estate. This was very disappointing; we hope it's just our disc, which wasn't dirty or cracked and should have played perfectly.

Paramount piles on plenty of extras with The Spiderwick Chronicles.

First up is the featurette "It's All True!", director Mark Waters' introduction to the disc's supplementary stuff and the magical world of "Spiderwick".

"Meet the Clan!" introduces us to the cast, offering us interviews with Highmore and most of the main players, while "Making Spiderwick" gives some good backstage info and footage.

"Magic of Spiderwick" looks at the film's post-production dealing mostly with the special effects (which is fine with us).  

"Arthur Spiderwick's Field Guild" is a text-and-graphics-based feature that lets you look at the various creatures. And the "Field Guide: In Movie Mode" is a pop-up trivia track that, when you hit the "enter" key on your remote, whisks you to the Field Guide."

There are also some deleted scenes, trailers and TV spots.

The Spiderwick Chronicles, from Paramount Home Entertainment
101 min. 1080p widescreen (2.35:1), Dolby TrueHD 5.1
Starring Freddie Highmore, Mary-Louise Parker, Nick Nolte, Joan Plowright,
Directed by Mark Waters


Jim Bray's columns are available from the TechnoFile Syndicate.