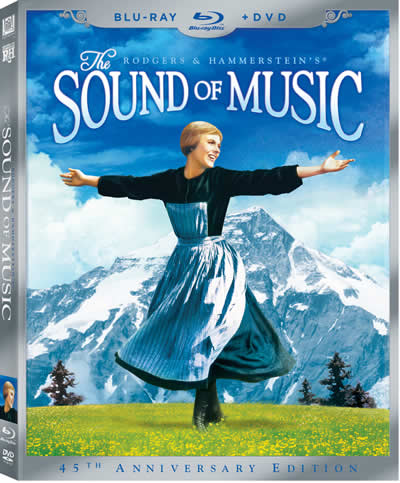 "The Sound of Music" on Blu-ray
The Sound of Music is a wonderful movie, a five Oscar-winner (including "Best Picture") that has finally made the transition to Blu-ray. Would that it were even better than it is!

Released in a three disc (two BD's and one DVD) set, the movie has never looked better and comes with enough supplementary material to please "Music" fans worldwide.

The film itself is well known. Directed by Robert Wise and starring Julie Andrews and Christopher Plummer, it tells the song-filled tale of would-be nun Maria (Andrews) who's sent to be the nanny for Captain von Trapp's (Plummer) seven children.

Maria's just the latest in a long line of governesses for the Captain's kids, but it turns out she's just what the doctor ordered. Her sunny disposition, love of music, and strength of character quickly breaks down the barriers between herself and the kids - and Captain von Trapp and her confused life in general.

The Captain falls in love with Maria and they marry, only to have their new family life threatened by the rise of Nazi Germany and its takeover of von Trapp's beloved Austria.

Speaking of "beloved Austria," this movie was filmed on location, and that was a wonderful decision by the producers. Austria is gorgeous and the locations enhance the beauty of the overall film, as well as lending a feeling of authenticity.

The Rogers and Hammerstein musical is a masterpiece, with wonderful songs performed wonderfully. Andrews' singing is effortless and she plays the part of Maria with guts, vulnerability, and bravado (perhaps a strange combination, but she pulls it off). Plummer is also good as the crusty Captain, a shattered man who, thanks to Maria, finds reason to sing and to love again.

The widescreen 1080p picture is very good but, having watched the movie the night after we watched Fox's stunning Blu-ray release of "Chitty Chitty Bang Bang", it doesn't come close to leaping off the screen and into your lap as the other musical does. The image is very good, with decent sharpness and good color and detail, but we were very disappointed with it considering what had been done with "Chitty."

Still, it's the best video version yet, hands down.

Likewise, we're ambivalent about the audio, which is presented in a dts HD Master Audio 7.1 surround track that offers pretty good fidelity if you crank it up far beyond your default listening level. We usually run our equipment on a default 70, which works fine for most titles, but for Sound of Music's Blu-ray we weren't happy until we slid the pot all the way up to 80.

But the overall soundstage is very good and brings in a welcome center channel for dialogue that was missing with the DVD's Dolby Digital 4.1 audio track.

Extras on Disc one include a full length running commentary from director Robert Wise and stars Julie Andrews and Christopher Plummer as well "My Favorite Things," an interactive celebration of the film that gives you insight into the lyrics, locations, images and the like. There's also a sing-a-long feature and BD-Live capability.

Disc two features a series of documentaries, including "Musical Stages: Creating The Sound of Music" an interactive "back lot tour", a map of the locations used in the movie, some vintage featurettes, screen tests, photo galleries, etc.

The DVD includes the film, a sing-a-long and "The Sound of Music Tour - a Living Story."

This is obviously a must-own Blu-ray if you're one of the millions who love this film. And it's a good version; we just wish it were better from an audio and video standpoint.

The Sound of Music, from 20th Century Fox Home Video
175 minutes, 1080p Widescreen (2.2:1), dts HD Master Audio 7.1
Starring Julie Andrews, Christopher Plummer, Richard Haydn, Peggy Wood, Eleanor Parker
Executive Producer Saul Chaplin
Written by Ernest Lehman, Directed by Robert Wise


Jim Bray's columns are available from the TechnoFile Syndicate.