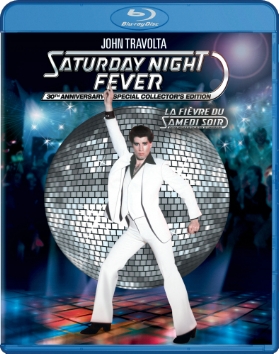 "Saturday Night Fever" and "Grease": Two Travoltas on Blu-ray
By Jim Bray
The movie that made John Travolta a star - and the one that cemented his position - have been given the Blu-ray treatment and have never looked or sounded better.
John Badham's Saturday Night Fever was a smash hit when it came out in 1977, and its disco soundtrack was probably even bigger. I remember clearly being forced to play such hits as "Stayin' Alive," "Night Fever" and the rest when I worked as a radio DJ. I hated every one of them and thanks to my aversion to all things disco I managed to avoid Saturday Night Fever until its last DVD release came out and I was forced to watch it for reviewing purposes.
And you know, I liked it - and I liked the Blu-ray version even better, which shouldn't be a surprise to anyone.
Perhaps the extra 25 years of perspective (I hesitate to say maturity) has served me well, because I even enjoyed the disco stuff.
Not only is Saturday Night Fever a decent movie, but viewed now it's a fantastic time capsule, an affectionate look at an era where tight pants and leisure suits were the rage and life seemed a lot simpler - and in many ways freer - than it is now.
Travolta, moving beyond his success as Vinnie Barbarino in the TV sitcom "Welcome Back, Kotter," plays Tony Manero. By day he works in a Brooklyn paint store, but by night he's a blow dried dancing king who rules the floor at the local disco. He has an unhappy home life, complicated by the return home of his older brother who has decided to shrug off a life of the cloth, much to the chagrin of his parents. In short, Tony's daytime life sucks, but at night and, especially, on the dance floor, he's a star.
There's a dance contest coming up, and Tony's a natural to be there. Vying to be his partner is Annette (Donna Pescow), who's pretty good but not really in his dancing league. So when Tony spies Stephanie (Karen Lynn Gorney) on the floor and is smitten by her ability, he tracks her down and practically throws himself at her to get her to partner with him.
They're a match made in disco heaven, of course, and though they intend their relationship to be all business, it doesn't take long for them to have feelings for each other - causing the rejected Annette to go seriously on the rebound.
It's a good flick, with interesting characters and good performances all around. The opening credit scene, with the famous Travolta strut to the Bee Gees' "Stayin' Alive" sets both the mood and the scene terrifically and the mirrored ball is never dropped for the rest of the film.
The Blu-ray disc is very nice. Paramount has given it a terrific restoration and/or remastering and the 1080p widescreen picture is superb, appropriately colorful and with a nice crisp image and excellent black. The Dolby TrueHD 5.1 surround audio is also really good, especially the musical parts.
They've also piled on the extras, including a running commentary by director John Badham, a pretty substantial series of featurettes covering the movie then and now, a "Back to Bay Ridge" retrospective that delves into the locations then and now, "Dance like Travolta", deleted scenes and a '70's Discopedia.
Nicely done.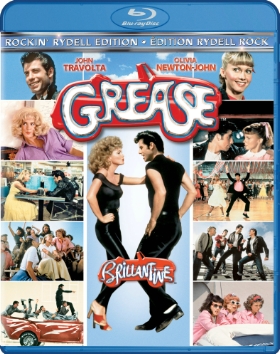 Grease, on the other hand, really rubbed me the wrong way.

Don't get me wrong; I love a good musical. I'm a long time Broadway musical fan, and if you want to talk about 1950's era music, I also loved Little Shop of Horrors. But after watching Grease I pined for a Blu-ray release of American Graffiti to cleanse my "crusin'-enjoyment" palate. George Lucas' tribute to growing up in that era is twice the movie as Grease. And "Horrors" has better songs.

This time out in Travolta's career, he's Danny Zuko, with whom Olivia Newton-John's character of Sandy Olsson has had a summer romance. But back at Rydell High School he'sa different dude: leader of the greaser T-Birds, while newly-arrived Sandy's a new member of the Pink Ladies, a gaggle of gals led by Rizzo (Stockard Channing). Danny the Greaser isn't the same Danny Sandy fell for at the beach, and hence the major conflict in the story.

The action comes as Danny tries to woo Sandy, even resorting to taking time out from his comb to try school sports. The plot takes us from dance to drag race, with singing and dancing of the famous tunes along the way.

It left me cold. I don't rightly know why, either. The performances are fine, the music's okay (this is more stuff I was forced to play while I was hopelessly devoted to working in AM radio), and the production values are fine.

But the movie's very sexual, and I think that's part of what I didn't like: it didn't feel like a 50's movie, but rather more like a 70's movie in a 50's setting (which, strangely enough, it actually was!). The characters, except for some of the adults, weren't particularly likeable, either.

Hell, maybe I'm just getting old.

It's this focus on sexuality that separates Grease from Graffiti, removing the perceived innocence of that decade that, real or not, is its image. Characters in Graffiti may have been concerned with sex, but it wasn't the only thing they talked about.

Maybe if they'd done Grease as a real 70's movie, more like Fast Times at Ridgemont High, it would have worked better for me. Of course then they'd have had to call it "Polyester" to update the time period fad meme, and that had already been done...

I'll admit it was neat seeing the 50's stars who show up in cameos, though, people like Eve Arden, Frankie Avalon and Sid Caesar.

Grease makes for a pretty good Blu-ray, though. The 1080p picture is simply great, sharp and bright and colorful and with pretty good depth. It looks terrific.

The audio's a little spotty. The Dolby TrueHD track sounds very good when the music starts, filling the home theater nicely, but the dialogue isn't up to the same standard and sounds as if it were recorded in the age of analog (surprise!) while the music was remastered and sticks out like a sore thumb. Still, if I had my druthers, I'd take it how Paramount did it here, with the focus on making the music sound great.

Extras abound, including an audio commentary and a "Rydell Sing-Along" that lets you croak karaoke-like along with the movie, assuming you didn't already. There are also 11 deleted, extended or just plain different scenes, and a thing on the movie's DVD launch a few years back that includes interviews with cast members. There's also a featurette on making the music and another on the classic cars, and more.

It's a pretty good package, if you're a fan of Grease. I'm still not one of them.

Saturday Night Fever, from Paramount Home Entertainment
118 min. anamorphic widescreen (1.85:1), 16x9 TV compatible, Dolby Digital 5.1 surround
Starring John Travolta, Karen Lynne Gorney, Donna Pescow
Produced by Robert Stigwood
Written by Norman Wexler, Directed by John Badham

Grease, From Paramount Home Entertainment
110 min. 1080p widescreen, Dolby TrueHD
Starring John Travolta, Olivia Newton-John, Stockard Channing, Eve Arden, Sid Caesar, Frankie Avalon and more
screenplay by Bronte Woodard, directed by Randall Kleiser


Jim Bray's columns are available from the TechnoFile Syndicate.