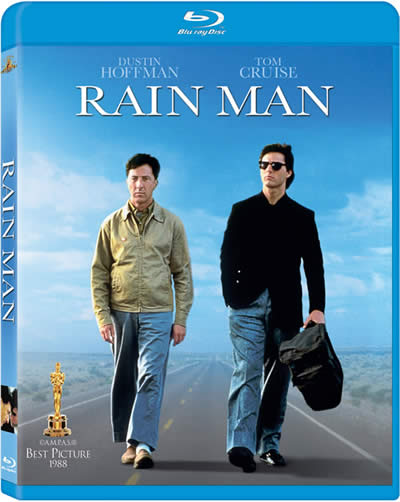 Rain Man on Blu-ray
Here's a movie that deserves a good Blu-ray treatment – and which got it, mostly.

Rain Man is a touching drama, the kind of movie you just know is going to be honored by Hollywood in one way or another. And it was; it snagged Oscars for Best Picture, director, screenplay, and Actor (Dustin Hoffman), and it's impossible to argue that it wasn't deserving of them.

Hoffman is Raymond, whose kid brother Charlie (Tom Cruise) used to think was called Rain Man back when he was a toddler.

Cruise's Charlie Babbitt is a real wheeler dealer - of exotic cars - but his business is in a cash crunch and he's desperate for some liquid assets. Fortunately, though unfortunately for the man himself, his reasonably wealthy father passes away and Charlie heads East to settle the estate and claim his inheritance.

He's really rubbed the wrong way, however, when he finds out that the only provision his estranged dad made for him in his will was his classic Buick Roadmaster – a beautiful car he's always lusted after, but which wouldn't do him a lot of good as far as helping him out of his current crisis is concerned.

Worse, he can't find out who's the beneificiary of the bulk of the estate. So he does a little amateur sleuthing and discovers Raymond, an autistic savant living in an institution – the brother Charlie never knew he had. Charlie practically kidnaps the unfortunate Raymond, planning to take him back to California and basically hold him for ransom as a barganing chip for what he feels should be his rightful share of the estate.

Well, Raymond has problems, of course, and won't fly and he starts freaking out in the airport, forcing Charlie to embark on a cross-country adventure with his brother, in the big Buick. This would actually be a really good way to cross the country, except that he hardly knows his brother and has no idea how to deal with his autism and this drives them both nuts for the first part of the journey.

But there's more to Raymond, and Charlie it turns out, than meets the eye and as they live and drive together they begin to bond, and they even manage to help each other out and start to care for each other.

In the end, Raymond and Charlie are living together in Charlie's home, but a hearing is held to decide whether Raymond should stay with Charlie (as Charlie now wants, regardless of the money) or go back to the institution where he really belongs. We won't tell you how it turns out except to say that while it may not be the ending we really wanted to see, it's believable and it works.

Hoffman deserved the Oscar. His portrayal of the autistic savant is outstanding; you forget it's Hoffman at times. Cruise is also very good; he doesn't often get the respect as an actor that he deserves.

It's a beautiful film, beautiful looking and sounding and executed. And it's also a good Blu-ray.

The disc is presented in 1080p widescreen and though it's definitely better than the DVD we reviewed a few years back, the new Blu-ray transfer looks old, showing some of the type of edge enhancement that was often found on DVD's. That said, even a merely okay Blu-ray is usually better than a DVD, and such is the case here. The picture is clear for the most part, though we'd have liked to see it pop off the screen like many of the better Blu-rays do.

The audio is up to snuff, though. Presented in dts-HD Master Audio 5.1 surround, everything sounds very good, clear and dynamic and there's even some decent LFE. There isn't a lot of surround, though.

Extras include three audio commentaries, one with director Barry Levinson, one featuring writer Barry Morrow, and one with writer Ronald Bass. Levinson's track is the best. "The Journey of Rain Man" is a better than average "making-of" documentary, though it's mostly talking head stuff.

"Lifting the Fog: A Look at the Mysteries of Autism" includes interviews with some of the real life people who inspired the film.

There's also a deleted scene in which Raymond has some challenges in a convenience store, and the original theatrical trailer is included as well.

Rain Man, from MGM Home Entertainment
134 min. 1080p widescreen (1.85:1), dts-HD 5.1 surround
Starring Dustin Hoffman, Tom Cruise, Valeria Golino
Produced by Mark Johnson
Written by Ronald Bass and Barry Morrow, Directed by Barry Levinson


Jim Bray's columns are available from the TechnoFile Syndicate.