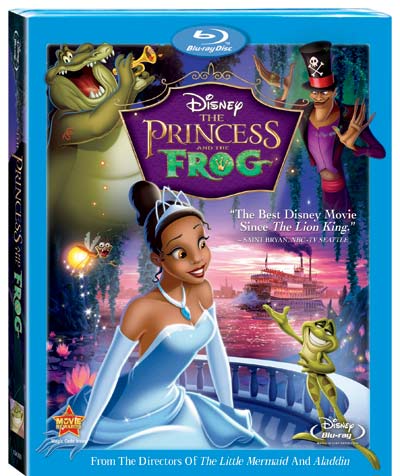 The Princess and the Frog on Blu-ray disc
By Jim Bray
From the makers of "The Little Mermaid" comes this more modern fairy tale about a young girl who dreams of owning her own restaurant.
Owning a restaurant may not seem like the stuff of classic fairy tales, where magic and romance and princes and princesses abound, but it's only part of the tapestry that makes up The Princess and the Frog, a movie that celebrates traditional animation in a world where computer-generated toons seem to be taking over.
I went in with high hopes. The Little Mermaid restored my faith in Disney, after about two decades of the studio's releases being less than classic. I nearly avoided "Mermaid," too but got dragged to it by my kids then, about the time sweet little Ariel was singing "Part of Your World", I realized I was hooked, that I loved the movie, the characters and, most of all, the music.
It was my first exposure to the work of Howard Ashman and Alan Menken, who I believe would have gone down in history as the spiritual successors to the great Rodgers and Hammerstein. My joy at discovering Ashman and Menken caused me to seek out and fall in love with Little Shop of Horrors and made me look forward to their next collaboration, which turned out to be Beauty and the Beast and, then, Aladdin (at least in part).
Alas, Howard Ashman died in 1991 and much of the Ashman/Menken magic went with him.
But as much as it was the musical collaboration that shot an arrow into my heart, it was Ron Clements and John Musker who actually made The Little Mermaid, which would have been a wonderful film even if it were silent - so when I found out they were behind The Princess and the Frog, I had to see it.
My first disappointment was when I discovered the score was done by Randy Newman. I have nothing against Newman and have enjoyed many of his scores (his work with Pixar has been terrific) and many of his songs (as a short person, "Short People" has always made me laugh, though I always found "Old Man" more than a bit mean). Good as Newman is, however, he's no Menken/Ashman.
Still, that's no reason not to like The Princess and the Frog and, in fact, Newman does a good job of bringing a nice, New Orleans jazz sound to the film, and that's totally appropriate. The songs aren't as memorable as those of such films as, well, The Little Mermaid or Beauty and the Beast (or even "You've Got a Friend in Me," from Toy Story), but they work well in the context of the film.
The story follows Tiana (voiced by Anika Noni Rose), a poor child living with her family in the New Orleans of "The Jazz Age." She, inspired by and emulating her father, is a hard worker – balancing multiple gigs to earn money to bring home and, someday, to open her own restaurant in New Orleans. One of her clients is "Big Daddy" La Bouff (voiced by John Goodman), a very rich mover and shaker whose overindulged daughter dreams of being swept away by a prince, thanks to her love for the story of the Princess and the Frog.
Jump forward several years and we get into a "real life" princess and frog adventure as a prince shows up in New Orleans, succumbs to voodoo, and must seek out that famous kiss to return to his human form. We end up with a multiple-enchanted frog controversy, evil shadows, black magic, love and redemption. And singing and dancing, of course.
The story isn't a lot like the original Princess/Frog tale as I remember it, but it's been a long time – and it doesn't really matter anyway. Musker and Clements have used their artistic license well and the new tale works, though it didn't grab me like Mermaid did and I don't think it's in the same league. That said, few movies are.
As an animated movie, however, and especially as a Blu-ray, it's exquisite. Disney has released the film as a three disc combo pack which includes a Blu-ray, DVD and digital copy. This "format neutral" strategy is how it should be done, giving customers the best of all worlds no matter what hardware they have and letting DVD owners transition to Blu-ray at their leisure without having to buy their library all over again (just mostly all over again!).
This review is limited to the Blu-ray, of course.
Disney has a long history of releasing discs that, regardless of the quality of the title itself, are of spectacular technical quality. The Princess and the Frog, happily, continues this great tradition. The 1080p picture quality – at an aspect ratio of 1.78:1, (which fits the widescreen TV perfectly – is superb, with glorious colors (the firefly processions are especially lovely) and grand, sweeping vistas that capture that old-time Disney animation magic well. The picture is razor sharp, detailed, and with excellent black levels. The hand drawn, 2D animation doesn't pop off the screen with that 3D-like effect that some Blu-rays do (though the multi-plane shots look very cool, indeed), but that's okay; the classic animation comes through just fine.
Ditto for the audio, which is presented in dts HD Master Audio 5.1. Voices and sound effects come through beautifully, but for a musical such as this it's the music, the singing and the instruments, that matters the most and the sound quality is as superb as the picture, rich and dynamic and with good use of all the home theater's audio channels.
In short, this is another excellent release you'll be pleased to play in your home theater. The kids should enjoy it, too.
The folk at Disney are also renowned for putting a lot of value-added stuff onto the video releases and once again The Princess and the Frog doesn't disappoint.
Bonus features included a very interesting commentary by co-writers and co-directors John Musker and Ron Clements, joined by producer Peter Del Vecho. There's also a music video of the song "Never Knew I Needed" by Ne-Yo.
And that's merely the beginning. "Backstage Disney" includes such features as "Magic In The Bayou: The Making of A Princess", in which Musker and Clements trace the film's creation from the original idea to the final film. Other featurettes, most of which are quite interesting, include:
The Return To Hand Drawn Animation
The Disney Legacy
Disney's Newest Princess
The Princess and the Animator
Conjuring The Villain
A Return To The Animated Musical
Bringing Life to Animation (with an introduction by Musker and Clements)
Deleted Scenes (also introduced by the filmmakers)
Art Galleries — A collection of storyboard art
And there's the usual type of Games and Activities:
What Do You See: Princess Portraits — as Disney promotes it: A bayou-style quiz tests viewers' knowledge of all of Disney's beautiful princesses. Ray's firefly family creates twinkling portraits of each princess and if the player identifies her correctly, they can enjoy a tongue-cheek mini re-telling of that character's story.
The bonus stuff is gravy, especially the games, and I enjoyed most of the features about the return to classic animation and other technical insights. And while I don't think The Princess and the Frog will be remembered as one of Disney's greatest titles, it's still well worth an evening in the home theater, and will undoubtedly please audiences on subsequent viewings as well.

I have avoided addressing what seems to have been the biggest bit of hype about the movie: that it features a black heroine. The reason is that, in the colorblind society to which we're supposed to aspire, the ethnicity of the character should be irrelevant. And, really, it is. The fact that Tiana is "African American" may be somewhat relevant to the story's New Orleans setting, but Tiana could really be any "financially-challenged" young girl growing up on "the wrong side of the tracks". What's important is the content of her character and her actions and in that regard, Tiana is a fitting heroine and is really "every girl". She just happens to be black in this tale.

And isn't that how it's supposed to be?

The Princess and the Frog, from Walt Disney Home Entertainment
98 min. 1080p widescreen (1.78:1), dts HD Master Audio 5.1


Jim Bray's columns are available from the TechnoFile Syndicate.