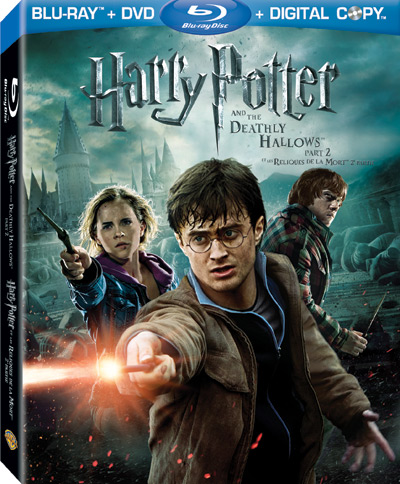 Harry Potter and the Deathly Hallows, Part Two
Talk about going out with a bang! The final Potter picture is the best of the last few, and a suitable wrap up to the movie series based on J. K. Rowlings series of novels.

It not only wraps up the series nicely, it's also a thrilling action/adventure flick with an epic look and feel. There are also some really nifty monsters that would make Ray Harryhausen proud. How can you lose?

The final installment starts with our three heroes, Harry, Ron, and Hermione, sneaking in to Gringotts Bank to find the next of Voldemort's horcruxes for which they started searching in the earlier installment. From there, we have action galore, including some great light sabre, er, wand battles that are extremely well done.

Okay, some of it looks a tad derivative (hence the light sabre reference) and wands also become basically guns at some points, but it works.  

 It felt a bit weird going into this movie knowing this is the last time we'll see these characters that we've come to know and love (or hate, depending on who it is). The knowledge that this was these characters' last hurrah lent a sense of sadness, because we've really enjoyed the series, even though we didn't think the last two outings (Half Blood Prince and Hallows part 1) were up to the standards of the rest of the films.

But we've enjoyed watching the kids grow up, their wide-eyed wonder at entering Hogwarts for the first time (and here it is, crumbling around them as Voldemort and his armies launch their vile attack), their growth over the years, their budding romances. It's a bittersweet feeling that really works here.

So who gets which girl? There are no surprises, but it feels right and we're happy. And the epilogue that takes us years into the future to look at how our heroes are living then, made us mist up a bit.

 Fantastic!

We received the Blu-ray 3D combo pack, which includes both two and three dimensional presentations as well as a DVD and digital copy. We watched the 2D version, which has its own disc. The DVD gets its own disc, of course, and the digital version is basically instructions and a code for downloading it. There's also a third Blu-ray of special materials.      

The picture, presented of course in 1080/24p, is scrumptious. We look forward to the pending review of an Epson 3D front projector to see it pop out at us, but even in 2D the film is gorgeous. Fine detail is abundant, the colors rich and true, and the black levels spectacular. This is a reference quality release that pops off the screen as much as a 2D production can. Very satisfying! 

It's a good thing, too, because there are so many dark scenes that you need such a good video presentation to keep track of everything.

Audio is DTS-HD Master Audio 5.1, and it's just as good as the picture. We had to turn it down just a tad from our normal listening volume (using a 400 watts per channel system in this case), but that was okay. This soundtrack is awesome! Channel separation is first rate, stuff zips around the home theater in a most satisfying manner, and all frequencies show great fidelity – including, of course, the important low frequency effects channel.

Yet dialogue is always clear, even if it's coming out of the rear speakers (which actually makes it sound like you're part of the action. Quiet passages show no signs of hiss or compression, etc.

In all, this is a top notch presentation!

And of course there are abundant extras. You can kick it off with "Maximum Movie Mode," with a picture-in-picture look at the making of the film. It's introduced by Matthew Lewis (who plays Neville), producer David Heyman pops up now and again, Warwick Davis (Griphook) talks about getting Harry and his not-so-little friends into the vaults. Rupert Grint (Ron) gives detailed back stories, Emma Watson (Hermione) recites passages from the Potter books, and special effects folk tell us how some of their fantastic magic was accomplished. You also hear from stunt coordinators and there are even some deleted scenes added to the movie seamlessly, labeled so you know that they are, in fact, deleted scenes.  

There's lots more, too.

Focus Points is a bunch of featurettes covering a bunch of behind the scenes stuff, from "Aberforth Dumbledore" (which shows how they made actor Ciarán Hinds look like Michael Gambon), costumes, "Harry Returns to Hogwarts," "The Hogwarts Shield" (the CG creation of the force field the school's teachers create), and "Room of Requirement Set" (and what a set it was!).  

"Pottermore" is a quick commercial for J.K. Rowling's online experience, with Rowling herself doing the shilling, while the self-explanatory "Final Farewells From the Cast" is a quick "goodbye" from a few of the stars. 

You also get a series of deleted scenes that actually, for the most part, would have fleshed out the film a bit (at 130 minutes, this is by far the shortest Potter movie).

One of the best features is "A Conversation with J.K. Rowling and Daniel Radcliffe," a nearly hour long chinwag between author and star. Radcliffe asks Rowling about stuff such as what parts of the books she was disappointed didn't make it into the movies and which stuff she didn't like that they had added. Radcliffe talks about his time on the movies and the duo talks about how the kids managed to stay zit-free as they grew up (isn't movie magic wonderful?). This only scratches the surface of a really great conversation that lets you get inside both of their heads. 

The Goblins of Gringotts looks at how the series' goblins were created and how they evolved through the series.  "The Women of Harry Potter" is hosted by Rowling, who talks about her pride in her strong female characters. It includes interviews with the actors as well. 

Gamers might enjoy the "Lego 'Harry Potter' Game Demo," which  lets PS3 owners access a playable demo of the game.   

We won't go so far as to say that the final Harry Potter film is the best of the series, but it's a welcome step up from the last two, and a proper ending for the series. And we're delighted that it has been given a visual and audio presentation that'll knock off your socks. This is a must have for Potter fans.

Harry Potter and the Deathly Hallows, Part 2, from Warner Home Entertainment
130 min. 1080/24p, DTS-HD Master Audio 5.1
Starring Daniel Radcliffe, Rupert Grint, Emma Watson and an all star cast
Produced by David Heyman, David Barron, J. K. Rowling
Written by Steve Kloves, directed by David Yates


Jim Bray's columns are available from the TechnoFile Syndicate.