The Harry Potter Series on Blu-ray disc
Harry Potter and the Order of the Phoenix
Harry Potter and the Goblet of Fire
Harry Potter and the Prisoner of Azkaban
Harry Potter and the Chamber of Secrets
Harry Potter and the Philosopher's Stone
Talk about a collector's item! Warner Home Entertainment has really pulled out the marketing stops with this deluxe, limited edition boxed set that not only features all five Harry Potter movies released through the end of 2007, but with enough extras and gewgaws to please the most rabid Potter fan.
It's a delightful package and, though we may think it's overkill (we'd be happy with just the movies), it really is nicely done.
The set comes in a magical little trunk and when you open it like Pandora's box you can pull out a seven disc cornucopia of delights that's an in depth trip through Potterville (Harry, not Mister of "It's a Wonderful Life" fame).
Each movie and its extras are crammed onto a single Blu-ray disc (two discs in DVD form) in its own sleeve, organized by year - the first two being sized differently from the last three (if there's a reason for that we didn't get it - though we aren't insufferable Potter geeks). There's also a bonus DVD (not a Blu-ray, but this is okay - they put the Blu-ray technology where it's most needed: the movies), a DVD game and a little box full of different Potter bookmarks like an owl, a broom, a Gryphindor crest, etc. It's pretty cool, though we'd hate to actually use them as bookmarks lest we lose them.
There's also an envelope addressed to Harry and inside is a set of trading cards.
Spread over the bonus DVD is an abundance of extra material, including features such as:
A glimpse into the world of Harry Potter
Harry Potter and The Chamber of Secrets Revealed
Harry Potter and The Prisoner of Azkaban: Something Wicked This Way Comes
The Making of Harry Potter and The Prisoner of Azkaban
A Spanish language Interview with director Alfonso Cuaron (subtitled)
Harry Potter and The Goblet of Fire: Behind the Magic
Harry Potter and The Goblet of Fire: Some Animal Magic
Harry Potter and The Goblet of Fire: Dark Matters, New Masters
Harry Potter and The Order of the Phoenix: The Rebellion Begins
Harry Potter and The Order of the Phoenix: Fulfilling a Prophecy
The DVD bonus game uses your remote control to navigate the "Hogwarts Challenge" (It also includes trailers) in which you're tasked with finishing three years at the school, the Holy Grail being tickets to the Quidditch World Cup. Navigation is easy, using the arrow buttons to move around and the "Enter" button to make selections.
Each year ends with an extra challenge, kind of like final exams, inspired by the challenges Harry faced during his first three years at the school.
Up to four people can play.
The trunk itself is cool, but it's quite large and wouldn't fit properly in our DVD rack, perhaps so we could be encouraged to place it in a special location befitting its prominence.
Naturally, it's the movies that are the most important feature and we're pleased to report that the Blu-ray versions are well worth owning and appreciably better than the DVD incarnations.
The picture quality overall is very nice indeed, though the first two films are softer than the rest (perhaps this was an editorial decision by director Chris Columbus). But as the series progresses, the picture quality seems to get progressively sharper, with the Order of the Phoenix offering the best picture of the bunch - not that the others are slouches by any means.
We ran the Blu-rays of each film side by side with their DVD versions, the Blu-rays in their native 1080p and the DVD's up converted to 1080p, A/Biing them back and forth. The detail on the Blu-rays is sharper and the colors are richer - just as they should be. High definition is definitely the best way to experience the world of Harry Potter (and every other world we've seen on Blu-ray so far!).
Audio is offered in either Dolby Digital 5.1 or uncompressed PCM (and about a thousand other languages and subtitle choices), defaulting to the English Dolby Digital. This defaulting to DD5.1 undoubtedly makes sense for the current state of the market, where not everyone has PCM capability (let alone Blu-ray!), but it forced us to bring up the pop-up menu (which isn't available until the feature actually starts) to change audio tracks to the superior PCM ones.
It's worth it, though. The PCM audio just plain sounds better.
And now, the movies themselves (we won't bother touching on the special features of each Blu-ray, so this doesn't turn into a novel of epic proportions; just remember there's plenty!):
Harry Potter and the Order of the Phoenix
The fifth Harry Potter film carries on the grand tradition of the first four adaptations of J. K. Rowling's novels - and it may be the best of the bunch (we keep saying that with every new Potter, which bodes well for those yet to come).
The movie builds on Potter 4, the Goblet of Fire, with its sobering death of Cedric Diggory and the return of Lord Voldemort, He Who Shall Not Be Named (possibly because he has a name already!).
It opens with Harry back at "home" with his aunt and uncle and their oaf of a son - who now appears to be a bully as well as an oaf. But when Harry is forced to use magic to save his life from a Dementor attack, he finds himself in hot water with the wizard bureaucracy, charged with using magic in the presence of muggles.
But that's really just the beginning. He's acquitted, but it shows that the magical powers that be are as corrupt and bureaucratic as muggle politicians can be, and the rot extends right up to the top.
Harry and his friends try to warn the Establishment that Voldemort is back, but they refuse to believe him and instead the whistle blowers become outcasts under a cloud of suspicion. Not only that, but the Establishment is monkeying around with Hogwarts, installing one of their own into a position of authority and undermining the Dumbledore administration.
So Harry and his friends must sneak behind the scenes, building their own army of young people to take on Voldemort.
Will they succeed? We're certainly not going to tell you here; it would spoil a very good movie!
This is more than an epic fantasy; it continues the coming of age of the characters and it introduces some social commentary into the series. The movies appear to be maturing along with their cast, and it's quite interesting to watch it happen.
Most of, if not all, of the old characters are back, but a Potter film wouldn't be a Potter film without introducing some new High Value British thespians, and this film is no different. We get Imelda Staunton as "the bane of Hogwarts" and Helena Bonham Carter as a loony bad girl.
This also appears to be the most action and special effects-laced Potter film, and it turns out to be a terrific ride and a very satisfying story. We've heard complaints about all the stuff that's missing from the book but, not having read the book, we found the story intriguing, engrossing and quite fine, thank you.
It's probably the most intense of the movies, too, but still not too much for most modern kids.
The Blu-ray disc has superb picture quality, with a delightfully detailed 1080p image that displays real depth. Audio is offered in Dolby Digital and uncompressed PCM, with the latter choice being superior (though the disc defaults to DD).
Extras abound, too, including some neat "focus points," high definition features and production diaries that offer some interesting insight into the production. There are also some additional scenes, in high definition (as they should be!), feature on the film's editing (though it's pretty superficial) and a chance to edit your own scene.
There's also a look at all the films that you can use to solve the "mystery of Harry's true destiny" (you could probably wait for the next movies for more clues, too!) and "Trailing Tonks," a "very personal film set tour" in high definition.
Harry Potter and the Order of the Phoenix, from Warner Home Entertainment
139 min, 1080p, 16x9 widescreen, Dolby Digital and PCM 5.1
Starring Daniel Radcliffe, Rupert Grint, Emma Watson
produced by David Heyman, David Barron
Written by Michael Goldenberg, directed by David Yates.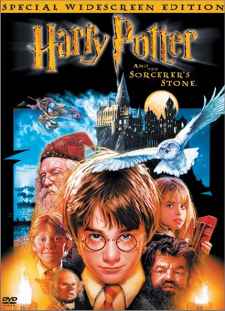 Harry Potter and the Philosopher's Stone
The first Harry Potter movie quickly became one of Hollywood's biggest blockbusters ever to that time, and it's easy to see why.
It's a marvelous, imaginative, and beautifully-crafted film that's suitable for audiences of any age and background. It's one of those rare films - like the "Star Wars" movies - that will undoubtedly prove timeless in its reach, and nearly universal in its appeal.
That doesn't mean everyone liked it, of course; Without having seen it (though, to be fair, they may have read the books) various religious groups in a move reminiscent of the boycott of "Monty Python's Life of Brian", accused J. K. Rowling's work of promoting witchcraft and, therefore, being evil.
This is far from the truth. Sure, it's about witches and warlocks, but that's merely the setting, the universe in which the Harry Potter stories are set. Rather, they're traditional good versus evil stories, in which good Harry and his friends battle bad witches and warlocks, in this case the evil warlock who years before attacked and killed Harry's parents and left him with a scar on his forehead - and a reputation in wizard lore as "He who survived".
Harry is living a miserable existence with his only relatives, an aunt and uncle who only give him a closet under the stairs for a bedroom and who dote on their oafish son Dudley. Harry's a pleasant enough kid despite all this - and fortunately, shortly after the movie opens he's given (and takes) the opportunity to leave the Dursleys and attend Hogwarts, the elite boarding school for young witches and wizards.
Most of the film takes place at Hogwarts, and it's a marvelous place indeed, populated not only by a bevy of ankle-biter witches and wizards and their teachers, but by a magical ceiling, staircases that seem to take you wherever they please, and enough ghosts and interesting other creatures to keep the most jaded fantasy fan happy. There's even an airborne football-ish game called Quidditch, which brings new meaning to the words "rough and tumble."
The cast is terrific, including the main trio of kids (Daniel Radcliffe, Rupert Grint, Emma Watson, who play Harry and his two closest friends at Hogwarts) but especially the gaggle of great actors who populate the film. We get such acclaimed and excellent thespians as Maggie Smith, Richard Harris, John Hurt, Alan Rickman, Julie Walters, and many more. And yet another classic John Williams score is a treat for the ears.
Director Chris Columbus, who has a record of creating interesting examples of cinefantastique, screenwriter Steve Kloves, and producer David Heyman have remained as faithful as possible to the original novel, and rather than this bogging down the action it actually seems to help, since the action is grounded in J. K. Rowling's vision rather than merely being a shallow Hollywood attempt to cash in. They've definitely given the audience its money's worth - and that not only translated into a cash windfall for Warner Brothers, it also translates into an excellent DVD package the kids are sure to love.
Harry Potter and the Philosopher's Stone, from Warner Home Video
152 minutes, 1080p, 16x9 widescreen, Dolby Digital and PCM 5.1
Starring Daniel Radcliffe, Rupert Grint, Emma Watson and an all star cast
Produced by David Heyman
Written by Steve Kloves, Directed by Chris Columbus
Harry Potter and the Chamber of Secrets
The first Harry Potter sequel is arguably a better film than "Harry Potter and the Philosopher's Stone."
"Chamber" is a darker and more frightening movie than "Stone," though it's still suitable for kids. And while this reviewer thought the first Potter was more fun, most people to whom he's spoken prefer "Chamber."
This time we see Harry (Daniel Radcliffe) back with his aunt, uncle and their poisonous snake of a kid, biding time until the new school year starts and he can go back to Hogwarts where he really belongs. He's been allowed to move out of the closet under the stairs and into a bedroom of his own, but other than that it doesn't appear as if much has changed with his "first family." They still hate his guts, feel threatened by his magic abilities, and want him to be neither seen nor heard. But they don't want him back at school, either, so Harry lives as a virtual prisoner in his own room.
Until the Weasley kids show up in their family's flying Anglia and break him out. They take him home with them just in time for the lot to head back to Hogwarts.
But things are different at school this year. There's a heaviness to the atmosphere, a sense of dread after an ominous message, written in blood, shows up on one of the school's walls. Then people and critters start becoming petrified, and Harry is implicated in what appears to be an inevitable murder at the school.
The trio of Harry, Ron (Rupert Grint) and Hermione (Emma Watson) is pretty resourceful, though, and together they get to the bottom of a fifty year old plot that has conspired to see Professor Dumbledore (Richard Harris) lose his position has headmaster and Hagrid (Robbie Coltrane) jailed.
There are special effects galore, including monsters such as giant spiders and snakes, and as before we're treated to a wonderful supporting cast that reunites most of those from the first film and adds a delightfully foppish fraud (Kenneth Branagh) and the intimidating Lucius Malfoy (Jason Isaacs).
The effects are even better than in the first film, and the overall look and feel is as if this is merely chapter two in a video novel - and that's just fine with us. We're disappointed in John Williams' score (and that's probably the first time we've ever said that), which appears to have been merely re-edited from the first movie; we didn't notice any new themes and, in fact, the closing credits hint that it's just a cutting job when they credit William Ross for his adaptation.
Too bad; Williams deserves better. And Warners might have sold more "original soundtrack" CD's.
Harry Potter and the Chamber of Secrets, from Warner Home Video
161 min. 1080p, 16x9 widescreen, Dolby Digital and PCM 5.1
Starring Daniel Radcliffe, Rupert Grint, Emma Watson and an all star cast
Produced by David Heyman,
Written by Steve Kloves, Directed by Chris Columbus.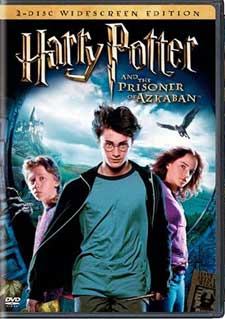 Harry Potter and the Prisoner of Azkaban
The third installment in Harry Potter's cinematic journey is a much darker movie than the previous two, not just in its subject but also in its look. And that's fine, though it may disappoint a few Potter fans.
It shouldn't though. The story and the characters are consistent with the earlier two Harry Potter movies, but just as the characters are a little more grown up, so here is the storyline.
Well, not everything's consistent. Some of the settings and locales have been rejigged for "Azkaban," such as the location of Hagrid's little cabin, which appears to be farther away than in the first flicks and is now accessed by following a path down a hill. We like the new look and locations, but miss the consistency between the movies.
Still, these quibbles aside, the third Harry Potter movie is a worthy entry into the series.
The story this time sees the now pubescent Harry being stalked by a renegade wizard who escaped from Azkaban Prison supposedly to seek out and kill Harry. This supposed baddie and the tale around him are full of secrets and the plot is full of twists and turns - and interesting new characters and fabulous animals. But the ending is never completely resolved and we found that a tad disappointing.
Perhaps they'll take care of that in another episode...
It's interesting to see the maturing cast being given maturing relationships (who's gonna get to be the main squeeze of Hermione in the end - Harry or Ron?), and it was lovely to see Malfoy get his.
And there are stunningly gorgeous shots and special effects, as well as another John Williams score. How can anyone not like this combination?
Harry Potter and the Prisoner of Azkaban, from Warner Home Entertainment
142 min. 1080p, 16x9 widescreen, Dolby Digital and PCM 5.1
Starring Daniel Radcliffe, Rupert Grint, Emma Watson
Produced by David Heyman, Chris Columbus, Mark Radcliffe
Written by Steve Kloves, Directed by Alfonso Cuaron
Harry Potter and the Goblet of Fire
Harry Potter is back in his most intense adventure yet (until the next one), a film that may have young viewers hiding behind their home theater's pillows during its exciting climax.

It's another grand fantasy adventure in the series based on J.K. Rowling's books.

The fourth Harry Potter movie not only keeps up the high standard of quality of the first three films, in some ways it's the best of the bunch.

Besides being easily the most intense Potter so far, it's also the most delightful in many ways. Pubescents who watch this film – and those who remember those awkward days – will identify readily with many of the situations, from close friends whose relationships are strained due to peer pressure and misunderstandings, to the inner angst of screwing up the courage to ask a girl out for the first time. It's delicious stuff, and the familiar cast, writer Steve Kloves and director Mike Newell pull it off beautifully.

Harry (Daniel Radcliffe), Ron (Rupert Grint) and Hermione (Emma Watson) are in their fourth year at Hogwarts now, and have settled in rather well. But life is full of challenges, not the least of which is the hosting of the Tri Wizards Tournament, an affair in which students from different wizards' schools compete in a series of challenging – indeed, life threatening – events to prove their physical, mental and emotional mettle.

Naturally, Harry is chosen to represent Hogwarts, except that he's too young to be allowed – and he never submitted his name. But someone did, and the rules state that Harry must participate against older and more mature wizards including Hogwarts' own Cedric Diggory, the obvious local favorite and the one who should really be representing Hogwarts alone, except that something funny is afoot.

And that isn't all that's brewing. He Who Must Not Be Named, also known as Voldemort, is turning out to be as ubiquitous as Ernst Stavro Blofeld in the early Bond movies – and he's about to come back again with a, and for, vengeance. Can Harry survive the twin terrors of the Tri Wizard Tournament and the return of Voldemort?

Well of course he can, if only because there are more books in the series and therefore more movies to be made. But it isn't easy for him, and during the two and a half hours of Harry Potter and the Goblet of Fire we see him tested severely and emerging (as with his friends) as a more mature young person who we assume will be more than up to the task of handling the challenges that Hogwarts, adolescence, and the evil Voldemort will undoubtedly bring their way when Harry Potter 5 et al premieres.

The young actors have always done a good job, but they just seem to get better and more believable as they and the series grow. And it doesn't hurt to have some of Britain's finest thespians along again and, as usual, they've upped the roster ante with the inclusion of such names as Ralph Fiennes, Brendan Gleeson, Miranda Richardson – and the new Doctor Who, David Tennant.

And while this is definitely the most intense of the Potter films so far, they've done a wonderful job of lightening things up with the subplots of the stars' reaching toward adulthood, which not only brings some smiles but also some wonderful character moments and even a hint or two at sexuality. Too bad Myrtle doesn't stand a ghost of a chance with Harry!

The overall look of the film is wonderful; as the series grows so, too, does its scale and scope and Hogwarts and its environs get more interesting and beautiful with each film. Likewise, the special effects also get better and better, and the digital creatures this time are the best yet. There are dragons and mer-people that would do Ray Harryhausen proud, and the flying scenes are the best and most powerful yet as well.

We'd recommend that parents with very young kids make sure they're on hand to watch the movie with them, because it's pretty scary at times.

The Blu-ray picture quality is truly superb, with real depth and terrific color and detail. Audio (we preferred the PCM tracks) is likewise first rate.

Harry Potter and the Goblet of Fire, from Warner Home Entertainment
157 min. 1080p, 16x9 widescreen, Dolby Digital and PCM 5.1
Starring Daniel Radcliffe, Rupert Grint, Emma Watson, Robbie Coltrane, Ralph Fiennes, Michael Gambon, Brendan Gleeson, Jason Isaacs, Gary Oldman, Alan Rickman, Maggie Smith, Timothy Spall
Produced by David Heyman



Jim Bray's columns are available from the TechnoFile Syndicate.