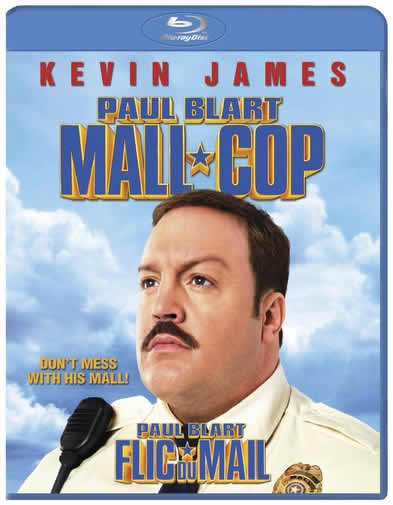 Paul Blart: Mall Cop on Blu-ray
by Johnny Bray

Paul Blart: Mall Cop is, essentially, a less-crude version of any movie starring a former star of Saturday Night Live. It was even produced by Adam Sandler's "Happy Madison" productions, either to lend to or take away its credibility.

Paul Blart is a lovable loser who works by day as a mall security guard. He gets beaten up by irate mall patrons, picked on by the mall pen salesman, and longs for the beautiful mall kiosk girl.

Then, when Paul decides to take a break to play a little Guitar Hero, the mall ends up taken over by professional thugs. Only Blart, with his inside knowledge of the mall, big bones, and Segway, can rescue the hostages and thwart the evildoers.

Paul Blart is a pretty standard comedy, made a little bit better by the presence of Kevin James. A great physical comedian, he breathes new life (albeit only slightly) into the genre that has been oversaturated with Adam Sandlers and Will Ferrells (no disrespect to either of them; we've just been there done that). All of the best moments in the film come from James doing his shtick. From his online dating video, to his Guitar Hero performance, right down to his lengthy but hilarious drunken escapade, Paul Blart: Mall Cop would be absolutely nothing without him.

That being said, the film gets bogged down by what one might call its "plot." It feels half over by the time the bad guys hijack the mall, but by then we've already seen most of the best parts. It's a classic case of a pretty good idea marred by typical filmmaking conventions. The writers have done their best to find hilarious ways for Blart to conquer the bad guys; it's unfortunate that it seems to have been "because they had to" rather than because they had all these ideas floating around their heads.

Still, we've seen far less entertaining movies in our day. While completely clichéd and sometimes contrived, it's Kevin James who makes it worthwhile. Let's hope that anchoring his first solo hit will garner him the starpower needed to do his thing more often.

The Blu-ray presentation of the film is a hard one to review. On one hand, the transfer is completely free of dust, grain or any other artifacts. On the other hand, it lacks the depth and level of detail that a Blu-ray should. It comes across as a very good DVD, rather than a Blu-ray. Apparently they used the same transfer.

Audio is pretty good, but the surround speakers never really get much of a workout, with the exception of during the "mall takeover," which features plenty of booming music fused very nicely with excessive background noise.

In terms of extras, we're treated to some deleted scenes (some of which are actually funnier than what's in the film), a couple of featurettes, and a digital copy of the movie.

Paul Blart: Mall Cop, from Sony Pictures Home Entertainment
91 minutes, 1080p High Definition (1.85:1), Dolby TrueHD 5.1
Starring Kevin James, Jayma Mays, Keir O'Donnell and Shirley Knight
Written by Kevin James & Nick Bakay, Directed by Steve Carr


Jim Bray's columns are available from the TechnoFile Syndicate.