Paramount Western Classics come to Blu-ray
A Man Called Horse
Big Jake
Rio Lobo
Hondo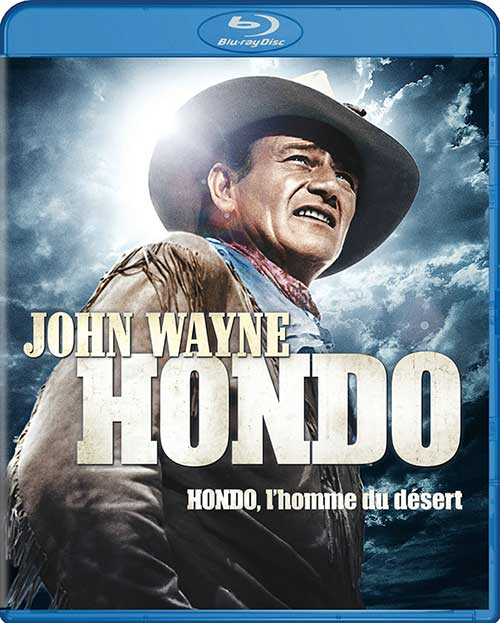 In Hondo things are much more serious than you might think of for your average Western, and while not as much fun as some of John Wayne's other movies, this one is one of his best.
Wayne is Hondo Lane, a part Apache who seems to have been everywhere and done everything.
The love interest this time is Geraldine Page, who is excellent as the unhappy but loyal wife who falls for Hondo almost in spite of herself. But any possible happiness they may have together is threatened by the clash of civilizations both white and red, and both of them have deep connections to both sides.
Hondo is a rich and intelligent story that shows the light and dark in all of us; there are decent white and Indian people, but different people have different views of honor and duty.
Also on hand in Hondo are Ward Bond, Michael Pate, and James Arness.
Hondo looked very good on the DVD release we reviewed a few years ago, though it was a "Pan&Scan" release, and it looks even better on Blu-ray.
Presented in a widescreen aspect ratio of 1.85:1, the picture quality is for the most part really good. There's plenty of detail, colors are bright and rich and there's a lot of that great depth you can get from the superb black levels offered by the high definition disc format.
The movie was released originally in 3D, but there's no such option on this Blu-ray - and we don't really find that a big deal, though you can never complain about extra capabilities.
Audio is offered in either a remixed 5.1 version, or a mono one, both of which feature Dolby TrueHD lossless performance. Surprisingly, there was noticeable surround use and the overall sound quality is pretty darn good considering the age of the source material.
Don't expect a lot of subwoofer use, of course.
The Blu-ray also includes some decent extras, too, including a nice introduction by Leonard Maltin that puts the film into good perspective.
There's also a commentary track featuring Maltin, western film historian Frank Thompson and actor Lee Aker, which is pretty good. A "making of" feature is also decent.
You also get a BATJAC (Wayne's production company) featurette ("from the vaults"), a photo gallery, HD trailer, an actor's profile and more.
Hondo may not be one of the Duke's best remembered performances, but it's an excellent one, with believable characters and a compelling story.
All told in a mere 83 minutes.
Hondo, from Paramount Home Entertainment
83 min. 1080/24p widescreen (1.85:1), Dolby TrueHD 5.1 surround or mono
Starring John Wayne, Geradline Page
Produced by Robert Fellows
Written by James Edward Grant, directed by John Farrow
---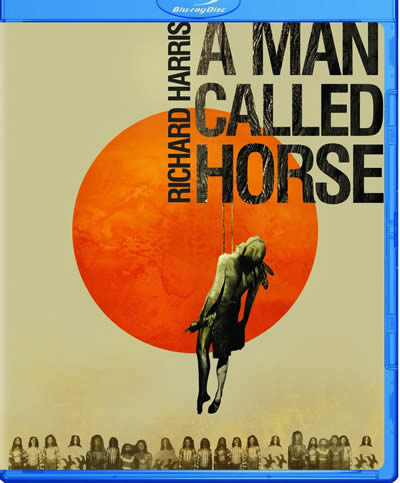 A Man Called Horse
Richard Harris stars as an English gentleman visiting the US frontier in a movie that claims to be a realistic look at the life of the Dakota Sioux.
Maybe it is a realistic look, but as a movie it leaves a lot to be desired. In fact, it seems like a thin plot strung along as an excuse to show us the spectacularly savage and brutal ceremony by which he finally gets accepted as one of the natives.
On the other hand, there's some spectacular scenery here (right from the gorgeous sky of the opening shot) that looks great in high definition.
Harris is captured by the Indians at the movie's beginning and is dragged back to their haunts, humiliated, and kept as a prisoner of the regime. Then, for whatever reason (perhaps Stockholm Syndrome?) he goes from being a mere prisoner to a native wannabe and eventually marries one of the tribe and becomes a leader. He even teaches them some very British battle strategies, in a nifty bit of turnaround - not that it did the Brits much good in the revolutionary war!
The movie is one of those "let's make native Americans look cool" movies of the late 1960's/early 1970's, and yet looking back on it via this Blu-ray some 40 years later it's hard to see how these natives are cool.
Sure, we get some interesting insight into the way they lived (assuming it isn't too Hollywoodized), but rather than being the noble savages the producers appear to want us to see, they come off as brutal savages who, while they may live in harmony with the land around them, certainly don't live in harmony with their neighbors. It looks as if they spend their time either capturing white people (Harris isn't the only captive in this camp) or battling other native bands.
They're not particularly embracing of even their own people, either, judging by the way "orphaned" women are left to freeze to death when the winter storms come.
"Dances With Wolves" or "Little Big Man" this ain't!
The cast, which includes many natives in small supporting roles, is good. Harris does his best with the few lines he has (most of the movie is spoken in the natives' language and, fortunately, there's another captive along to translate), and the production values are very good as well (though - how's this for nit picky? - we noticed a jet contrail in the sky in one shot!).
The BLu-ray's very good, though, at least as far as its picture quality is concerned. Paramount has released it in a beautiful 1080p/24 widescreen version (aspect ratio of 2.35:1), and other than a few shots here and there it looks absolutely gorgeous. The picture is sharp and clean and the colors are outstanding.
Audio is supposedly dts-HD Master Audio 5.1 and, while we did notice a bit of multi channel use (up front at least) it's for the most part mono - and though it isn't particularly good mono, with plenty of distortion and a volume volume that's a tad low overall, it's better than the DVD we reviewed several years ago. That isn't meant as high praise, though.
To be fair, Hollywood didn't often pay a lot of attention to its audio quality back then so one shouldn't look for whiz bang sound from this vintage of film. And this one is definitely not whiz bang.
Alas, there are no extras, not even the trailer.
A Man Called Horse, from Paramount Home Entertainment
114 min. 1080p/24 widescreen (2.35:1, dts-HD Master Audio 5.1
Starring Richard Harris, Dame Judith Anderson, Jean Gascon, Manu Tupou
Produced by Sandy Howard
Written by Jack De Witt, Directed by Elliot Silverstein
---
Big Jake on Blu-ray
John Wayne stars in Big Jake, one of his weaker - but still quite enjoyable - efforts. It's a violent movie set against the background of an old West that's fading into history as times and technologies change.
He's Jacob McCandles, who everyone seems to think is six-feet under ("I thought you was dead" is a running line). He's summoned by his estranged wife (the glorious Maureen O'Hara) when their grandson is kidnapped in a brutal attack on their ranch that leaves most of the people there dead.
It's his job to take a million dollar ransom to the kidnappers, led by Richard Boone, and rescue the boy. The law goes on the same mission, albeit separately and without the ransom, in their fancy new automobiles that aren't nearly as up to the task as the good old fashioned hay burners - and for the most part they aren't a part of the story.
It's McCandles, accompanied by sons Patrick Wayne and Christopher Mitchum and Indian friend Bruce Cabot who track down the baddies and, in a series of shootouts and other incidents, bring them to justice while saving the young boy.
There's a lot to like about Big Jake, from the Duke himself and the strong supporting cast to the amusing use of technology - including telescopic gun sights, motorcycles cars, and more - and this helps make an overall weak story that's full of plot holes more enjoyable.
O'Hara, alas, is only there at the beginning, and that's s shame. We love her interactions with John Wayne. But we even get to see singing heartthrob (at the time) Bobby Vinton flex his acting muscles, just long enough to get gunned down in the opening scene. This isn't necessarily a bad thing. Singing star Glen Campbell stuck around for all of True Grit, and that was a shame.
It's a decent story, when all is said and done, well shot and well acted, and so while it won't go down in history as one of Wayne's finest, it's still worth a look - and John Wayne fans will undoubtedly want to own it.
The BLu-ray's pretty good. Presented in 1080p/24 widescreen, at an aspect ratio of 2.39:1, the picture quality is very good overall. It's a tad soft in places, but the color is good and there's very nice detail and sharpness. Audio is dts-HD 5.1 surround, supposedly, though as with the other flicks on this page they might as well have called it mono and not have teased us.
There are no extras.
Big Jake, from Paramount Home Entertainment
109 min. 1080p/24 widescreen (2.39:1), dts-HD Master Audio 5.1
Starring John Wayne, Richard Boone, Patrick Wayne, Christopher Mitchum, Bruce Cabot, and Maureen O'Hara
Produced by Michael Wayne,
Written by Harry Julian Fink and R. M. Fink, directed by George Sherman
---
Rio Lobo on Blu-ray
Rio Lobo may not be one of the Duke's finest, but it may be among the funniest - at least periodically.

The story follows Union colonel Cord McNally (Wayne) on a personal vendetta after the Civil War, to find a traitor from his former unit who sold information about gold shipments to Confederate guerillas who robbed the trains. We get to see one of the robberies near the beginning of the film, and it's quite imaginative. It makes you almost cheer for the guys, except that they're on the wrong side of the Duke.

On this personal journey, Wayne also manages to help a beleaguered town escape the clutches of a rich landowner and the corrupt sheriff he owns.

It may sound like an old story, and it probably is, but there's enough interesting new stuff to make this a very entertaining movie. And, as mentioned, it has some very funny moments.

Wayne, as usual, is great. He's joined by Jorge Rivero, one of the Confederate train robbers whose friendship he had made before and after war's end, and he's good as Pierre "Frenchy" Cordona. Joining them are the gorgeous and spunky (though apparently quite green as an actress) Jennifer O'Neill, along with Christopher Mitchum, the very funny Jack Elam, and Victor French.

The Blu-ray does the film justice. Paramount has blessed it with a good 1080p/24 widescreen (1.85:1) presentation that looks very sharp, clean and colorful. Well done!

The audio isn't nearly as good, unfortunately, and despite it being billed as dts-HD 5.1 it's pretty well limited to the front channels - all three of them, fortunately. Audio quality itself is not bad, hardly reference material, but okay.

Alas, there are no extras, and this is a shame, if for no other reason than this was Howard Hawks last picture, and some sort of commemorative thing would have been interesting and welcome.

Oh well.

Rio Lobo, from Paramount Home Entertainment
114 min. 1080p/24 widescreen (1.85:1), dts-HD Master Audio 5.1 surround
Starring John Wayne, Jorge Rivero, Jennifer O'Neal, Jack Elam
Written by Burton Wohl and Leigh Brackett, Directed by Howard Hawks


Jim Bray's columns are available from the TechnoFile Syndicate.