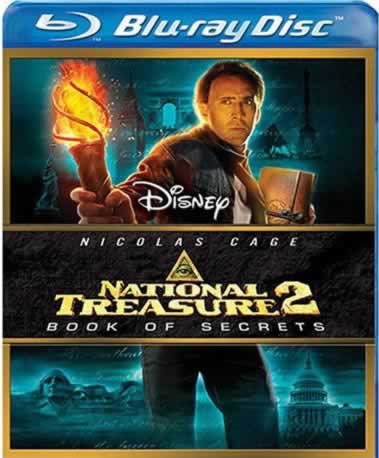 National Treasure 2: Book of Secrets on Blu-ray Disc
What would you do if you discovered suddenly that your family tree had some rotten fruit on it? Would you go to the ends of the earth to clear your family member's name, would you accept the news at face value, or would you just curl up into fetal position and hope the whole issue goes away?

Ben Gates (Nicolas Cage, reprising his role from the original flick), faced with a revelation that an ancestor was involved in the conspiracy to assassinate president Abraham Lincoln, chooses that latter.

Just kidding! Naturally, he makes choice number one, or we wouldn't have much of a movie, and that sends us off on an adventure that takes us to old Blighty, Gay Paree, and finally to Mount Rushmore to find, among other things, the missing pages of John Wilkes Booth's diary, a treasure map and a legendary lost city of gold - an adventure that features the kind of twists and turns and, alas, predictability we've come to know from the world of National Treasure.

Along for the ride are Justin Bartha as Gates' right hand, and straight, man Riley Poole and Diane Kruger as his ex-and-maybe-one-day-again girlfriend Abigail Chase. Ed Harris plays the heavy, but is he really that heavy? Harvey Keitel, as the law, John Voight, as Gates' father, and Helen Mirren, as his mother, add some needed gravitas to the proceedings.  

There aren't a lot of surprises in this rather predictable story, especially if you've seen the first flick, but despite its sticking quite closely to its successful template (which is understandable), the movie's quite enjoyable. It seems most influenced by the Indiana Jones films, which isn't a bad place to start, though if you only have one action/adventure series to enjoy we'd point you toward Indy (once it's available on Blu-ray, anyway).

So it's formulaic, but it's fun in a popcorn movie-type way and it looks and sounds great.

Which brings us to the Blu-ray presentation. 

Disney presents "National Treasure 2: Book of Secrets" in 1080p high definition, of course, at an aspect ratio of 2.40:1. The picture is generally very good, very sharp and detailed and with marvelous color. There's good depth, though sometimes the more shadowy scenes seem a little less detailed than they could be. Overall, though, it's a good presentation.

 The audio is offered in Dolby TrueHD 5.1, and it's a fine piece of work, dynamic and full and clean. The bass is nice and deep, highs are crisp and clear, dialogue is always understandable and all channels are used well, though the surrounds are used sparingly compared with some films of this type.    

There are plenty of extras, too, and they're all offered in either 1080i or 1080p, which is nice to see.

Well, not all of them: there's also an audio commentary with director Jon Turteltaub and co-star Jon Voight, which is an interesting track and it, obviously, isn't in any video resolution.

The other stuff includes "Secrets of a Sequel," an interesting hour-long (or so) documentary in eight parts. It introduces us to the producer/director and his partner in crime Jerry Bruckheimer, cast members Nicolas Cage, Justin Bartha, Jon Voight, and Helen Mirren. It also gives us a peek at the chase through the streets of London, and much more.   

"Book of History: Fact and Fiction of National Treasure" uses Blu-ray's branching technology combined with an interactive, graphic-based interface to turn the movie into a kind of game. Once you activate the feature, icons appear during the movie that can take you to little featurettes about the historical stuff used in the movie. Not only that, but questions appear from time to time and if you don't answer them you'll feel much shame. You can save your progress along the way in case you find the feature gets in the way of your enjoyment of the main feature. Such was the case with us, though far be it for us to complain about a disc having extra value-added stuff.

There are also seven deleted scenes, with Turteltaub letting us know why they were cut, a typical blooper reel, and some trailers.

Not a masterpiece and not the greatest example of a Blu-ray disc, but a pretty good time in the high definition home theater, indeed.

National Treasure 2: Book of Secrets, from Walt Disney Home Entertainment
125 min. 1080p (2.40:1), Dolby TrueHD 5.1 surround audio
Starring Nicolas Cage, Jon Voight, Harvey Keitel, Ed Harris, Diane Kruger, Justin Bartha, Helen Mirren
Produced by Jerry Bruckheimer, Jon Turteltaub
Written by The Wibberleys, directed by Jon Turteltaub


Jim Bray's columns are available from the TechnoFile Syndicate.