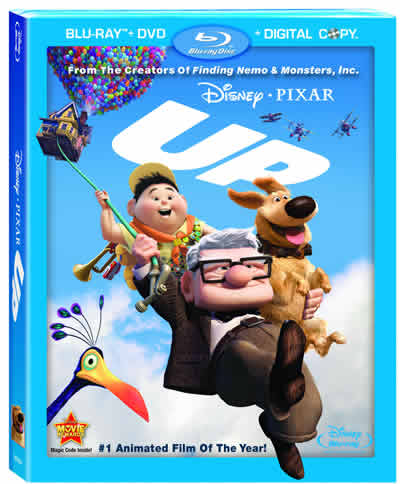 Monsters, Inc. and Up on Blu-ray Disc
Disney and Pixar have unleashed another pair of terrific Blu-ray features in Monsters, Inc. and Up. Both are not only engaging features on their own, they're also excellent examples of the Blu-ray beast.
And as usual Disney throws in so many extras it can make your head spin. For a company that fought the home video revolution back at its beginning, it has sure embraced it since then - and earned a deserved reputation for putting excellent technical quality and "value-added" extras into its releases.
Up is Pixar's latest entry, premiering in theaters in 2009, and it continues the tradition of fine family fare from the people at Pixar. It also packs somewhat of an emotional wallop at times, at least it might if you're in the least sentimental. We found our vision getting a little blurry during the heart warming prolog in which we watch Carl Fredericksen (voiced by Ed Asner) as he grows up, falls in love with a kindred spirit, and together he and Ellie plan to take on the world and wrestle it to the ground, though life gets in the way and they merely grow old together.
Not that there's anything "merely" about a couple obviously in love that chooses to spend their lives together and loving each other. But think "It's a Wonderful Life," in that George Bailey (and, in this case, his beloved wife) watches life pass him by despite his dreams and aspirations.
Then Ellie is taken from Carl and the team broken up - and Carl, much like Clint Eastwood's character in Gran Torino, is left alone and frustrated. And then the authorities decide to get involved, leaving Carl no way out other than to pack his bags and take up a new life in a retirement home.
Except Carl is made of sterner stuff and in an audacious move takes his house off from its lot using a multitude of beautifully colored balloons to lift it skyward. And thus begins his last great adventure as he and accidental stowaway Russell (voiced by Jordan Nagai) head to South America to land the house where Carl and Ellie had always envisioned ending up together.
Naturally, things don't go as Carl plans and he and Russell and the dog and rare bird who adopt them find themselves at odds with an old time adventurer (voiced by Christopher Plummer) and his evil canine minions.
It's typical Pixar, not quite up to the pinnacle of "The Incredibles" but very enjoyable nevertheless and well worth some time in the home theater, and as is typical for Disney the Blu-ray disc is absolutely top drawer.
Also released at the same time is Pixar's (and Up creator Pete Docter's) Monster extravaganza Monster's Inc., another welcome title to have on Blu-ray. Both titles are available with the Blu-ray and DVD version bundled together along with a digital copy.
Monsters, Inc. brims over with imagination, with a good story as well. The concept is a little bit like that of "Tim Burton's The Nightmare Before Christmas," but only a little – as, like the denizens of Halloween Town, these scary monsters aren't really frightening on their own, but are merely doing their jobs – jobs that require them to be frightening.
In this case, the monsters are kind of like miners: they must scare children in order to gather their "screams" and take them back home again to help power their world. It's kind of a parallel universe situation, where the monsters and the humans live on different planes of existence, and the monsters enter the human word by way of portals that just happen to look like (and, in fact, are) the closet doors of the little ankle biters who are about to be frightened.
Nifty concept, and it's well done – especially the scenes of Monsters, Inc.'s facility, a huge place that's rendered marvelously.
Anyway, James P. "Sulley" Sullivan (voiced by John Goodman) is a big, blue, hairy creature who's also the reigning champion frightener. His assistant and buddy is Mike Wazowski (voiced by Billy Crystal), and this team is going for the record "scream gathering" when things go seriously awry.
What happens is that a little girl slips through the portal into Monstropolis, and since human children are supposedly toxic to monsters, she threatens to bring destruction down on the city and its residents. Can Sully and Mike get little "Boo" back home safely before their civilization crashes?
Regardless of which Blu-ray you decide to purchase (and we recommend tem both) you'll end up with another winning feature from Disney/Pixar, one with laughs and heart-tugging emotions – and plenty of eye-popping computer-generated visuals. The writers/producers/directors have really outdone themselves, and the dics will not only provide plenty of fun hours in the home theater, but will also make an excellent showcase for your home theater itself.
The movies are offered in spectacular direct digital-to-digital transfers that are true treats for the eyes and ears. Both features are in 1080p widescreen (Up is at an aspect ratio of 1.78:1, which fills the widescreen TV completely, while Monsters is 1.85:1, which leaves very small black bars above and below the picture) and so far as the picture quality is concerned, one couldn't ask for better. The image is razor sharp and bright and colorful, with no discernible artifacts, and looks magnificent. Either of these movies make good reference material.
Audio is dts HD Master Audio 5.1 (or stereo) and in both cases it is up to the high standards of the video side of the equation: your audio system, including your subwoofer, will love it (though your neighbors may not!). The sound is very dynamic and spreads to all the channels of your audio system very nicely.
With Disney releases such as these, you always have to talk about extras that, while some of the supplements appear to be cases of gilding the lily, we're inclinded not to complain about getting more with your purchase than less.
Both Blu-rays open with a delicious yet diabolical teaser for Toy Story 3, which hits theatres in 2010. It's delicious because it drops you right back into that universe (in high definition this time), shows you that most of, if not all, the Toy Story gang will be back and as loveable as ever - and it's diabolical because it does that without really revealing the slightest detail about the actual story of the second sequel upcoming. It does seem to indicate that Disney's going to rake in a whole lotta cash come next summer, though.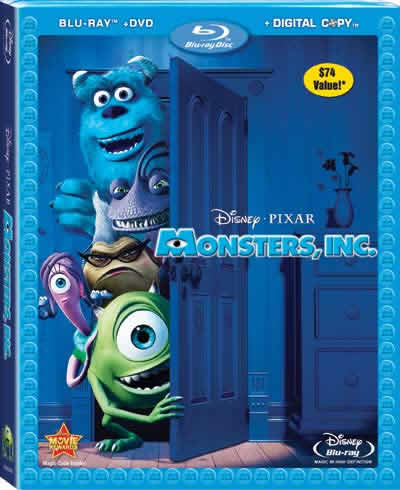 Both features come with enough other extras to choke a horse. Up has a Commentary by director Pete Docter and co-director Bob Peterson, as well as "Dug's Special Mission", a new short that follows the misadventures of the loveable Dug. Disney also lists these features:
• The Many Endings of Muntz – Many ideas were hatched about how to dispose of the film's arch villain, Muntz, and now viewers can see the many alternate endings proposed during story development.
• Partly Cloudy –The hilarious short film that preceded screenings of Up.
Everyone knows that the stork delivers babies, but where do the storks get the babies? The answer lies up in the stratosphere where the cloud Gus is a master at creating "dangerous" babies, which prove to be more than a handful for his loyal delivery stork Peck. Directed by Pixar story artist, animator and voice actor Peter Sohn.
• Adventure is Out There – This action-packed documentary tells the story of the filmmakers' own trek to the tepuis mountains of South America to research the design and story of the film.
• Cine-Explore – A visual montage of concept art, clips and documentary
coverage that illustrates the directors' commentary.
• Geriatric Hero – A character study of Carl, from research to realization including art and design, rigging, animation and story. It focuses on the issues of aging, "simplexity", shape-language and compelling character arcs.
• Canine Companions – For anyone who ever wondered where CG puppies come from, an introduction to the design, behavior and language of dogs.
• Russell: Wilderness Explorer – A character study of Russell from inspiration and design to finding the character arc and authentic voice for this wilderness
ranger.
• Our Giant Flightless Friend, Kevin – Find out how avian research and
development at Pixar helped bring a mythical, 13-foot tall iridescent bird to life.

• Homemakers of Pixar – Carl and Ellie's house is an important "character" in the film. Fans follow the development of the house from story to art to its ultimate realization in the computer.
• Balloons and Flight – Carl's house and Muntz's dirigible presented the filmmakers with two different problems—how could they make a physical
impossibility possible? And, in the case of the dirigible, how would they unearth a fallen giant and let it soar?
• Composing for Characters – Composer Michael Giacchino returns to score his third Disney•Pixar feature film. See how the Up filmmakers collaborated with Giacchino to create the memorable score and compelling musical themes.
• Married Life – The original story concept that became the powerful "Married Life" scene, showing Carl and Ellie's love story.
• Global Guardian Badge Game – Players try to locate countries, states and capitals around the globe in a multi-layered BD-Exclusive geography game enhanced by BD-Live. Anyway, both discs also offer up such features as audio commentaries from filmmakers Pete Docter, Lee Unkrich, Andrew Stanton and John Lasseter, as well as a selection of the CG "outtakes" to which we've become accustomed. We think Pixar may have begun to exhaust the humor and wonder in the outtakes, but we still enjoyed watching them.
Disney lists Monsters, Inc. supplements as including:
FILMMAKERS ROUND TABLE (Filmmakers Pete Docter, Lee Unkrich, Darla Anderson, and Bob Peterson reflect on the
creation of the film, and share their most memorable anecdotes.
MONSTERS, INC. RIDE AND GO SEEK: BUILDING MONSTROPOLIS IN TOKYO - A sneak peak of the newest Monsters attraction in Tokyo Disneyland, with exclusive interviews of the artists and engineers behind the ride.
ROZ'S 100 DOOR CHALLENGE (INTERACTIVE GAME) - Think you have what it takes to be a Monsters, Inc. employee? Roz will be the judge of
that with her 100 Door Challenge. Deal with whatever is behind each new door. It could be a puzzle, a trivia question, a mini-game . . . it could be crazy! Do your best. Your future employment at Monsters, Inc. hangs in the balance.

• BD-LIVE FEATURES

Disney also lists these DVD bonus features:
• Academy Award nominated short film "Mike's New Car" (With Audio Commentary By
Directors)
• Academy Award-winning short film "For the Birds" (With Audio Commentary By Director)
• Banished Concepts
• Storyboard To Film Comparison
• Monster file
• Animation Gag Reels
Both features are given one heck of a package, befitting a couple of imaginative and innovative examples of family entertainment coupled with technical achievement both in their animation and in the transfer to high definition consumer video..

Up, from Walt Disney Home Video
93 min, 1080p widescreen (1.85:1), dts HD Master Audio
Starring the voices of Edward Asner, Christopher Plummer, Jordan Nagai, Bob Peterson
Produced by John Lasseter, Denise Ream, Jonas Rivera, Andrew Stanton
Written by Bob Peterson, Pete Docter, Directed by Pete Docter, Bob Peterson

Monsters, Inc. from Walt Disney Home Video
93 min, 1080p widescreen (1.85:1), dts HD Master Audio
Starring the voices of John Goodman, Billy Crystal, Steve Buscemi, James Coburn, Jennifer Tilly
Produced by Darla K. Anderson
Written by Andrew Stanton, Daniel Gerson, directed by Peter Docter, Lee Unkrich, David Silverman


Jim Bray's columns are available from the TechnoFile Syndicate.