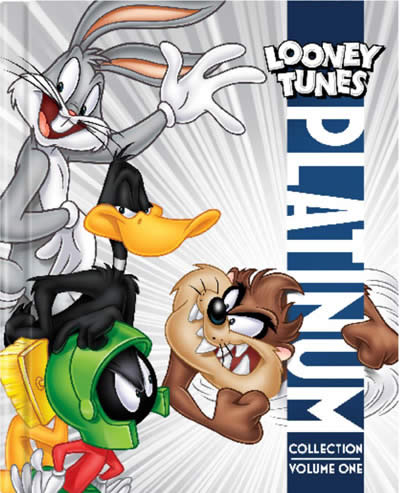 Looney Tunes: Platinum Collection – Volume 1 on Blu-ray
Volume One of the Warner Brothers classic Looney Tunes collection is a real winner, with toons that have never looked better and a wealth of interesting behind the scenes stuff to boot.
We were a tad disappointed with some of the omissions from the collection, but can't really argue with the logic of the producers' choices as to what to include. It's just that some of our favorites weren't there – such as "What's Up, Doc?" and the one with Bugs facing off with the Bull, Bugs and Daffy doing their take on Ali-baba, and Fearless Freep.
Guess Warners has a customer for volume two already…
Volume 1 is a collection of 50 of the classic cartoons (and we're still not happy?) that includes some great stuff from Bugs Bunny, Elmer Fudd, Daffy Duck, Wile E. Coyote and the Roadrunner, along with looks at some of the lesser known but still memorable characters such as Mark Anthony, the Tasmanian Devil, Witch Hazel and, of course, Michigan J. Frog.
The marvelous mayhem is spread over three Blu-ray discs, two of which feature the cartoons themselves, with supplements, and a third that's all extra material. Disc one is mostly Bugs and Daffy – backed up by Elmer, Yosemite Sam, Porky Pig, Sylvester and Pepe Le Pew.
The more obscure characters appear on the second disc, which kicks off with the classic "One Froggy Evening." Besides the abovementioned, we also get to see Marvin the Martian and Ralph Phillips (Looney Tunes' version of Walter Mitty).
Here's the breakdown of the toons themselves:
Disc 1
"Hare Tonic"
"Baseball Bugs"
"Buccaneer Bunny"
"The Old Grey Hare"
"Rabbit Hood"
"8 Ball Bunny"
"Rabbit of Seville"
"What's Opera, Doc?
"The Great Piggy Bank Robbery"
"A Pest in the House"
"The Scarlet Pumpernickel"
"Duck Amuck"
"Robin Hood Daffy"
"Baby Bottleneck"
"Kitty Kornered"
"Scaredy Cat"
"Porky Chops"
"Old Glory"
"A Tale of Two Kitties"
"Tweetie Pie"
"Fast and Furry-Ous"
"Beep, Beep"
"Lovelorn Leghorn"
"For Scent-imental Reasons" and
"Speedy Gonzales"
Disc 2
"One Froggy Evening"
"The Three Little Bops"
"I Love to Singa"
"Katnip Kollege"
"The Denver Boys at Pimento University"
"Chow Hound"
"Haredevil Hare"
"The Hasty Hare"
"Duck Dodgers in the 24 1/2th Century"
"Hare-Way to the Stars"
"Mad as a Mars Hare"
"Devil May Hare"
"Bedevilled Rabbit"
"Ducking the Devil"
"Bill of Hare"
"Dr. Devil and Mr. Hare"
"Bewitched Bunny"
"Broom-Stick Bunny"
"A Witch's Tangled Hare"
"A-Haunting We Will Go"
"Feed the Kitty"
"Kiss Me Kat"
"Feline Frame-Up"
"From A to Z-Z-Z-Z" and
"Boyhood Daze"
Whew!

Many of the toons also have commentaries or other supplemental features you can access from the menu. A lot of it is fascinating, and some's quite funny.

The Blu-ray set comes in an oversized Digibook, and includes an interesting 50 page color booklet outlining each short, explaining the special features and giving peeks at the characters on each disc.  

The 1080p video quality isn't perfect, but it's easily the best these classic cartoons have looked. There's some dirt and other imperfections, but for the most part the video presentation is outstanding. Colors are rich and bright and the detail is just lovely. This is definitely the way to experience these classics!

The audio isn't quite as good, but it's still eminently enjoyable. Warner Brothers has included only a lossy audio track, in this case Dolby Digital Mono. It's good, but we wonder how much better it would sound in Dolby TrueHD or DTS-HD Master Audio. Maybe there wasn't enough difference to affect the sound, considering the age of the soundtracks, but we may never know.

Still, dialogue is clear, though there are some cracks and hisses occasionally, and the glorious Carl Stalling and Milt Franklin musical scores sound pretty good as well.  

Extras spread across the three discs include some 37 audio commentaries – including some from the master himself, Chuck Jones, where he talks about his craft. Mel Blanc also does some commentaries, much to our delight, while others feature historians who put the toons into context and tell us how the shorts influenced animators that followed.

There are also some alternate audio programs on some selections. Some are music-only tracks – on such toons as "What's Opera Doc?," "The Scarlet Pumpernickel," "Duck Amuck," "One Froggy Evening," "The Three Little Bops," and "Hare-Way to the Stars." You also get music and effects tracks for "Bewitched Bunny," "Broom-Stick Bunny," and "Feline Frame-Up," there's a vocal-only track for "The Three Little Bops" and "What's Opera Doc?" which feature Mel Blanc, Stan Freberg, and others showing us what it was like in the studio.

Disc three kicks off with "A Greeting From Chuck Jones," in which the legend talks about how Looney Tunes came to be and then introduces the most famous characters by talking about their individual characteristics.

"Chuck Amuck: The Movie" is a documentary that talks about the life of Chuck Jones, how he worked his way through the animation ranks to the pinnacle. If you're a Jones fan, and you undoubtedly are if you're reading this, you'll love this.

Then there's "Chuck Jones: Extremes and In-Betweens A Life in Animation," which runs just about an hour and a half and features movie  uber-fan Leonard Maltin, and others, talking about the origins of Looney Tunes and their development over the years. Some of the stuff is duplicated from "Chuck Amuck," but not enough to make the thing too superfluous.

"Chuck Jones: Memories of Childhood" is about a half hour of Jones reminiscing about his childhood, illustrated by rough storyboard animations. "How the Grinch Stole Christmas' Pencil Test" is basically self explanatory, while "The Door" is an anti-war cartoon produced by Bill Cosby.  

There's plenty more, too, including another full-length documentary "The Animated World of Chuck Jones", which gives us looks a some cartoons that had been whiling away their time in the Warner vault. Some were produced for the U.S. military.

And there are some bonus cartoons as well, including "Fright Before Christmas", "Spaced-Out Bunny," "Duck Dodgers and the Return of the 24 1/2th Century," "Another Froggy Evening," (both of which are very much inferior to their originals) "Marvin the Martian in the Third Dimension," "Superior Duck," "From Hare to Eternity," "Father of the Bird" and "Museum Scream." Most are presented in standard definition only, however. What's with that?  

Despite its warts – no lossless sound, some bonus toons that are only in standard definition and the exclusion of some of our personal favorites – this really is an outstanding collection and we can't wait for volume two!


Jim Bray's columns are available from the TechnoFile Syndicate.