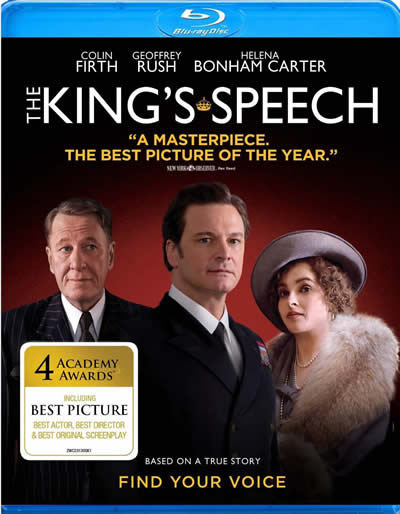 The King's Speech on Blu-ray disc
by Jim Bray

It was the winner of the 2010 "Best Picture" Oscar and the talk of the movie industry before that. Fortunately, it also turns out that "The King's Speech" is a terrific movie that's worthy of the honors it has garnered.

I was a bit frightened going into the film, because the last time I remember a "small" picture such as this getting so my hype and winning so many awards it was "The English Patient," and I absoluted hated that movie! "The King's Speech," however, is an excellent film of a compelling story.

It follows some guy named Bertie Windsor, who was better known as the Duke of York, son of King George V and near the top of the line to inherit the British Crown. Being a prince, especially in a world where technology is bringing the ruling class closer than ever to the people via such innovations as radio and newsreels, also meant being a bit of a media star – an actor, as King George (Michael Gambon) tells Bertie early in the film.

Unfortunately, that's the last thing Bertie wants. He's a stutterer, and at the movie's opening we get to see him make a embarrassment of himself when he tried to make a speech.

Enter Lionel Logue (Geoffrey Rush), an Australian expatriate who ends up playing Henry Higgins to Bertie's Liza Doolittle.

It isn't that Bertie massacres the King's English, of course, it's that his tongue gets tied and the King's English just doesn't get out past it. Lionel takes Bertie under his wing - but on his terms only, which leads to more conflict in the film as the aristrocrat is forced to deal with the commoner on the commoner's turf, even to addressing each other by their first names.

Lionel thinks Bertie's problems are more psychological than physical and, though he does put him through a regimen of exercises to help him speak, he plays more of a psychologist's role with the Prince than just a speech coach, digging into his past to find clues as to what makes him stammer sometimes, and with some people, but not with others.

The stakes get immeasurably higher when George dies and Bertie's brother, David, ascends to the throne as Edward VIII. That's because David has been carrying on with an American divorcee named Wallace Simpson and has fallen for her, hard. He wants to marry her, regardless of the cost or of his responsbilities.

But the British establishment isn't going to allow that. Not only is she a divorcee, the marriage to which is verboten in the Church of England (of which the King is the head), but she's apparently of murky loyalties, and the last thing the British need on the eve of war against Nazi Germany is to have their monarch put into a compromising - or, worse, blackmailable - position.

As anyone familiar with history knows, Edward ends up tossing in the royal towel, abdicating his throne so he can marry the woman he loves. This leaves Bertie holding the British bag, as it were, elevated to the position of King - King George VI, as it turns out.

Then England declares war on Germany and this reclusive stammerer is forced to the forefront, to be the country's face and comfort heading into the very difficult years ahead.

This brings us to the King's speech, and didn't you just know we'd get there eventually? Bertie/George must address the nation via radio, offering strength to the people listening across England and in the British Empire around the world. Can he pull it off? Is he ready for the task even though he and Lionel had a falling out that led to a lot of training time being wasted?

It's a very compelling tale, made more so by its roots in real history, told in an excellent screenplay by David Seidler that includes surprisingly touching moments of humor and very human characters. Tom Hooper's direction is firm and sure, and the pacing is such that even though this is basically a very dialogue-heavy film with little real action (and no spaceships blowing up!), the movie moves along beautifully, seeming shorter than it really is.

In all, an excellent film and well deserving of your time, with excellent performances from everyone involved.

It isn't as good a Blu-ray, though it's hardly bad. But I was a bit disappointed in the picture quality since, as a virtually brand new film, you'd think it would be top notch. The 1080p/24 picture is presented at a full-wide-screen aspect ratio of 1.78:1, which is fine, but the look is very soft and flat compared with the best of today's Blu-rays, and the colors are a tad dull as well. It's okay, but not great.

The lossless dts-HD Master Audio is a lot better, though. Since the drama unfolds mostly through dialogue, it's important that every word be clear, and this is exactly the case here. There's even some pretty good use of the surround channels at times, through such things as reverberation during the public address scene at the beginning and even the trips down to Logue's lair in the old elevator, which helps make you feel more a part of the "action."

It's hardly a showstopper like you'd expect from a big action film, but totally appropriate for this movie.

Extras include a commentary track by director Tom Hooper, and it's very interesting. Hooper knows a lot about history, it appears, and that certainly doesn't hurt with such a historical drama as this. He also gives good insight about the actual making of the film, right down to his choices in choosing how to shoot particular scenes.

"The King's Speech: An Inspirational Story of an Unlikely Friendship" is pretty well your standard "Making of" feature, and more promotional than some. But it features cast and crew talking about their gusto for the project and touches on the real events portrayed, the historical look, etc.

There's also a Q&A with director Hooper and the cast, two of George VI's original speeches (the latter of which includes video) and a feature on Lionel Logue, via an interview with his grandson.

Last and least is a PSA for The Stuttering Foundation.

While it may leave something to be desired from a video quality point of view, "The King's Speech" is an excellent film, a definite "Must see," and a good addition to the home theater.

The King's Speech, from Alliance Atlantis Home Entertainment
119 min. 1080p widescreen (1.78:1), dts-HD Master Audio
Starring Colin Firth, Geoffrey Rush, Helena Bonham Carter
Written by David Seidler, directed by Tom Hooper


Jim Bray's columns are available from the TechnoFile Syndicate.