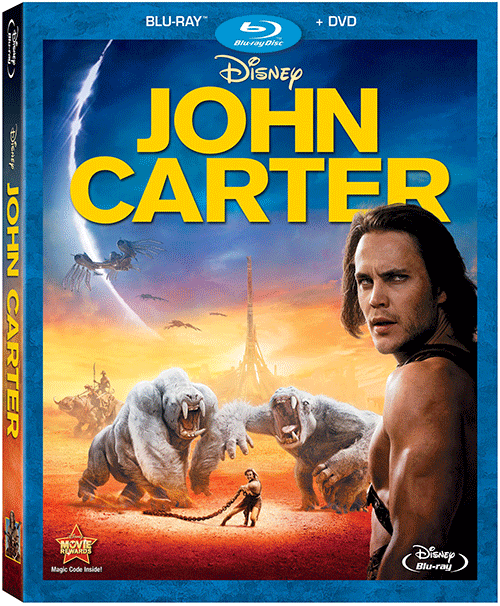 John Carter mars Hollywood's bottom line, but the Blu-ray's great
By Jim Bray


It may have been an embarrassment to Disney's bottom line, but John Carter is a grand science fiction fantasy that should be seen by all who like an imaginative tale.

Okay, it's no masterpiece, but Andrew Stanton's live action film debut is full of really neat stuff and it's easy to see how the old Edgar Rice Burroughs story inspired many who followed, including the late great science fiction author Robert A. Heinlein. Heck, you can see lots of Star Wars here, as well as Superman, Indiana Jones, and many others. Even the musical score sounds inspired by John Williams' legendary cinefantastique masterworks, though not up to those standards.

There's lots of stuff here that we've seen in movies before (intelligent aliens, adrenaline-pumping sci-fi battles, you name it), so much that one might be tempted to call John Carter highly derivative, except that John Carter came first; it just took 100 years to get onto the big screen properly.

John Carter is done right, for the most part. The story of a battle-weary civil war veteran who suddenly finds himself transported mysteriously to the planet Barsoom (the natives' name for Mars) and dumped down smack dab into the middle of a civil war that appears to be getting less civil with each passing day is a timeless "reluctant hero" tale. In this case, Carter (Taylor Kitsch) just wants to get home (shades of Dorothy in Wizard of Oz), until he meets and falls for Barsoomian princess Dejah Thoris (Lynn Collins) and must fight to help save her from a forced marriage (shades of Flash Gordon) so he can marry her instead.

And that's about all of the plot I'm going to spoil. It's broad and epic in scale as two warring races of humans fight for control of Barsoom and the tall, Martian green Thark who first befriend (well, kind of) Carter get caught in the middle.

Time was that this movie would be pitched as a "cast of thousands" epic, but now of course most of those thousands began life as pixels.

The film looks and sounds great, and the Blu-ray is up to snuff, though not quite reference quality in its video. The only real problem with the movie itself is a lack of "spark," that mysterious factor that elevates a pedestrian film to the heights. Sure, the story is fun, and there's even a bit of humor thrown in periodically, but after my initial viewing I sat there – after having wanted very much to like it – feeling disappointed.

Yet it's my kind of movie! So I watched it again two nights later and enjoyed it a lot more – so either it's best upon multiple viewings or I nodded off the first time.  

It's almost as if there's a really great three hour movie trying to get out, because it seems like they've sandwiched a whole lot of stuff into the film's 132 minute running time. More exposition could have been in order. Heck, my first e-book download was a digital copy of "A Princess of Mars," the book on which the movie is based and though I'm only about a third of the way through it (and the movie does seem reasonably faithful) I had trouble following who was who and why they were doing whatever they were doing.

Perhaps a director's cut is on the radar? Probably not, unless this video release undoes the damage of the domestic theatrical run's lack of financial success.

You can get the Blu-ray in either 2D or 3D. We got the 2D one which, as a "3D denier" is fine with me.

The 1080p picture, at the 2.40:1 aspect ratio is mostly awesome. We watched it on a 106 screen and the image was very nice, with excellent black levels, color and detail. That wonderful depth you can get from a good Blu-ray is also in evidence in spades, which makes the shots of huge scale look really neat.

Then there's the audio, which is presented in DTS-HD Master Audio 7.1, though we listened via a 5.1 system that can shake the house. It shook the house. There's a lot of sound here, including the stuff of epic battles and cheering throngs, and it's spread across all channels beautifully. Dialogue is clean and the low frequency effect channel gets a great workout.

Extras are relatively sparse. There's a "Disney Second Screen" feature that lets you use a downloaded app to explore stuff about the movie while you should be paying attention to it. I was afraid to try this, my attention span being bad enough to begin with, but it sounds interesting.

There's also an interesting commentary in which director Andrew Stanton (who's more famous for such Pixar flicks as "WALL-E") and producers Jim Morris and Lindsey Collins reminisce about bringing Burroughs' classic to the cineplex. "360 Degrees of John Carter" is an untraditional making-of featurette that focuses on a single shooting day. It's quite interesting as well; I particularly enjoyed the extras going through the "hurry up and wait" routine that goes with the gig.

Barsoom Bloopers is pretty lame; it would have been cool if Stanton brought his Pixar pedigree to these and created fake ones with the Thark, but 'twas not to be.

There are also 10 deleted scenes, with optional director's commentary, in stages of completion, including an alternate opening.

John Carter got a bum rap. Perhaps if a good production such as this had made it to the movies decades earlier, when the concepts would have been newer to most non-sci-fi people, it might have taken off and been the "Star Wars" of its day. As it is, it's still a grand adventure told well, but it comes off more as a big budget Flash Gordon meets Star Wars rip-off than the truly innovative and classic story it is.

I hope John Carter's theatrical failure doesn't frighten Hollywood away from making other classic science fiction/fantasy books into films. It probably will, though, and that's a darn shame, since there are many, many great books and short stories that would make great movies, if done right.


Jim Bray's columns are available from the TechnoFile Syndicate.