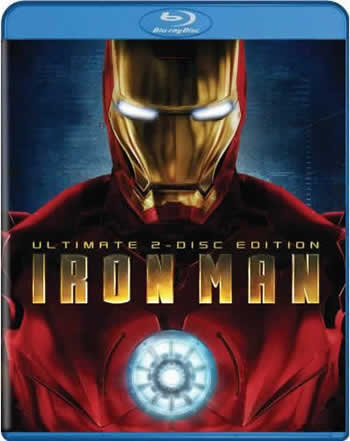 Iron Man on Blu-ray Disc
Yet another "Marvel"-ous comic book comes to the home theater screen in Iron Man, one of the best entries into the Marvel movie universe since Spidey 1.

It's smart, witty, and entertaining, without being preachy or silly. It treats the genre with respect, but not at the expense of the story as a movie. And it's a pretty good Blu-ray, too.

Robert Downey, Jr. is Tony Stark, heir to a munitions company, a man who is kidnapped and held prisoner by Islamist terrorists (yep, they're actually Muslim here, in a remarkable bit of reality from a Hollywood that's usually more comfortable bravely dumping on Christians) who want him to use his expertise to build them weapons.

Instead, he uses his expertise to build himself a high tech suit of armor using, as Star Trek's Spock has been known to say "Stone knives and bearskins." But it's enough to let him make his escape.

Back home, Stark's experiences have made him a new man. He is no longer content merely to build munitions – especially now that he's seen those same munitions being used against civilians and U.S. personnel – he wants to make a positive difference in the world.

This puts him at odds with his company's evil CFO Obadiah Stane (a bald Jeff Bridges) who, it turns out, has interests in mind other than Stark's best. Stark stands in his way, and this sets up the main good vs. evil battle as Stark updates his Iron Man concept and Stane creates an "Iron Monger" suit that's reminiscent of the powered armor from Robert A. Heinlein's masterpiece "Starship Troopers" (the book, not the movie).




Gwyneth Paltrow plays Pepper Potts, Stark's sexy Girl Friday and potential love interest. She doesn't get nearly as much screen time as she did in a fairly similar role in Sky Captain, but there's good sexual tension between them, though it appears to come to naught by the time the credits roll.

We won't dwell on the story, which is swell, encouraging you instead to pick up this title – it truly is one of the best Marvel movies to date.

It's a decent Blu-ray disc, too, a two disc set chock full of extras.

But, to us, it's the presentation of the movie that's the most important, and overall we're happy. The 1080p presentation looks great. The 2.40:1 widescreen picture isn't the best we've seen on a BD, but it's still very good, with nice, sharp images, good depth and contrast and rich, deep color. It may not be a demo disc, but it's excellent nonetheless.

We wish we could say the same about the Dolby TrueHD audio. This is a movie that cries out for a marvelous surround soundtrack and it's here for the most part. Channel separation is just as you'd want it, enveloping you in the action, and of course there are plenty of explosions, rounds of ammunition and the like to keep you ducking. Unfortunately, we thought there should have been more use of the LFE channel, or at least that it should have been used better because we found it a tad muffled at times. Not a fatal flaw, mind you, but not as good as we were hoping we'd get.

If you're into extras, you've come to the right place – and most (if not all) of it is in glorious high definition.

Disc one contains a documentary "The Invincible Iron Man", a six part look at the creation and subsequent evolution of the comic book character. It features a plethora of comic book folk such as Stan Lee (Mr. Marvel – and, yes, he does make a cameo in the movie), Gerry Conway (writer), and artists John Romita, Jr. and Gene Colan.

Hail of Armor is basically a user-controlled 3D still picture gallery, where you enter the "Stark Database" with its Iron Man suits (Iron Men?) and can peruse detailed pictures, zoom around, etc. 

There's also nearly a half hour of deleted/extended scenes that don't really add a lot, though a couple of parts culled from the final battle are pretty cool. 

Iron Man also includes BD Live, an Internet-based feature that lets you log into their site and partake of extras such as an "Iron Man IQ" application that lets you create and share multiple choice quizzes based on clips from the film.

Disc two starts off with the full length documentary "I Am Iron Man", a seven part "Making of" extravaganza. Just about every major mover and/or shaker surrounding the production shows up here, including director Jon Favreau, actors Robert Downey Jr., Gwenyth Paltrow, Terrence Howard, and Jeff Bridges, writers Mark Fergus & Hawk Ostby, various production people, and even Marvel mavens.  

A half hour featurette "Wired: the Visual Effects of Iron Man" is a pretty nifty look at the film's CGI effects, focusing (not surprisingly) on the Iron Man suits and how the animators made the jump from real world to computer-generated.  

"Robert Downey Jr. Screen Test" and "The Actor's Process" are short looks at the cast preparing for the cameras to roll. You also get four still galleries and three trailers.  

In all, a compelling package of a compelling comic book flick.

Iron Man, from Paramount Home Entertainment
125 min. 1080p widescreen (2.40:1), Dolby TrueHD
Starring Robert Downey, Jr. Jeff Bridges, Gwyneth Paltrow
directed by Jon Favreau


Jim Bray's columns are available from the TechnoFile Syndicate.