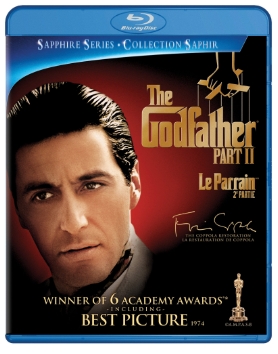 Godfathers, Sapphire Series on Blu-ray Disc
Paramount Makes Us an Offer We Can't Refuse, again.

The first two Godfather movies were the films that really put Francis Ford Coppola on the map. He has made other films, arguably better and worse, but it will be the Godfather films and, after that, Apocalypse Now for which this master director will be known forever.

And with good reason.

Paramount released the entire Godfather trilogy in a four disc Blu-ray set a couple of years back, a nice boxed set in which the movies took up the first three discs, with the fourth reserved for extras.

Now, the first two Godfather movies are available as part of Paramount's Sapphire Series of deluxe Blu-rays, for those who just can't stand the thought of having Part III stinking up their collections.

Why isn't Part III included? Who knows. Despite its general trashing when it first came out to theaters, it makes an appropriate ending for the story of Michael Corleone, the story that's at the heart of the trilogy. Despite Marlon Brando's formidable presence in Part I, and Robert De Niro's excellent portrayal of the young Vito in Part II, it isn't really Don Vito's story. Rather, it's about the rise and fall of Michael Corleone (Al Pacino), a reluctant anti-hero who as a young World War II veteran knows exactly where he's heading in his life - until family ties and responsibilities change his path irrevocably.

When his father, Don Vito (Brando) is gunned down in a mafia hit, the only strategy left to the family (and suggested by Michael) is for Mike to gun down Virgil Solozzo (Al Lettieri) the mobster involved and his corrupt cop escort (Sterling Hayden). This forces Michael to break off his engagement to Kay Adams (Diane Keaton) and join the family business, something he did reluctantly, but had to in order to save the extended family itself.

He goes to Sicily to hide out while a gang war erupts back home in New York City. While there he falls in love and marries a local girl - but the reach of his enemies is long and she is killed in a failed attempt on Michael's life.

Once back in the USA, the baton of family power is passed to Michael, the new Don Corleone, and he vows to himself to take the family from the criminal element to legitimacy.

But first he has a few scores to settle, and this is done with dispatch, so to speak.

Part II interweaves a new plotline (Michael as Don) with parts of the original book (the Young Vito Corleone, as played by De Niro) that didn't make it into the first movie. The De Niro sections document Vito's flight from Sicily, establishment in New York, and his rise to become Don. It's good stuff, and De Niro - as usual - plays the part beautifully. Vito sees his rise to criminal power not only as an opportunity to profit, but an opportunity to see that justice is done is his little part of the world.

Meanwhile, Don Michael has moved the family away from New York, to a beautiful compound on Lake Tahoe in Nevada, close to the family's new business empire of casinos and hotels. A businessman first and Mafioso second, Michael looks to make deals, resorting to violence only when necessary but unleashing it mercilessly when it is necessary. His new deals involve holdings in Cuba, just as the government is overthrown and Castro comes to power and he escapes from the island by the skin of his teeth.

Old habits die hard, and Michael's business associates still live and die by the old school of conduct. This leads to attempts on the lives of Michael's family that force him to take the appropriate retaliation.

A subplot involves a Congressional investigation into organized crime and Michael is in danger of being put away for perjury if not for some lucky connections.

But enough about the movies, how about the Blu-ray discs?

As far as we can tell, the movies themselves are pretty straightforward rereleases of the boxed set's first two discs, though separately. They went through a meticulous restoration,  supposedly overseen by director Coppola himself, before the first Blu-ray release, supposedly a frame-by-frame examination and restoration that used state-of-the-art digital technology and took more than a year to complete.

Needless to say, the movies are presented in 1080p widescreen, with Dolby TrueHD 5.1 sound (and English Mono, French 5.1 Dolby Digital and Spanish 5.1 Dolby Digital along with English, English SDH, French, Spanish and Portuguese subtitles as well). Both movies also come with the original director's commentary.

For the most part Paramount has done an excellent job here. Both films match what was easily the best video incarnation of the movies yet available on video, with picture quality that's very good – dark and atmospheric but very involving and very rich. In short, very satisfying – even though there's plenty of grain in places as well.

The 5.1 sound tracks are about as good as you can get from sources of this age. Don't expect a lot of surround or subwoofer use, in other words, but do expect clear dialogue and a reasonably dynamic audio track. It works well in quiet sections, too; heck, you can even hear the Don's pussycat purring in his lap during the opening scene of the first film.

Sapphire Series discs purportedly pride themselves (well, Paramount prides itself…) with the extras offered but these discs are a real disappointment in that area, making us wonder why Paramount has bothered releasing them as Sapphire Series discs at, and not just "garden variety" releases that don't pretend to the heights of home theater excellence.

Not that they aren't excellent, but here's how Paramount described the Sapphire Series in its press release announcing the first titles (Gladiator and Braveheart): "The Sapphire Series will capitalize on the pristine picture and sound of the Blu-ray format to present each cinematic gem in the highest quality for the first time in two-disc, high definition sets."

That didn't last long.

On the other hand, if you don't care a whit for the special features and don't care about Part III, you might save a couple of bucks buying these discs separately instead of the boxed set. The presentation of the movies themselves is excellent and we argue often that it's the movie that counts the most anyway.

It just seems weird that they'd call these Sapphire Series.

The Godfather, Parts 1 and II, from Paramount Home Video
1080p widescreen (1.85:1), Dolby TrueHD 5.1
Starring Al Pacino, Marlon Brando, Robert De Niro, Diane Keaton, Talia Shire, Robert Duvall, James Caan, Lee Strasberg, Joe Mantegna, Andy Garcia, Eli Wallach and many others.
Produced by Albert S. Ruddy, Francis Ford Coppola,
Written by Mario Puzo and Francis Ford Coppola, Directed by Francis Ford Coppola.


Jim Bray's columns are available from the TechnoFile Syndicate.