Ghostbusters 25th Anniversary Edition on Blu-ray

It'll Make You a Believer
by Jim Bray
Sony Pictures Home Entertainment's Blu-ray release of "Ghostbusters" is a nice revisiting of the Ivan Reitman comedy classic, chock full of High-Def Features such as "Slimer Mode" and the "Ecto-1 Refurbishment" Featurette.
Starring Bill Murray, Dan Aykroyd, Harold Ramis, and Sigourney Weaver, Ghostbusters updates the old Abbot and Costello schtick of combining monsters and mayhem with comedy and state of the art production values. Released in 1984, the film is one of the top grossing comedies of all time.
The movie tells of a group of flakey scientists who set up a professional "paranormal exterminator" service - just in time for all Hell to break loose in New York City, threatening to rock the Big Apple to its core.
Along the way the busters, separately or together, fall in lust, anger the bureaucrats, poke at fate with a pointy stick and in the end save the world.
The movie was directed and produced by Ivan Reitman, written by Dan Aykroyd and Harold Ramis and stars Bill Murray, Aykroyd, Sigourney Weaver, Ramis, Annie Potts and the great but generally underutilized Rick Moranis, the latter playing yet another nerdy dude when he's capable of being so much more.
I've never been a big fan of "Ghostbusters," but it's an enjoyable romp in the home theater anyway - and it looks and sounds great in the high def disc medium.
The Blu-ray is presented in 1080p widescreen (2.40:1), and it has never looked better. The special edition DVD of a few years ago was great, but it can't hold a candle to this new high def release. The picture quality is very good, with a very sharp image, deep color and pretty good depth. The picture's so sharp that a couple of the special effects show up for what they are, but what can you do?
Audio is presented in Dolby TrueHD 5.1, and it's about as good as you can expect from a 25 year old movie. The surround channels are used well - as is the low frequency channel - and the music comes off best, very clear and dynamic.
Sony also throws in a bunch of extras, some of which are exclusive to the Blu-ray version:
Slimer Mode: a Picture-in-Picture "Graphical Viewing Experience" that looks at the Busters' firehouse headquarters, explores the creatures in the Ghostbusters "mythology", includes behind-the-scenes discussions of how they made the movie. It includes new interviews with cast, crew and special effects artists.
Featurette: Ecto-1: Resurrecting the Classic Car
Ghostbusters Garage: Ecto-1 Gallery
Sony also throws in a Filmmakers' Commentary with Ivan Reitman, Harold Ramis and Joe Medjuck, a 1984 vintage featurette The Making of Ghostbusters (which features interviews with the cast and crew), 10 deleted scenes, another featurette on the creation of the film's special effects (which were very good for the time but some of which are looking a tad dated now), storyboard comparisons and more.
So while Ghostbusters may not be my idea of a laugh riot, it's definitely my idea of a great Blu-ray.
Ghostbusters,from Sony Pictures Home Entertainment
107 minutes, 1080p widescreen (2.40:1), Dolby TrueHD
starring Bill Murray, Dan Aykroyd, Harold Ramis, Sigourney Weaver, Rick Moranis, Ernie Hudson, and Annie Potts
Written by Dan Aykroyd and Harold Ramis,
Produced and Directed by Ivan Reitman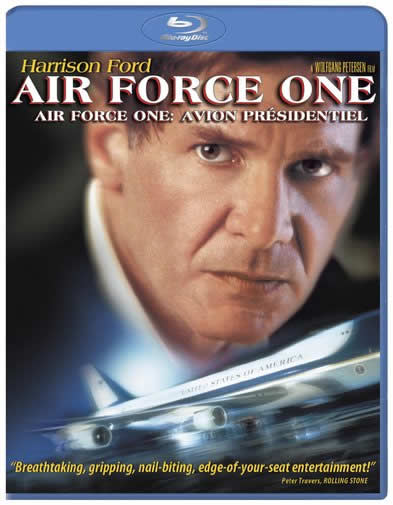 Air Force One on Blu-ray
Air Force One is an extremely timely adventure and an interesting look at what a president of the United States should be like.

This guy's no draft dodger or community activist, but is a war hero - a Medal of Honor winner, in fact.

Air Force One tells the tale of a US president (Harrison Ford) who, when terrorists take over his plane after he declares war on terrorism, is forced to fight back single-handedly to save the lives of his family and the others on board the plane. Well, single-handedly for the most part: the US military is on hand in a big way as well, and they acquit themselves admirably.

The story is gripping, the special effects awesome, and the adventure larger than life. It's a terrific movie, especially in the aftermath of the September 11th terrorist attack against the US which, except for the nationality of the bad guys, is eerily parallel to some of the events in Air Force One.

Ford's President James Marshall is honorable, brave, and willing to back up his words with action. Glenn Close is his Vice-President and she appears cut from the same cloth.

Air Force One co-stars Gary Oldman, Glenn Close, Wendy Crewson, Liesel Matthews, William H. Macy, and Dean Stockwell.

The screenplay may strain credulity at times, but it works overall and we weren't unhappy suspending our disbelief for a couple of hours. The movie is chiefly an action/adventure yarn, despite its timely (and timeless) themes, and culminates in a breathtaking rescue that's not only imaginative and extremely exciting but which looks like it would be pretty cool to experience as well.

The Blu-ray is pretty good, though sparse. The picture is presented in 1080p/24 at an aspect ratio of 2.40:1 and it's very good, very sharp, colorful and contrasty - and with nice depth. There's quite a bit of grain, but not so much that you can't see the image through it (fortunately!).

Audio is Dolby TrueHD 5.1 and will give your audio system a pretty good workout. The surround and low frequency channels are used well and the sound is very dynamic overall - quite involving. Really, it's just the way it should be, with gunfire, jet engines, fisticuffs, and the like offering very nice punch, and the overall soundtrack envelops you in the action very well.

Extras are limited to the BD Live feature that lets you log onto a related website and sample its garden of virtual delights, as well as an interesting commentary with director Petersen.

We'd complain about the lack of extras, though we've said repeatedly that we'd rather have none if the presentation of the movie is top notch, so we must walk our talk. Still, this is a pretty chintzy presentation.

But it's an thrill ride of a movie, presented well on the digital high definition disc.

Air Force One, from Sony Pictures Home Entertainment
124 min. 1080p widescreen (2.40:1), Dolby TrueHD
Starring Harrison Ford, Gary Oldman, Wendy Crewson, Paul Guilfoyle, William H. Macy, Leisel Matthews, Dean Stockwell, Glenn Close
written by Andrew W. Marlowe, directed by Wolfgang Petersen


Jim Bray's columns are available from the TechnoFile Syndicate.