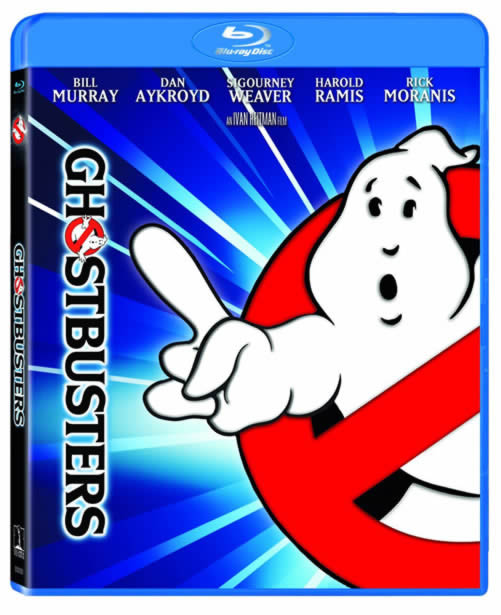 Ghostbusters 30th Anniversary Edition Blu-ray
by Jim Bray
September 16, 2014

Sony's latest Blu-ray release of "Ghostbusters" is a nice but not particularly spectacular revisit to Ivan Reitman's supposed comedy classic, with a clean 4K mastered transfer, a new audio codec, and a few new extras peppered among the old stuff the company is recycling in a most environmentally friendly way.

The film stars Bill Murray, Dan Aykroyd, Harold Ramis, Rick Moranis and Sigourney Weaver, and Aykroyd's and Ramis' script is basically an updated take on the old Abbott and Costello-style schtick of combining monsters and mayhem with comedy and state of the art production values - kind of like "Abbott and Costello Meet Frankenstein" updated to the 1980's with plenty of 80's attitude added. This was undoubtedly to make the movie more "relevant" to viewers 30 years ago.

It must have worked. The 1984 film went on to become one of the top grossing comedies of all time. Yet it really isn't that funny, in my never humble opinion, though it's still extremely popular. Go figure.

Anyway, the story follows a group of flakey scientists whose suddenly-ended cushy university job leaves them on the streets. So they set up a professional "paranormal exterminator" service - and wouldn't you know their timing is perfect: all Hell starts to break loose in New York City after they hang out their shingle, and the ghostly happenings threaten to rock the Big Apple to its apparently rotten core.

Along the way the busters and their little friends, singly or in concert, fall in lust, make bureaucrats crazy, poke at fate with a pointy stick they're not sure they understand, let alone can wield properly - and in the end they save the world, or at least New York.

And of course we get treated to a bunch of what were state-of-the-art special effects created by a team led by Richard Edlund, late of George Lucas' famed Industrial Light and Magic. The effects are really good, though some of them (especially some with puppets and stop motion animation) are starting to show their age in this era of computer-generated-or-assisted effects. This was apparently Edlund's first film as head cheese of his own company, though he also turned out even better work for the same year's 2010.

Bill Murray plays his usual smartie pants character, Aykroyd's displays a great sense of wonder, Ramis' is appropriately nerdy, Weaver's is appropriately sexy and the great but generally underutilized and typecast Rick Moranis plays yet another nerdy dude - which is a shame because he's always been capable of so much more. Heck, I remember him being completely convincing as a teenage heartthrob pop star back in the days when he was on SCTV.

So while I've never been a huge fan of "Ghostbusters," it's still an enjoyable romp in the home theater - and the high def disc medium does it justice.

The Blu-ray is presented in 1080p widescreen (2.40:1), and it has never looked better, even though it's only "Mastered in 4K" and not really in native 4K (a.k.a. ultra high definition, or UHD), though it does make me want to see it in 4K - especially since I got to watch it in both 1080p and up converted to 4K via OPPO Digital's BDP-103D universal network 3D Blu-ray player feeding Panasonic's TC-58AX800U 4K TV. There's plenty of fine detail in either 1080p or "fake 4K" and the color is rich and deep. There's plenty of grain, too, but that's not a video issue but is rather something you can blame on the movie's genesis on film. However you slice it, though, Ghostbusters looks great.

The audio is now presented in DTS HD Master Audio, as opposed to earlier releases' Dolby TrueHD 5.1, and I think it sounds better than the original version. In fact, the sound is about as good as you can expect from a 25 year old movie, with good use of the surround channels and some really nice low frequency effects stuff - in all, a very clear and dynamic soundtrack.

Sony also throws in a bunch of extras, some of which are new but lots of which aren't. Besides an interesting commentary track, there's Slimer Mode, a Picture-in-Picture "Graphical Viewing Experience" that puts the movie in a weird kind of marquee while giving us talking heads, including cast, crew and special effects artists, reminiscing about the film's gestation.

Who You Gonna Call: A Ghostbusters Retrospective is probably the best of the new stuff. It has entertainment journalist Geoff Boucher (that's how they bill him; I'd never heard of the guy, but he does a decent job here) conversing with Reitman and Aykroyd as they talk about some of the same things as in the commentary and Slimer mode, but other stuff as well such as how New York City actually became a character in the film, its huge success, Ramis' many contributions, and more. It's quite interesting.

Sony also throws in the original music video of Ray Parker, Jr.'s hit song, as well as some alternate takes, some "cleaned up for TV" scenes (they appear to have been "de-cussed"), a gallery of Ghostbusters-related "pop culture" artworks and the theatrical trailer. And there is a selection of featurettes on the special effects, the cast and crew, some multi-angle scenes and storyboard comparisons.

You also get a digital HD Ultraviolet download you can store on your portable device so you never have to leave home without your copy of Ghostbusters.

This Ghostbusters release does offer excellent picture and sound, and plenty of extras to make it more worthwhile. I'm not sure it's better enough than previous releases to warrant your buying it if you already have the Blu-ray, but if you don't, this is a good version with which to start.


Jim Bray's columns are available from the TechnoFile Syndicate.