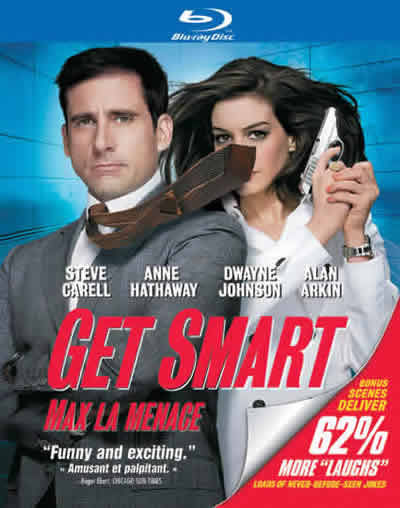 Get Smart on Blu-ray disc
If there's one line from the Get Smart TV series that Warner Brothers folk should say to anyone who hoped this Big Screen (i.e. movie theater) adaptation would work, it's "Sorry about that, Chief."
Drat! We grew up with Get Smart and, though highbrow it certainly wasn't, it had charm and wit and – something sadly lacking from this current version – laughs.
It's a shame, and once again the previews and the trailers sucked us in. Steve Carell and Anne Hathaway look the part and when we watched Carell's Smart toss a phone receiver at a bad guy and walk through a collapsing bead curtain in the previews we though that maybe they'd done it, that they'd brought clumsy but serious Max and the ultra competent and sexy 99 (and the rest of the gang) into the 21st century successfully.
We were wrong, even considering the Blu-ray package's promise of "62 per cent more laughs".
Oh, all the elements are here. Carell's Smart is a secret agent wannabe (the movie starts with him as an "analyst" who desperately wants to get out into the field as a real agent), and his government agency – CONTROL – is bent on fighting a resurgent KAOS, which manages to compromise all the current field agents, opening the door for Max's promotion to real, live secret agent – Agent 86, of course. The Chief (Alan Arkin, a good actor but not a great Chief if you're used to Ed Platt) puts Max under the wing of the more experienced Agent 99. She isn't happy being forced to mentor a fledgling agent, and she isn't particularly happy with Max and his inherent oafishness, either, though during the course of the movie Max manages to be successful enough periodically that 99 warms up to him.
We don't have a lot of the smouldering sexuality under the surface that we got with Barbara Feldon and Don Adams, which is a shame. In that series, 99 didn't apparently notice Max's oafishness and loved him with abandon, whereas here, 99 starts getting attracted to Max nearly in spite of herself.
Don't blame Hathway for this, because she does a terrific job as Agent 99. And don't blame Carell, either, because he also does a good job in a role that's wanting.
Rather, blame screenwriters Tom J. Astle and Matt Ember and director Peter Segal for concocting a derivative script that recycles some of the worst things from the James Bond movies (think the opening sky diving scene between Bond and Jaws in Moonraker), combines them with Get Smart stuff that just ain't funny (we seem to remember Sigfried being funny, whereas Terence Stamp's version isn't) and sticks them into a movie that's absolutely lifeless, with no spark or heart.
Even the old Maxwell Smart bits such as "Sorry about that, Chief," "Would You Believe", "Missed it by that much" and the like come across as hollow and fake.
On the other hand, we were delighted to see the old Sunbeam back in action, if only briefly, and such other gags as the giant, heavy doors and the phone booth entrance to CONTROL, and these ones actually worked – except for the time when Max and 99 are leaving and the final door gets stuck, in which case we get a gag that isn't as funny as the original.
Drat! We really wanted to like Get Smart, but instead can only recommend that you get your hands on the original TV series and watch those episodes instead.
It's a decent Blu-ray, though, a three disc set that also includes a digital copy and a Blu-ray exclusive DVD (huh?) "Get Smart: KAOS Control DVD Game".
The movie looks great, with a glossy sheen that's clean and bright and colorful. It also displays reasonable depth and good blacks. It may not qualify as a reference-quality disc, but it's very good nonetheless.
Audio is a disappointment, though. Warners has for some reason not included a high resolution audio track, instead giving us a standard Dolby Digital 5.1 track such as you'd get on the DVD. These are generally (though not always) less dynamic and quieter than their Dolby TrueHD or its dts equivalent.
In this incarnation, we get rather weak use of the surround channels and a generally unexciting soundtrack.
The Blu-ray does pile on plenty of extras to help you get over the bad taste the movie may leave in your mouths.  The three disc set includes a digital copy and a Blu-ray exclusive DVD game (a DVD game as a Blu-ray exclusive sounds a bit weird, too). Most of the supplements are presented in DVD quality. 
"Comedy Optimization Mode" (which is in HD) is a way to catch alternate versions of particular scenes (perhaps that 62% more laughs?), accessed when a phone booth icon appears on the screen. They aren't really "better" versions than the ones that made it into the film, but it is interesting to see how jokes can work differently depending on how you deliver them.
Featurettes include "The Right Agent for the Right Job: Behind the Scenes Training", which looks at the casting of Carell and Hathaway with some interesting snippets of Hathaway's audition process. "Max in Moscow" is just what it seems: a look at the production's trip to the Russian capital for a few scenes. "Language Lessons" is merely a look at Carell improvising.
You also get two blooper reels, and a sneak peek of "Get Smart's Bruce and Lloyd Out of Control." 
The "Get Smart KAOS Control DVD Game lets you and/or another player create your own evil agent and guide it through a variety of puzzles and challenges. It isn't enough to make one think any better of the movie. 
Get Smart, from Warner Brothers Home Entertainment
110 min. 1080p widescreen (1.85:1), Dolby Digital 5.1
Starring Steve Carell, Anne Hathaway, Dwayne Johnson, Alan Arkin
written by Tom J. Astle & Matt Ember, directed to Peter Segal
Mirrormask on Blu-ray disc
Mirrormask is an interesting, but not wholly successful, epic fantasy from the Jim Henson studios. It follows the tradition of The Dark Crystal and Labyrinth in that it's a wild and imaginative tale, but tends to be a tad ponderous.

This very British tale sees Helena, who (much to her teenaged chagrin) works for her family's circus. Unlike many kids her age, her dream isn't to run away and join the circus, for obvious reasons, but rather that she could run away and join "real life".

Then one day after, in her frustration, she was particularly mean to her mother (a situation that reminded us of one in Labyrinth) her mother falls seriously ill. Helena is wracked with guilt, but that's only the beginning of her trials. She suddenly finds herself in a strange new world of masked people, fantasy counterparts to Helena's real world – and the kind of wild creatures you'd expect from a movie with the late Jim Henson's name on it.

The difference this time is that the creatures are more computer generated than puppet, and that's fine. CG gives the filmmakers a broader canvas on which to paint their tale of a land where the stranger Helena must find the Mirrormask and restore both her world and the fantasy one before darkness takes over forever.

As might be expected, the movie is a real treat for the eyes – right from the wonderfully-designed opening credits to the final frames. The magical creatures look terrific as well and, though the story's a bit plodding, we're glad we saw this interesting fantasy.

The Blu-ray is presented, of course, in widescreen 1080p, aspect ratio 1.85:1 and the picture is terrific. It's sharp and bright, with wonderful color and contrast and very good depth. Audio is Dolby TrueHD 5.1, and the overall quality is very good, with nice use of surround and a quite dynamic track.

Extras include  commentary from writer Neil Gaiman and director/designer Dave McKean, an interviews with Gaiman and McKean and a series of features on the film's genesis, including cast/crew interviews, a look at one particular day of production, the design and development, etc.

Mirrormask, from Sony Pictures Home Entertainment
101 min. 1080p widescreen (1.85:1), Dolby TrueHD surround
Starring Jason Barry, Rob Brydon, Stephanie Leonidas, Gina McKee
Written by Neil Gaiman, directed by Dave McKean


Jim Bray's columns are available from the TechnoFile Syndicate.