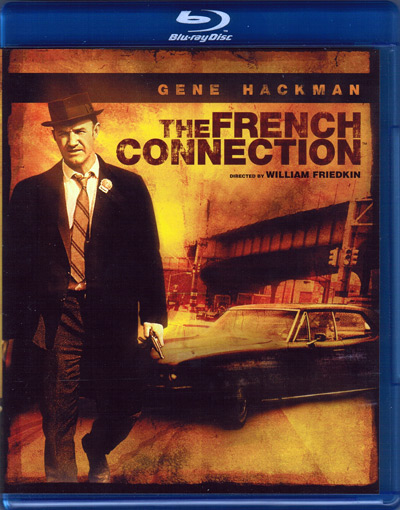 The French Connections on Blu-ray disc
Based on a real life case, The French Connection features Gene Hackman's Oscar-winning performance as "Popeye" Doyle, a New York cop working to stem the flow of narcotics into the Big Apple.
It's a better movie than it is an example of Blu-ray, despite director William Friedkin's introduction in which he talks about how the new disc version is the best incarnation of this classic yet, thanks to the HD format's benefits.
To be fair, those benefits do help enhance the film, but they also show its weakness: grain, horrible horrible grain. If it weren't for that, the movie would look terrific, with excellent detail – but the grain really gets in the way. It's too bad because, as the director says, this is undoubtedly the best version of this yet.
On the other hand, it does lend a "documentary-like" feel to it, which enhances the realism – as if they were there on hand shooting actual events.
The movie itself is one of the great crime dramas, filled with memorable performances and featuring sure-handed direction by Friedkin. Hackman's performance is obviously great, though in our never humble opinion this great actor has been better in subsequent films – even as Lex Luthor in Superman, let alone his portrayal of Little Bill Daggett in Clint Eastwood's Unforgiven.
Hackman's Popeye Doyle is foul-mouthed, tough as nails, and hardly a role model for the kids. But if nothing else he's tenacious and once he's on the track wild horses aren't going to pull him off. He and his partner Buddy Russo (Roy Scheider), are on the trail of a big shipment of heroin coming in from France and will stop at nothing to make the bust.
That stopping at nothing includes roughing up suspects, and putting the good citizenry of New York at risk as he grabs a car and chases a suspect through the streets in what's one of the all time great chase sequences.
In the end, the case turns out frustrating for him and the NYPD, but it isn't so much through any fault of Doyle or his associates; rather, it seems likely that the justice system was the culprit.
On the other hand, if not for the unsatisfying outcome there may not have been an opportunity for The French Connection II…
The French Connection copped five Oscars including for best picture, best actor (Hackman), and for its script and editing.
Other than the grainy video, the French Connection Blu-ray has been given a deluxe treatment in this two disc edition.
Audio is presented in dts-HD Master Audio remixed to 5.1 channels (you can also listen in mono) and despite a bit of a tendency toward shrillness in particularly loud sequences (some of the music's a tad shrill, too, especially on the menu) it holds up pretty well on the whole. Don't expect much surround, though.
Extras are plentiful. The first disc includes the aforementioned introduction by director Friedkin, two commentary tracks (one with Friedkin offering some very interesting insight about both the production of the film and the original events and one featuring Hackman and the late Roy Scheider). There's also a trivia track, the musical score isolated, and D-Box motion control data.
Disc two is full of nifty stuff, and Friedkin stays very involved. We first fired up the high definition feature on color timing the movie, in which Friedkin guides us through the process of getting the film ready, digitally, for its Blu-ray appearance. If you're a tech person, you may find this fascinating – though you may also disagree with their assertion that most of the grain has been eliminated!
There's also an interesting look (in high def) at the movie's famous chase and just how these people managed to get it done. How they also managed to stay out of jail is unknown, unless of course they're pulling our legs a bit. It's a pretty cool feature, though.
There are also some deleted scenes, HD retrospectives in which Hackman opines on his character and "Friedkin and Grosso Remember the French Connection."
And that isn't all. Other HD featurettes look at "The Scene of the Crime," "Cop Jazz-The Music of Don Ellis", and "Rogue Cop-The Noir Connection."
As if that isn't enough, Fox also throws in the BBC Documentary: The Poughkeepsie Shuffle and "Making the Connection: The Untold Stories of The French Connection".
It's a pile of stuff, and mostly very interesting.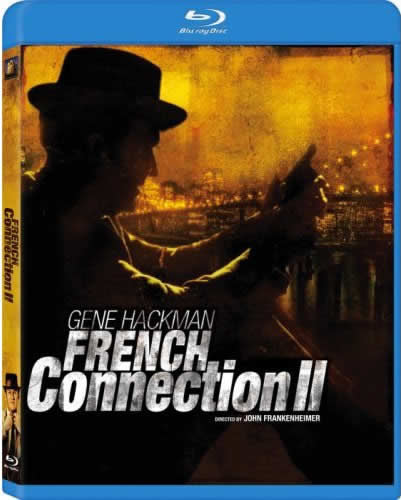 The sequel was directed by John Frankenheimer, who not only knew his way around an action film but who also knew his way around France, where the second film is set.

This time, Doyle is on his own, a fish out of water visiting France to find Alain Charnier (Fernando Rey), the "Mister Big" who escaped justice in the first film.

Doyle is truly the "ugly American," abrasive and loud and rubbing all these cultured French the wrong way. His contact/mentor/associate is Inspector Henri Barthelemi (Bernard Fresson), who finds Doyle's demeanor and methods crude.

That doesn't bother Doyle, however. He's determined to find Charnier on his own and despite the advice from his colleagues manages to give his French escorts the slip. This was a mistake: Charnier's people kidnap him and pump him up with heroin to try picking his brain.

This leads to a gripping section of the film in which Doyle finds himself back in the hands of Barthelemi, who forces him through an agonizing cold-turkey withdrawal from the heroin addiction that had been forced upon him. Once clean, Doyle is more determined than ever to stop Charnier…

Does he, or does the wily Frenchman get away again? We won't spoil it for you.

Frankenheimer's sure hand helps create a sequel that's arguably as good as the original – and one in which we think Hackman's performance is at least as good as his Oscar-winning turn in the original. Especially grabbing is the section when he's addicted to and getting clean of the heroin, though his abrasiveness and pomposity to the French are by no means lowlights of his performance.

The Blu-ray isn't as deluxe as presentation as the first film's, but the picture quality is better. It's still grainy, but nowhere near as grainy as TFC One. Meanwhile, the blacks are very good, there's decent depth and the colors are bright and crisp.

Audio is also offered in dts-HD Master Audio 5.1 (and mono) and like the first movie it's pretty good considering the age of the original source. You probably won't use it as a showcase for your big surround system, but it works well for the movie.

Extras include D-Box motion control again, a commentary track with Gene Hackman and producer Robert Rosen and another one by the always-interesting John Frankenheimer. There's also a featurette on the director himself, an isolated musical score track and a gallery of stills.

The French Connection, from 20th Century Fox Home Entertainment
104 min. 1080p widescreen (1.85:1), dts-HD Master Audio
Starring Gene Hackman, Roy Scheider, Fernando Rey, Tony Lo Bianco
Screenplay by Ernest Tidyman
produced by Philip D'Antoni, directed by William Friedkin

The French Connection II, from 20th Century Fox Home Entertainment

119 min. 1080p widescreen (1.85:1), dts-HD Master Audio
Starring Gene Hackman, Fernando Rey, Bernard Fresson,
Screenplay by Alexander Jacobs and Robert Dillon & Laurie Dillon
Produced by Robert L. Rosen, directed John Frankenheimer


Jim Bray's columns are available from the TechnoFile Syndicate.