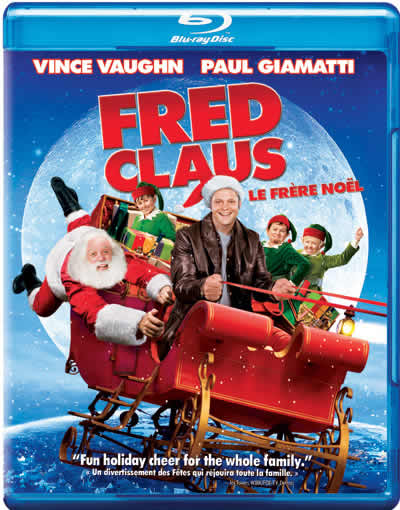 Fred Claus on Blu-ray disc
Vince Vaughn plays Santa's older brother, Fred, a man with a perpetual chip on his shoulder, an "innocent victim" who's the black sheep of his family, an ordinary guy overshadowed by his jolly sibling, Nick.
After the movie's opening scenes, which shows the boys growing up and the growing schism between them and between Fred and his parents, we're introduced to the adult Fred, a ne'er do well whose life careens from one scheme to another.
His main job is as a repo man - taking away from people in an ironic twist of how his brother lives to give. He's basically a failure - whose failures are mostly self-inflicted thanks to his own bad attitude and worse conduct. Think Ebenezer Scrooge for the new millennium, except that Fred isn't a rich miser, he's only miserly in his heart.
Okay, so he's more like the Grinch than Scrooge.
Then one day he runs afoul of the law and needs to be bailed out of jail. His solution is to beg for his brother (Paul Giamatti, in a wonderfully sensitive performance as Santa) to give him the money - and he also tries to use Santa's good nature against him to grab tens of thousands of dollars more so he can mount his latest scheme.
Santa's all set to comply, as per his giving nature, but he's talked into insisting that Fred  come and visit him at the North Pole and take a job in his toy factory to actually earn the money. This doesn't sit well with Fred but, with no other options, he accepts the lift in Santa's famous sleigh and the next thing he knows he's at the North Pole in a job he hates and a situation he hates even more. The chip on his shoulder is just as big, and it looks as if he's going to wreak havoc on Santa's well-oiled toy making machine.
And it couldn't happen at a worse time. Also arriving at the North Pole is Clyde Northcutt , an efficiency expert (expertly played by Kevin Spacey) representing the soulless and typically (to Hollywood) evil big businesspeople who actually own Santa's operation. And they're not happy with things at the North Pole and threaten to (and hope to) close down the place.
The film looks and sounds great. What isn't great is the script, which is uglier than necessary at the beginning and then ends up sugary sweet, except that by the time it gets sweet it seems more as if it's an artificial sweetener.
We just didn't buy it.
Vaughn is good as Fred. In fact, the cast is outstanding. Besides Vaughn, Giamatti and Spacey, we're treated to Rachel Weisz as Vaughn's girlfriend, Kathy Bates as his mother and Miranda Richardson as his sister-in-law, Mrs. Claus, a good-hearted woman who's fed up with Fred's antics and is one of the main reasons he ends up at Chez Claus.
The film, directed by David Dobkin of "Wedding Crashers" fame, has all the ingredients of a good holiday film. It just isn't one. We hoped for the best right from the opening Warner Brothers logo, which is beautifully rendered and looks almost 3D in 1080p (the first set of closing credits are also worth watching). But that warm and fuzzy feeling doesn't last long and we were twitching in our seats as the plot deteriorated. By the time Fred has his epiphany and things start to be put right, it was too late.
The 1080p picture is terrific, though, with gorgeous colors, excellent contrast and very nice depth. you could use this one as a disc for pushing Blu-ray in your favorite video store, as long as you keep the sound turned down and the captions off.
Audio is merely Dolby Digital, which is disappointing considering the state of the Blu-ray art, but it's good. There's good use of surround and the overall soundtrack is pretty dynamic, but we'd still have liked to see one of the new high res formats included, 'cause they can be even better.
Extras include a cute featurette in which the supporting cast of elves (with one decorative human added) talk about their roles in the production, a pile of "additional scenes," Vince and Paul's Fireside Chats. There's also a director's commentary track, a "Race to save Christmas" game (on a second disc, a DVD), and more.
Fred Claus, from Warner Home Entertainment
115 min. 1080p widescreen, Dolby Digital 5.1 surround
Starring Vince Vaughn, Paul Giamatti, Miranda Richardson, John Michael Higgins, Elizabeth Banks
written by Dan Fogelman, directed by David Dobkin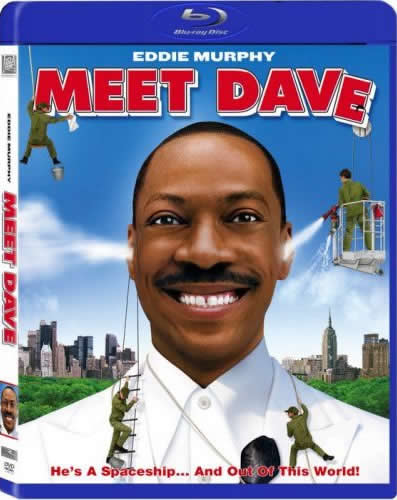 Meet Dave on Blu-ray disc
Eddie Murphy has made his share of stinkers, but this one surprised us by not being one. It's a sweet and entertaining movie the whole family can watch and enjoy together. It's kind of a mishmash, appearing at times to have been inspired by (or stolen from!) such films as Innerspace and Starman, with a heaping dose of Star Trek thrown in for good measure, but it works in spite of that.

For the most part, anyway. Heck, we even found ourselves laughing out loud a couple of times, a rarity with comedies these days.

Eddie plays two roles here. Dave, who looks human (he looks just like Eddie Murphy!) but who's actually a spaceship that's designed as a perfect disguise for the tiny aliens who crew it. Murphy's other role is as the captain of the ship. He and his crew, which includes members whose job is to operate Dave's various members, have come to earth on a mission to save their home planet by, in effect, destroying Earth, though they don't see it that way at first. Or at least it doesn't matter to them.

Then Dave comes across a single mother (Elizabeth Banks) and her son, who have no idea that the ordinary-looking black guy in front of them is actually a 'giant' space ship. But the two humans do start introducing Dave and his crew to Earth and Earthlings, and most of the aliens begin to like what they see, even though they're so small they could never actually interact too much with the giant humans lest they risk getting squashed.  

Along the way to the happy ending Dave, er, the Captain, faces a mutiny, falls in love, learns to dance, and saves the worlds (though we may have missed how the aliens' eventual actions actually saved their home planet, or maybe we're just dumb).

The Blu-ray disc looks great, though. The 1080p picture, widescreen at an aspect ratio of 1.85:1, looks great. The color is wonderful, textures come through very nicely indeed, and the picture displays good contrast and depth and we didn't notice any artifacts or other flaws.

The audio is dts HD lossless Master Audio 5.1 surround and it's very nice as well. The surround channels are used very well and the overall soundtrack is very dynamic.

Extras include "The Making of Dave," a selection of Fox TV specials relating to the movie, some deleted scenes, a gag reel and profiles of the crew - not the crew behind the scenes of the movie, but the crew of the good ship Dave. It's kind of cute, but hardly world class entertainment - kind of like the movie itself.

Meet Dave, from 20th Century Fox Home Entertainment
90 min. 1080p widescreen, dts-HD Master Audio
Starring Eddie Murphy, Elizabeth Banks, Gabrielle Union, Scott Caan, Ed Helms and Judah Friedlander
Written by Rob Greenberg & Bill Corbett, directed by Brian Robbins


Jim Bray's columns are available from the TechnoFile Syndicate.