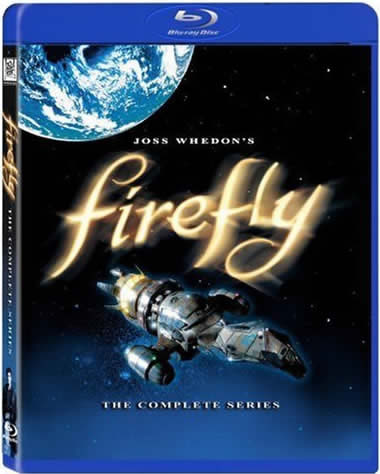 Firefly on Blu-ray disc
Fox didn't give Firefly much of a chance when it ran this "science fiction western" series, pulling it off the air even before it had finished a single season's run.

It's too bad. While the connections to the "western" genre are obvious (one episode, for example, deals with a train robbery in a classic Western way, except that this train hovers over a single track), there's nothing really wrong with that; in fact, we kind of liked it, much as we enjoyed the "Moon western" Moon Zero Two when it played theaters back some thirty years or more ago.

Here's how the liner notes describe the series:

"Five hundred years in the future, there is a whole new frontier, and the crew of the Firefly-class spaceship Serenity is eager to stake a claim on the action. They'll take any job, legal or illegal, to keep fuel in the tanks and food on the table. But things get a bit more complicated after they take on a passenger wanted by the new totalitarian Alliance regime. Now they find themselves on the run, desperate to steer clear of Alliance ships and the flesh-eating Reavers who live on the fringes of space."

And that's actually a pretty fair introduction. The series kicks off with a feature length episode that sets the scene well and introduces all the regular characters. We learn the background of our hero, Captain Malcolm 'Mal' Reynolds (Nathan Fillion) and his crew - a group tested and bonded by fire, and the overall society in which we find ourselves. We also greet regular cast members who aren't specifically part of the crew, at least initially, such as the young doctor and his mysterious sister and the missionary who climbs aboard Serenity only to wonder shortly thereafter what he got himself into.

Other episodes build on this base, offering some pretty nifty science fiction stories populated by various believable characters with human foibles, all given excellent production values and special effects.

We didn't put much hope out for Firefly, since most TV shows aren't really worth watching, and good filmed science fiction is rare, but as with Babylon 5, this was much better than we expected. It's a show that's serious enough, but which uses liberal doses of humor and doesn't take itself excessively seriously. In short, Firefly can be enjoyed by science fiction fans and non-science fiction fans alike.




We particularly enjoyed the chief mechanic, played by Jewel Staite, a happy-go-lucky but highly competent young woman who's at home in her element, and Jayne Cobb, played by Adam Baldwin, a bit of an oafish loose canon - though not as oafish and loose as it first appears. We also enjoyed seeing Ron Glass again, late of Barney Miller, back on the small screen. But the whole cast is great.

We should also mention the music, which features excellent sound quality and which never lets you forget that this is, first and foremost, a Western, despite its blend of "genres". It's great!

The Blu-ray release is a three disc set that includes the entire series, including three episodes that never saw the light of day. It's a good set, though we aren't sure it's as superior to the earlier DVD set as it should be.

The problem is the picture quality. Oh, it's presented in 1080p widescreen (1.78:1) and it's very good, allowing the series' great production values and sets come through with good clarity; the images are sharp and clean and the color is wonderful. The problem is that it doesn't seem up to the standards of so many other Blu-ray discs we've reviewed, and it left us feeling that it wasn't that much better than you can get from a decent up converting DVD player (though of course it wouldn't work on such a player). But there's little of that great "depth" we've grown to love on better Blu-rays.

Audio is dts HD Master Audio 5.1 and it's very good. There's excellent use of the surrounds and overall very good dymamic range.

Then there are the extras, which includes an all-new "Cast Round table: Lunch wth Joss, Nathan, Alan and Ron. You also get audio commentaries on some episodes, three "Behind the scenes" featurettes, some deleted scenes, a gag reel, audition footage and more.

Firefly - the complete series, from 20th Century Fox Home Video
675 min. 1080p widescreen (1.78:1), dts HD Maser Audio 5.1,
Starring Nathan Fillion, Gina Torres, Alan Tudyk, Morena Baccarin, Jewel Staite, Adam Baldwin, Sean Maher, Summer Glau and Ron Glass
Created by Joss Whedon


Jim Bray's columns are available from the TechnoFile Syndicate.