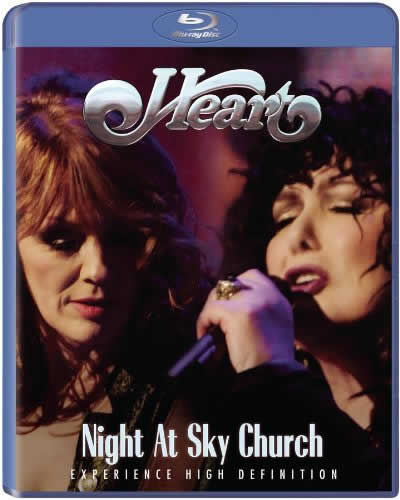 Heart - NIght At Sky Church
Seattle has unleashed its share of bands over the years, but arguably the best was Ann and Nancy Wilson's Heart, which has had a string of hits stretching back to the mid-1970's.

This 2010 concert shows the band has lost nothing - in fact, as is often the case, the longer they play together the tighter they seem to get, and they're very, very tight here.

It's too bad that two of their oldest hits, "How Deep it Goes" and "Dreamboat Annie" aren't in this concert, nor is "All I Want to Do is Make Love To You" to be found, either.

But there's still a terrific selection of the band's hits anyway, including a few songs in support of their album "Red Velvet Car" as well, and they're pretty good.

This concert was filmed in high definition (1080i, according to the package) on March 5, 2010, at the Seattle area's intimate Sky Church venue, and the Wilsons and their accomplices appear to have the audience eating out of their hands. And with good reason.

The band is joined on three numbers by special guest Alison Krauss, who also brought along her famous fiddle, and guitar player/producer Ben Mink appears on a couple of songs as well.

TRACKLIST:
1.Barracuda
2.Never
3.Straight On
4.Love Alive
5.Mistral Wind
6.WTF
7.Hey You
8.Red Velvet Car
9.These Dreams
10.Safronia's Mark
11.Your Long Journey
12.What About Love
13.Alone
14.Crazy On You
15.Sand
16.Magic Man
BONUS TRACKS:
17.Back To Avalon
18.Kick It Out

"Barracuda" is a good opening number and gets you right into the mood, then they go right into "Never", not as much of a rocker as "Barracuda" but an excellent counterpoint, more an example of Heart's more "balladic" side, as it were - not as soft as "Dreamboat Annie,"but more in line with "These Dreams," "Alone" and the like.

The entire band is on this night and all the songs are played well, with plenty of power - and even the old Moog synthesizer is on hand to play its part in "Magic Man."

Krauss sings "These Dreams" and she does a fine job of it, though I'd have been just as happy if Ann Wilson had continued holding the reins. Nothing against Krauss, but when I watch a Heart concert I want to see Heart.

I watched an excellent Heart concert a couple of years ago that was also shot iin a reasonably intimate Seattle venue, and in that concert they did a wonderful cover version of Led Zepellin's "The Battle of Evermore". That one's also not included here, which is a shame. I also missed "Dog and Butterfly".

But there's only so much you can fit into 88 minutes, though why the concert is so short is beyond me. Still, the band is just as tight, Ann's voice is as bang on and ballsy as it should be (Nancy's voice is no slouch, either) - and of course Nancy brings her instrumental talents to the show as well.

The Blu-ray is very good, which is typical of these Eagle Vision concert Blu-rays. The widescreen 1080i picture quality is clean, bright, colorful, extremely watchable.

The audio is offered in dts HD Master Audio 5.1, Dolby Digital 5.1 and LPCM stereo. The quality is excellent for the most part, though we'd have liked a bit more bass. I preferred the dts track, which fills the room nicely and makes you feel more a part of the audience, but the LPCM stereo track's still darn good.

I often forget how many great songs Heart has done over the years and even though a few of my faves didn't show up in this concert, it's still an excellent show - yet another great concert disc from Eagle Vision.


Jim Bray's columns are available from the TechnoFile Syndicate.