Jethro Tull Live at Montreux 2003 on Blu-ray disc
Tull is back, on Blu-ray, looking and sounding very good.
In the early 1970s, Jethro Tull introduced us to the rock 'n' roll flute of musician and head man Ian Anderson, and albums such as Stand Up, Aqualung and Living in the Past cemented the band's fame and made their "Olde English rock stylings" famous.
Flash forward a few decades and it's Anderson and original guitarist Martin Barre joined by newcomers Jonathan Noyce on bass, Doane Perry on drums, and Andrew Giddings on keyboards, can still rock with the best of them as this concert shows.
We were disappointed that their Montreux appearance didn't feature more of the really old stuff – heck, we'd have loved to see the entire Aqualung album played live – and even some of the "middle old" stuff like "Farm on the Freeway", but we'll take what we can get.
The show is split into a kind of semi-acoustic first half, with things getting more electric as the show wears on. As you'd expect, Ian Anderson is out front and his voice sounds good after all these years – and he can still rock on that flute while standing on one leg.
TRACK LISTING
1) Some Day The Sun Won't Shine For You
2) Life Is A Long Song
3) Bourée (Version de Noël)
4) With You There To Help Me
5) Pavane
6) Empty Café
7) Hunting Girl
8) Eurology
9) Dot Com
10) God Rest Ye Merry Gentlemen
11) Fat Man
12) Living In The Past
13) Nothing Is Easy
14) Beside Myself
15) My God
16) Budapest
17) New Jig
18) Aqualung
19) Locomotive Breath
The Blu-ray is good but not excellent. The picture quality, in 1080i instead of 1080p (it was undoubtedly shot in 1080i) is gorgeous; if you ever wanted to count Ian Anderson's nose hairs, this is your chance. It's also presented in widescreen, at the 16x9 aspect ratio of HDTV.
The audio is offered in dts HD Master Audio and the quality is excellent. We have some angst over the mix, however, which features Anderson up front and center (which is great!), but which seems to relegate the rest of the band to the background. We'd have liked to see, or rather hear, all the band members mixed as a band instead of this way, which left us wanting to hear the other instruments better.
Still, it's an excellent 117 minutes that Tull fans are sure to enjoy.
Legends Live at Montreux 1997
Eric Clapton has been in his share of supergroups over the years, the legendary guitarist lending his "slow hand" to such bands as the Yardbirds, Cream, Blind Faith, Derek and the Dominoes, etc.
He has also showed up in many other solo and band incarnations, and this Legends Blu-ray puts him together with drummer Steve Gadd, bassist Marcus Miller, keyboardist Joe Sample (of The Crusaders) and tenor saxman David Sanborn, performing on the Montreux festival stage for one night in 1997.
These guys know how to crank out a tune and this Blu-ray lets you see and hear them at work, with excellent video and sound, during their 13-song 107-minute set.

It's a good thing that Eagle Rock has this concert, because it's apparently the only known recording of this all-star line-up which supposedly never recorded an album together. The music blends jazz, blues and rock, with each musician getting the opportunity to showcase his individual chops. It's a heckuva concert.

According to Eagle Vision, Miller and Gadd had already played in Clapton's bands over the years, which may help explain why they're so perfectly in sync with the guitarist. Not that the other guys are slouches; in fact, this is a tight band whose parts perform together beautifully through this set of acoustic and electric numbers.
 Track Listing:
1) Full House
2) Groovin'
3) Ruthie
4) Snakes
5) Going Down Slow
6) The Peeper
7) In Case You Hadn't Noticed
8) Third Degree
9) First Song/Tango Blues
10) Put It Where You Want It
11) Shreveport Stomp
12) In A Sentimental Mood/Layla
13) Everyday I Have The Blues
The Blu-ray is offered in 1080i widescreen, with dts HD Master Lossless audio. The picture is excellent, despite not being full HD, with rich colors and great detail: you can see clearly the age showing through on the instruments these legends are playing.
The dts HD Master Lossless audio is also very good. The mix is nice across all three front channels (there isn't a huge amount of surround here) and the sound is very dynamic. Play this on a good audio system and you'll be quite happy.
Overall, we preferred Clapton in the Cream reunion concert and look forward to seeing it on Blu-ray disc, but this is still a worthy outing in the annals of concert videos, especially now that it's available with the high definition audio and video of the Blu-ray format.
The Who Live at the Isle of Wight Festival 1970
by Jim Bray
This was a real blast from the past, but also quite a disappointment. It isn't so much that this is a lousy Blu-ray, it's surely more a case of "garbage in-garbage out" - not musically, but af far as audio and video quality are concerned.
Still, this latest release of Murray Lerner's film is easily the best yet available on home video and, according to the press materials comes "With newly restored visuals and remixed sound." The film was shot originally in 16mm film for at the Isle of Wight and they've done their best with the restoration. And don't get me wrong; this is not a quick piece of crap pumped out to rake in cash.
Alas, it isn't their best performance. If only there were a film of the Live at Leeds concert, ah, then I could die happy....
Anyway, the 2.a.m performance features the band's original lineup, guitarist Pete Townshend, bassist John Entwistle, drummer Keith Moon, and singer Roger Daltrey - four distinctly different individuals (catch the interview they've included with Pete for some of his always-enlightening insight) with little in common except for the band. And what a band! The Who have been credited with evolving pop music into rock music and in my never humble opinion, Townshend's masterpieces will be listened to for centuries much as Mozart and Strauss are listened to today, so many years after their deaths.
This concert came after Tommy (and Live at Leeds, which they mention during the show), but before Who's Next (or, as I like to call it "Townshend's Third Masterpiece" - after Sell Out and Tommy), and they preview that album with "I Don't Even Know Myself," a terrific song that became the B side for the 45 rpm release of Won't Get Fooled Again but which, ironically, never made it onto Who's Next! The recorded version is much better than this live performance, but what can you do?
Here's the full track listing:
1) Heaven And Hell
2) I Can't Explain
3) Young Man Blues
4) I Don't Even Know Myself
5) Water
6) Medley: Shakin' All Over/Spoonful/Twist And Shout
7) Summertime Blues
8) My Generation
9) Magic Bus
From "Tommy":
10) Overture
11) It's A Boy
12) Eyesight To The Blind (The Hawker)
13) Christmas
14) The Acid Queen
15) Pinball Wizard
16) Do You Think It's Alright
17) Fiddle About
18) Go To The Mirror
19) Miracle Cure
20) I'm Free
21) We're Not Gonna Take It
22) See Me Feel Me / Listening To You
23) Tommy Can You Hear Me?

Bonus Features
Bonus tracks omitted from the original film: (1) Substitute (2) Naked Eye
New 40 minute interview with Pete Townshend
The performance is outstanding, but not to the high standards the band has set in other concerts. And the Blu-ray tries its best, but in the end it isn't as rewarding as some other Who concerts in general and, specifically, the Live At Kilburn 1977 Blu-ray that was also released recently. That concert features better audio and video and, while the Kilburn performance is spotty (but still better than most other bands aspire to), its classic opera house bonus tracks show a band truly on fire.
Not that this one isn't worth owning, and if you're a Who fan you'll want it in your library. I'm certainly pleased to add it to mine.
And despite my angst over the audio and video, I'll let you in on a little secret: chances are you'll enjoy this more in the comfort of your home theater than if you went to a real theater. I say that from experience. Recently, a local googolplex ran this concert in a single performance (coincidentally, this Blu-ray arrived the same day) and I and several other Who diehards went to see it. It was the same presentation, right down to the disc menus, and it was grainy and washed out, with thin sound that was shrill at the theater's volume, and which had nearly no recording of The Ox and his bass (a common flaw with Who recordings, alas). I was disappointed but, since I've been tracking the fall of movie theaters for years, not surprised.
When it was done I went home and slid the new Blu-ray into my home theater, which features 500 watts per channel of fine Rotel power and a terrific Epson 1080p front projector firing onto a 106 inch screen.
It was a much, much better experience, yet more evidence of why I hate going to the movie house any more (but I had to give Pete and the lads some of my cash!). The picture is still grainy - shot as it was in the middle of the night on old analog equipment. But it's much cleaner and brighter than in the movie theater, a far more rewarding picture.
Ditto for the audio, whose analog origins were recorded under less than perfect conditions. I was still disappointed in the lack of Entwistle's thundering fingers, but compared with the movie house there's plenty of him. Townshend's guitar still dominates, but on my system there was none of the shrillness and a lot more of the power you expect from The Who. Still not my favorite Who concert, but far, far better than in the theater - and also far better than the original DVD release of years past.
The Blu-ray has finally been returned to a widescreen aspect ratio (1.78:1, compared with the original DVD's 4x3) and Eagle Rock presents it in 1080i high definition. The picture looks about as good as it's going to get without perhaps a major, frame by frame restoration, and to be fair the grain doesn't really get in the way and actually helps transmit the "feel" of it being from 1970.
The audio is presented in linear PCM stereo, Dolby Digital 5.1 and dts HD Master Audio. I was torn between the LPCM and dts tracks, each of which has things going for it, but in the end I like the extra ambience you get from the dts surround.
Naturally, you'll want to play it loud.
The box lists the running time as 138 minutes, but that's a bit misleading. The concert is identical to the original DVD's (other than the presentation), which ran 85 minutes, so the extra length must be attributable to the bonus tracks and the interesting interview with Pete. A bit of misleading advertising, if you ask me (and you probably didn't), and a bit of a disappointment because I get the impression from watching this concert that it was edited. I'd love to have seen the full length.
But my bottom line is that this is the best version of this concert yet - easily - and despite my angst it's a worthy addition to your concert library, especially now that it's available on Blu-ray.
Jeff Beck Performing this week...Live at Ronnie Scott's
From Eagle Vision: Jeff Beck is a true rock legend. From his time with the Yardbirds in the sixties, through the Jeff Beck Group and throughout his solo career his unique guitar style and constant desire to explore new musical areas and sounds has won him the admiration of his peers and the adoration of legions of fans. In 2007 Jeff Beck performed a series of concerts at the renowned Ronnie Scott's club in London. They became the must have ticket of the year with a packed audience every night of the famous and the fans. This Blu-ray features pieces recorded across the different nights and presents the best version of each track. Jeff is also joined by guests Joss Stone, Imogen Heap and Eric Clapton for some very special performances.
TRACK LISTING
1) Beck's Bolero
2) Eternity's Breath
3) Stratus
4) Cause We've Ended As Lovers
5) Behind The Veil
6) You Never Know
7) Nadia
8) Blast From The East
9) Led Boots
10) Angel (Footsteps)
11) People Get Ready - with JOSS STONE
12) Scatterbrain
13) Goodbye Pork Pie Hat / Brush With The Blues
14) Space Boogie
15) Blanket – with IMOGEN HEAP
16) Big Block
17) A Day In The Life
18) Little Brown Bird – with ERIC CLAPTON
19) You Need Love – with ERIC CLAPTON
20) Rollin' And Tumblin' – with IMOGEN HEAP
21) Where Were You

Bonus Material:
Jeff Beck Interview: rare in depth interview talking about Ronnie Scott's, his band, the setlist and his guest performers.Interviews with the band members: Tal Wilkenfeld (bass), Vinnie Colaiuta (drums), Jason Rebello (keyboards).

Blu-ray Exclusive Material: 7 Track rockabilly set with the Big Town Playboys exclusively available on the Blu-ray version:
1) Race With The Devil
2) Crazy Legs
3) Train Kept A Rollin'
4) My Baby Left Me
5) Matchbox
6) Baby Blue
7) Honky Tonk.
Jeff Beck on the rockabilly set + Big Town Playboys interview
Our take: Beck is truly a legend, a guy who can make his guitar sing or, to steal a phrase, gently weep. This performance in a small club is first rate and the disc's 191 minutes are used well.
Video is in 1080i high def and it looks terrific. Even more important, the audio, the best of which is dts HD Master Audio and LPCM stereo, is also excellent. We preferred the 5.1 dts track because it makes you feel more as if you're there, surrounding you with ambience. The sound is intimate but that doesn't mean you'll want to keep the volume down.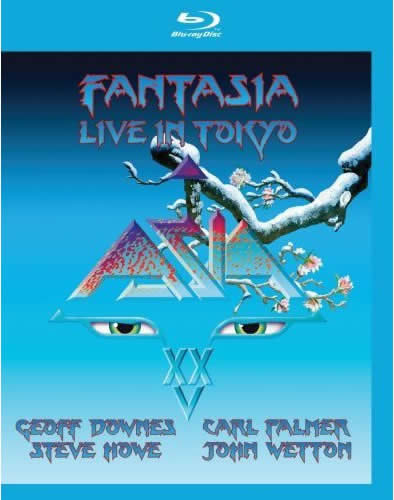 Asia: Fantasia Live in Tokyo
From Eagle Visio: Asia, featuring members of Yes, ELP and King Crimson, was the first "supergroup" of the eighties. Their eponymous debut album, released in 1982, was a huge success racking up global sales in excess of 15 million copies. In 2006 the original four members reunited for the first time in over 20 years for a series of concerts in the US and the UK. The success of this tour led to a full-blown world tour running throughout 2007 in celebration of their 25th anniversary. This Blu-ray was filmed in Tokyo in March 2007 on the Japanese leg of the tour. In 2009 the band will be touring widely in support of their most recent studio album "Phoenix".

TRACK LISTING
1) Time Again
2) Wildest Dreams
3) One Step Closer
4) Roundabout
5) Without You
6) Cutting It Fine
7) Intersection Blues (Steve Howe Solo)
8) Fanfare For The Common Man
9) The Smile Has Left Your Eyes
10) Don't Cry
11) In The Court Of The Crimson King
12) Here Comes The Feeling
13) Video Killed The Radio Star
14) The Heat Goes On / Drum Solo
15) Only Time Will Tell
16) Sole Survivor
17) Ride Easy
18) Heat Of The Moment

Bonus Material: Interview with the entire band
Our take. Play this one loud and revel in such progressive rock classics as Roundabout, Fanfare for the Common Man and In The Court Of The Crimson King - stuff you just don't get to hear very much. Both the LPCM and dts HD tracks sound great but, as usual, we preferred the immersive experience of the 5.1 dts track. Audio quality is first rate.
Video is presented in 1080i HD and is also excellent.
Ray Charles Live at Montreux
Eagle Vision's Take: Ray Charles was one of the true pioneers of soul music. Born in Georgia in 1930 he was one of the first performers to mix gospel, R & B and jazz to create a new form of black pop music that would come to be known as soul. His voice and delivery were strikingly different and instantly recognizable. He had his first hits in the early 50's and was still hitting the charts into the 21st century. His death in June 2004 was front-page news around the world and was followed by the award winning biographical movie "Ray". This concert was filmed on July 19, 1997 at what was to be Ray Charles' last appearance at Montreux, some two decades after he first took to the stage there.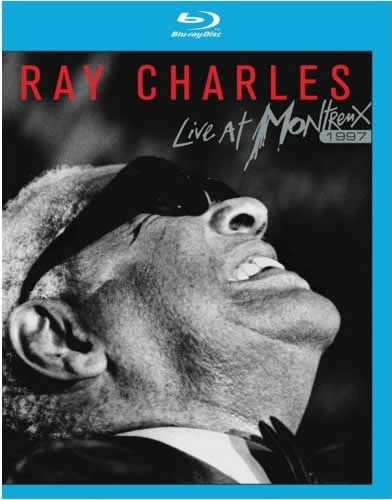 TRACK LISTING
1) I Don't Know
2) Ray Charles Opener
3) I'll Be Home (Sadie's Tune)
4) Busted
5) Georgia On My Mind
6) Mississippi Mud
7) Just For A Thrill
8) You Made Me Love You
9) Angelina
10) Scotia Blues (Blues For Big Scotia)
11) Song For You
12) Do It To Me Slow (Raelettes Intro)
13) Watch Them Dogs
14) Shadows On My Mind
15) Smack Dab In The Middle
16) I Can't Stop Loving You
17) People Will Say We're In Love
18) What'd I Say

Bonus Features
Three additional tracks performed by the Ray Charles Orchestra before Ray came on to the stage:
1) Just Friends
2) Beatrice
3) Passeone Blues

Our take: The master is no longer with us, but this concert gives some insight into what made him so great. Our main complaint is that the concert should have been at least twice as long to do justice to his decades of great hits.
Picture quality, 1080i HD, is spectacular. There's so much sweat going off these hard-working musicians you might think they're going to short out your home theater. Colors are bright and vibrant and the whole thing, ironically, is full of life.
Audio is presented in three "HD" formats, linear PCM stereo, dts HD master losses and Dolby TrueHD. They all sound great, but as we usually do we liked the surround experience best because it made us feel more as if we were part of the action.
B.B. King Live at Montreux 1993
B.B. King is the greatest living exponent of the blues and considered by many to be the most influential guitarist of the latter part of the 20th century. His career dates back to the late forties and despite now being in his eighties he remains a vibrant and charismatic live performer. B.B. King has been a frequent visitor to the Montreux festival, appearing nearly 20 times, so choosing one performance was no easy task. This 1993 concert will surely rank as one of his finest at any venue. With a superb backing band and a great set list it's a must for any blues fan.

TRACK LISTING
1) Six Pack
2) Two I Shoot Blues
3) B.B. Blues
4) Let The Good Times Roll
5) When It All Comes Down
6) Chains Of Love
7) Caldonia
8) All Over Again
9) Since I Met You Baby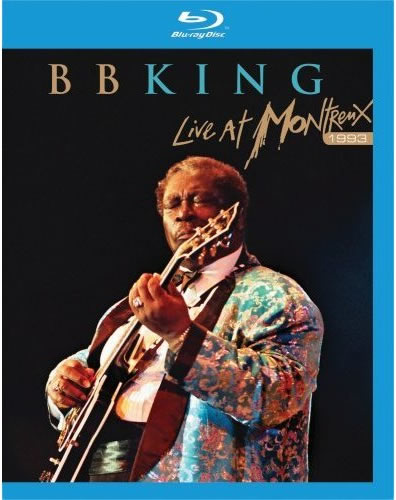 10) Playing With My Friends
11) Ain't Nobody Home
12) Why I Sing The Blues
13) Understand
14) Rock Me Baby
15) Please Accept My Love
16) The Thrill Is Gone

Bonus Features – Blu-ray Exclusive

Three tracks from B.B. King's 2006 Montreux appearance:

1) Why I Sing The Blues
2) When Love Comes To Town
3) Guess Who
Audio and video are good, and the performances are first rate, but the HD a/v (the audio is offered in LPCM stereo, Dolby Digital 5.1 and the wonderful dts HD) isn't up to the standard attained by the Ray Chrales concert above, but this is still an excellent concert.
John Mayall & the Bluesbreakers and Friends, 70th Birthday Concert
Liverpool's King's Dock on July 19, 2003 was the venue for a long awaited and much anticipated reunion between Eric Clapton and John Mayall & the Bluesbreakers. The occasion was both a celebration of John Mayall's 70th year and a fundraiser for UNICEF. Also invited to the party were former Bluesbreaker and Rolling Stone Mick Taylor and veteran trombonist Chris Barber. If you're a lover of the blues it doesn't get much better than this. The show ran for around two and a half hours and the film is now presented here in its entirety for the first time.

TRACK LISTING
1) Southside Story
2) Kids Got The Blues
3) Dirty Water
4) Somebody's Acting Like A Child
5) Blues For The Lost Days
6) Walking On Sunset
7) Oh, Pretty Woman
8) No Big Hurry
9) Please Mr. Lofton
10) Hideaway
11) All Your Love
12) Have You Heard
13) Hoochie Coochie Man
14) I'm Tore Down
15) It Ain't Right
16) Talk To Your Daughter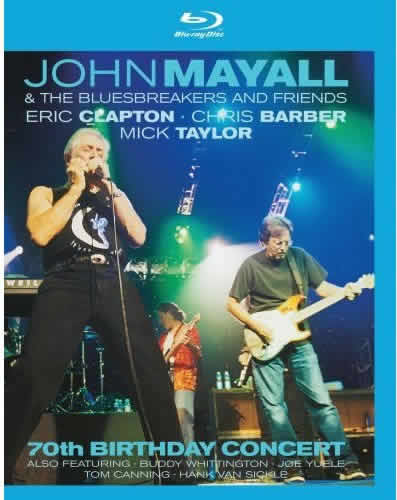 Bonus Features
Three tracks from the concert that had to be cut from the original DVD issue for space reasons:
1) Grits Ain't Groceries
2) Jacksboro Highway
3) California
Plus: Interview with John Mayall.
We were disappointed in the audio and video quality, especially the audio. The HD picture, at 1080i, is fine overall, but the audio seems to focus on the bass guitar and the center channel, where Mayall is placed, is weak. That said, this concert is excellent!
Ted Nugent Motor City Mayhem
July 4, 2008 was a landmark night at the DTE Energy Music Centre in the 41-year touring career of Detroit's own Ted Nugent, as he performed his 6,000th show to a raucous hometown crowd. For the 20,000+ that attended, this show was an affirmation that a Ted Nugent show is not just a show…it is a celebration. A celebration of life, a celebration of Motor City rock n' roll and, on this night, a celebration of over 40 years of touring to all corners of the earth.

TRACK LISTING
1. Star Spangled Banner
2. Motor City Madhouse
3. Wango Tango
4. Free For All
5. Stormtroopin'
6. Dog Eat Dog
7. Need You Bad
8. Weekend Warrior
9. Love Grenade
10. Honky Tonk (with Joe Podorsek)
11. Wang Dang Sweet Poontang
12. Baby Please Don't Go
13. Geronimo And Me
14. Jenny Take A Ride (with Johnny "Bee" Badanjek) 15. Soul Man
16. Hey Baby (with Derek St. Holmes)
17. Cat Scratch Fever (with Derek St. Holmes)
18. Stranglehold (with Derek St. Holmes)
19. Great White Buffalo 20. Fred Bear
Audio and video are good, but we just couldn't get into the Nuge, though it sure looks like this must have been one heckuva party!
Monty Python Almost the Truth (Lawyer's Cut)
If you're Python fan you have to see this six part documentary that reunites the Pythons (including the ghost of Graham Chapman). Not only is it a loving, humorous look at the Life of Python (to invent a completely new phrase), it includes selections from their collected works, now in high definition and looking positively glorious.
The documentary starts with Life Before Python, where future legends cut their teeth on shows such as the Frost Report, brings them together to launch the classic show and takes us through their movies, Chapman's death (there's some great footage from his memorial service) to the end, which appears so far to be this two disc Blu-ray set.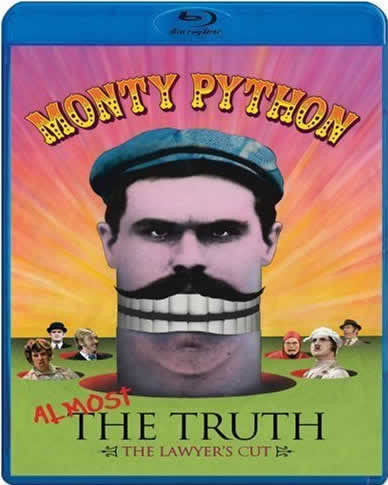 The producers trot out the usual kind of modern expert/peer to proclaim their love for Python and recount how the show influenced them. Among the names are Jimmy Fallon, Eddie Izzard, Dan Aykroyd, and Seth Green.
The 1080i high definition picture is simply splendid. Not only do the modern interviews look great, but the work also stands up well in HD. The movies, especially, shine. Python movies have always looked great, something you might not expect from a comedy troupe, and in high definition the image is so sharp and deep you really get drawn into it, only to be assaulted by a bunch of very silly situations.
The audio is fine; there isn't much to revel in when the source is mostly interviews, interspersed with sources of varying audio quality. It's the picture you'll want to have this disc for.
Well, the info, too. It's a very interesting production in which the Pythons appear to be quite open and frank about the good and bad of their rock star life. And there are plenty of clips from the shows and movies.
There's also a pretty good selection of extras. You get a sampling of their skits including the Parrot Sketch of course - and the fish slapping dance that always makes me laugh out loud. You also get the Ministry of Silly Walks, Cheese Shop, SPAM, the Lumberjack Song, and as one might expect, the Spanish Inquisition.
There are also extended interviews with Michael Palin, Terry Jones, Eric Idle, John Cleese, Terry Gilliam, a Gilliam Photo Gallery and some Outtakes.
Monty Python Almost the Truth (The Lawyer's Cut), from Eagle Rock Entertainment
7 hours, 43 minutes. 1080i widescreen (1.78:1), LPCM Stereo and Dolby Digital 5.1 Surround
Classic Albums: Tom Petty and the Heartbreakers - Damn the Torpedoes
1979's Damn the Torpedoes was the album that really put Tom Petty and the Heartbreakers on the map. Full of energy and full of hits, it brought the band to the forefront of rock music. This Classic Albums episode is set up similarly to the others we've reviewed, in that it brings back many of the perpetrators and their circle, reminiscing about the album and demonstrating in th studio how it was created and mixed.
The band's third album uses interviews, new and archived performances from band members Tom Petty, Mike Campbell, Benmont Tench, and Ron Blair and gives some interesting insight into their inspirations and, since this does not appear to have been an easy album to create, their perspirations. Also opining are co-Producer Jimmy Iovine, with whom the band appears close still, and Engineer Shelly Yakus.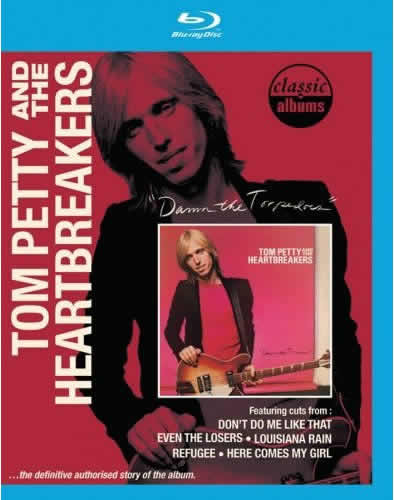 This is the album that brought us such hits as Refugee, Here Comes My Girl, Even the Losers and Don't Do Me Like that, so even if every other song was a stinker it would have been worthwhile. As it turns out, the other songs were far from being stinkers, and Damn the Torpedoes is thought of generally today as a classic.
The Blu-ray of the Classic Albums show looks and sounds great for the most part. The music videos can't and don't reach the level of picture quality you get from the studio sequences, which were obviously shot in high definition. The disc itself comes in 1080i widescreen (16x9) and the high def sequences look excellent.
This is made even better by the quality of the audio, which in this case is presented only in LPCM stereo. Again, some of the older footage also suffers sonically, but when the source quality's there so's the destination's. We particularly enjoyed the extra bit about the 12 string Rickenbacker, because we've always loved the fat sound of that guitar brand and the 12 string sounds even fatter.
The show is of an hour long TV show, shortened because we thankfuly don't get the commercials, with the extras stretching it out to just shy of 100 minutes.
The extras are quite interesting, looking at (besides the Rickenbacker) the Hammon organ (with cool old Leslie amp), the drums and even a bit of interesting info on engineer Shelly Yakus.
This is one of the better Classic Album releases we've seen. Not only is the album top notch, but the show itself is interesting, entertaining, and in many places a pretty good showcase for your audio and video equipment.
Classic Albums - Tom Petty and the Heartbreakers: Damn the Torpedoes
From Eagle Rock Entertainment
ELP and the Moody Blues on Blu-ray
England has brought us some really great bands over the years, especially during those halcyon days of the 1960's and 70's. The sounds were as diverse as the songs, bands claiming influences ranging from blues to classical and everything in between.
Two British bands from that era that could be considered candidates for "the world's smallest symphony orchestra" are The Moody Blues and Emerson, Lake and Palmer. The former is known mostly for its heady late sixties concept albums, with Mike Pinder's swirling mellotron and Ray Thomas' flute adding an orchestral component to the traditional rock band instruments.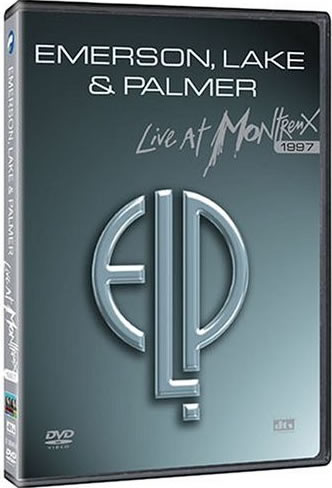 The latter is remembered for Keith Emerson's synthesizers that not only propelled most of the band's most ambitious works but – coupled with Carl Palmer's disciplined percussion – also added a symphonic flair to their compositions and the classical pieces they covered.
The two bands sound nothing alike, but both are considered classic rock bands in the grand manner of both "classic rock" and "classical" rock.
Now, Eagle Rock Entertainment has released a Blu-ray featuring each band, one a modern day recording from the famous Montreux Jazz Festival and the other from the legendary 1970 Isle of White festival. Both are worth watching and do a good job of capturing their respective subjects.
Emerson, Lake and Palmer Live at Montreux 1997 is the better feature technically, which should surprise no one. But The Moody Blues – Threshold of a Dream Live at the Isle of Wight Festival is a rare filmed (and, as it turns out, fudged) record of the band at its heyday, in this case the era of the "A Question of Balance" album.
Let's look at the newest recording first.
ELP is probably known best for such hits as Lucky Man, Still You Turn Me On, and the outrageously hot Karn Evil 9, but they also did excellent cover versions of classical tunes such as Aaron Copland's Hoedown and Fanfare for the Common Man, both of which feature on this disc. The combining of Emerson's extraordinary keyboard virtuosity and multitude of keyboard instruments with Greg Lake's anchoring bass, folky picking and resonant vocals and Carl Palmer's one man percussion section (Which goes far beyond traditional rock drumming to approach something you might expect to see more occupying a row at the back of a philharmonic) creates a powerful musical - and concert - experience.
By the time Montreux 1997 rolled around the band was in the latest of a few re-teamings, but you'd never know they'd been apart from their musicianship. All three are in top form – Emerson being a particular hoot with stacks of old synthesizers and organs that make it look (his age notwithstanding) as if he stepped onto the stage directly from the 1970's.
Songs run a pretty good gamut of the band's many albums, opening with an excellent version of "Karn Evil 9 – 1st Impression Part 2", which originally picked up where Part 1 left off at the end of Side One of the vinyl record. That "Welcome back, my friends, to the show that never ends" was a great introduction to Side Two, humor that's lost on the generations that grew up with single-sided CD's!
The set includes the quiet and lovely "From the Beginning" the "boogie-woogie-inspired" "Honky Tonk Train Blues", and there's even a "Tarkus/Pictures at Exhibiton" piece and such more obscure but nevertheless worthy numbers as "Knife Edge," and "Bitches Crystal." It's a good cross section of their stuff, performed very well in a reasonably intimate concert setting.
The Blu-ray looks and sounds very good. The picture is presented in 1080i at an aspect ratio of 1.78:1. It's very clean and offers very good contrast. Black levels and fleshtones are also good. 
Audio is offered in dts-HD Master Audio 5.1, Dolby Digital 5.1, and LPCM 2.0. I tried the stereo and dts tracks. Both sound very nice, but I preferred the dts one because it puts you more into the live concert experience thanks to its use of the surround channels.
Bass is very much in evidence, which is a relief. Lake's bass guitar and Palmer's bass drums will have your sub humming (or punching) and your system will get a good workout right to its tweeters thanks to Emerson's hands being all over the keyboards from top to bottom.
Unfortunately, there are no extras.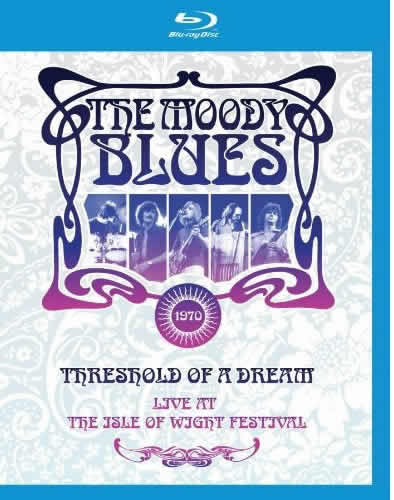 The Moody Blues Blu-ray is as much – or more – a documentary than a recorded concert. It's part of the footage American documentary filmmaker Murray Lerner and his crew shot during the 1970 Isle of Wight Festival that also brought such videos as The Who Live at the Isle of Wight Festival.

The first eight chapters intersperse documentary stuff with concert footage and it takes about 20 minutes for the film to actually get to the performace itself, with a soaring version of "Gypsy", from "To Our Children's Children's Children". Then we get live versions – performed by a band at the top of its game (they may be more polished now, but they don't have the energy they did then) – of "Tuesday Afternoon", "Never Comes the Day," "Question", "Sunset", and "Legend of a Mind", among others.

Sometimes it appears as if the film footage was missing from particular songs, because on at least one number the filmmaker appears to have taken other footage and tried to match it with the audio of the song, studiously avoiding shots where you can see their mouths moving and cutting it so the musicians appear to be playing the same song we're hearing. There are also sections where we have to be content with crowd shots to hide the missing footage.

A bit of a cheat, indeed, but we're glad they did it because we want the music and if the substitution bothers us excessively we can just shut our eyes and listen to the Moodies like we did when we listened to these songs when they were new (eyes closed and volume cranked!).

The Blu-ray is once again presented in 1080i and at an aspect ratio of 1.78:1. There's vintage footage and modern day interviews that – to our delight – include Mike Pinder (who left the band decades ago) and, needless to say, the picture quality varies between them.

The interviews appear to have been shot in high-def and they look very good, with bright colors and good contrast. 

The vintage footage, including the performance itself, isn't nearly as good, but what can you do? It isn't that it's a lousy mastering of great original footage, it's that the original footage leaves a lot to be desired. The impression you get is that this is a 1970 concert, and while we'd love to have a pristine, 2010-quality version, it at least looks authentic.

Audio, as with ELP and so many other Eagle Vision concerts, comes in three options: dts-HD Master Audio 5.1, Dolby Digital 5.1, and PCM Stereo. Once again, I preferred the dts even though the surround is fudged.

As witih ELP, there are no extras, unfortunately, though in this case you could argue that the first eight chapters are extras compared with te main concert footage. And if that rationalization works for you, fine.


Jim Bray's columns are available from the TechnoFile Syndicate.