Rock and Roll may never die, and that's a good thing as long as the music is great. Which means Jim Morrison's "When the Music's Over, Turn out the Light" lyric may never have to come true.
And how's that for a bridge to the review of this latest documentary on the legendary American band from the 1960's? Directed by Tom Dicillo and narrated by Johnny Depp, it's a great look into the band and, of course, it focuses the most on its most famous member, Jim Morrison - not that it doesn't give a fair shake to the rest of the band.
The Doors ("singer and poet" Morrison, keyboardist Ray Manzarek, guitarist Robbie Kreiger, and drummer John Densmore) came on the scene around the time so many American bands were exploring their inner selves via "peace and love" and LSD, generally turning into useful idiots for the leftists who were and are trying to take over the country. The Doors didn't appear immune to such things, but they were also into exploring a variety of facets of the human condition, whether it be love ("Hello, I Love You,") or wondering about what makes other people tick in "People Are Strange". Then there were broader and more ambitious works such as "The End", "When the Music's Over" and "The Soft Parade." Heck, they even lampooned a TV commercial with their "Stronger than Dirt" at the end of "Touch Me."
The music itself was great, but when many bands were enlisting orchestras or many overdubs, for the most part the Doors kept it fairly minimalist – just Morrison's baritone leading Krieger's always interesting guitar work, Densmore's straightforward drums and Manzarek doubling as bass player and organist. Most of their recordings captured this intimate-sounding music very well with "The Soft Parade" extra production seeming kind of out of place.
What hasn't been captured as well, despite numerous attempts, is the band itself and what made it tick. That's what "When You're Strange" tries to do, and it does it pretty well.
Most documentaries like this use a lot of talking heads, purported experts, enlightening the audience from out of their ivory towers, but this film doesn't go down that route. Instead, it uses footage of the band and its members almost exclusively, letting the story seep out from band itself (helped by Depp, of course, and he does a good job).
The movie tells us how the four members met in Los Angeles and follows their journey to the top of the hit parade and the depths of their struggles along the way. It appears that Morrison, in particular, the son of a very establishment Naval officer, had problems dealing with his sudden position as a Rock God. This led him into his death spiral fueled by alcohol, mostly, and that may help account for his most bizarre behavior along the way.
The movie follows their career until Morrison's death in Paris, ignoring his bandmates' attempts to keep the legacy alive since then. This makes a certain amount of sense, because – like a "The Who" without Pete Townshend, it's hard to imagine much of a "Doors" without their front man.
A lot of the footage has been seen before, not surprisingly, but there's quite a bit of "new" stuff as well, including some scenes of them in the studio.
Eschewing artsy fartsy documentary stuff for the most part (but not completely), "When You're Strange" comes across as a nice celebration of The Doors and their music. We wish there'd been more music – more performances of entire songs – but there's other material available that can fix that craving.
The Blu-ray is presented nicely, with about as good a 1080p transfer (at an aspect ratio of 1.78:1) as you could expect considering the sources and dates of the footage. The quality is actually all over the place, but that helps make the doc feel authentic rather than manipulated.
You have two choices for the audio: dts-HD Master Audio 5.1 and PCM Stereo, and however you slice it it sounds great considering the source material. We liked the surround track best and were very pleasantly surprised by the sound quality overall, which is clear and dynamic and separates the three musicians' instruments nicely. Depp's narration comes through clearly as well.
Extras include a movie poster and small pamphlet and on the disc itself there's a short documentary that includes the thoughts of Jim Morrison's father and sister. It's pretty interesting, but we'd have liked more.
"When You're Strange" is a very good introduction to the Doors for those who've been sleeping under a rock for the past 40 years, and a nice blast from the past for fans.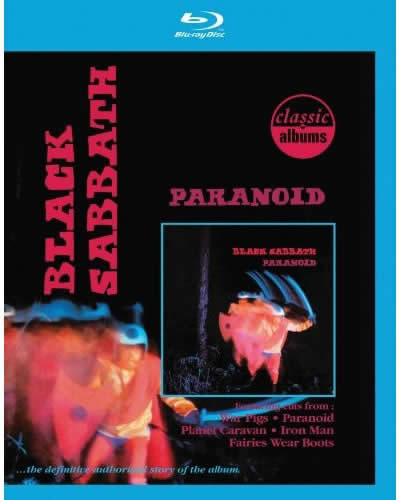 "Black Sabbath Paranoid" is another in the Classic Albums TV series, this time obviously focusing on the British heavy metal band's second and arguably most famous album.

Released in 1970, Paranoid (according to the liner notes) "changed the face of rock music forever" and "defined the sound and style of Heavy Metal more than any other record in rock history." We assume the writer has never listened to Deep Purple's "Machine Head" – in our opinion the quintessential heavy metal album – or many of The Who's finest efforts, which helped expand rock music past the limits of pop singles and to the art form that rock music became.

Still, one shouldn't be surprised to find a certain amount of hype on an album cover!

Paranoid contains several good songs, but the most famous are undoubtedly the title song and "Iron Man," the latter perhaps due in no small part to its connection with the hit movie of the same name.

Black Sabbath at the time consisted of vocalist and now media icon Ozzy Osbourne, guitarist Tony Iommi , bass player Geezer Butler, and drummer Bill Ward, the band's original lineup. The tales we're told via this Blu-ray are the stuff of rock legend and cover the band's origins as a band named Earth into the Black Sabbath so many came eventuallyto know and love. There's some pretty good trivia here, too; for example, did you know that the album was originally going to be called "War Pigs," but the label made them dump that idea because they were afraid it might alienate people who bought records and weren't marching against the Vietnam war.

This is much more of a "talking head" piece than the Doors documentary outlined above, and features a bunch of historians, media types, musicians, and suits. Best, however, is Tom Allom, who engineered the album. As with other Classic Albums have done, this title has Allom in a studio with the album's original master recordings and he plays us individual tracks – vocals, bass, guitar or drums, letting us get a sense of the parts that eventually became the whole of Paranoid.

This kind of treatment is always fascinating, and no less so here.

The Classic Album treatment is, overall, much like that for other entries in the series, which includes "Dark Side of the Moon" and "Who's Next" and as such is another good title in the series.

The Blu-ray is presented in 1080i, at an aspect ratio 1.78:1. The video quality is all over the place, thanks to sources that span the decades, with the best footage being the modern interview stuff, which appears to have been shot in high definition.

Audio, alas, is unremarkable. It's offered only in a linear PCM track – not that there's anything wrong with that in itself – but while the interviews and the like come through clearly, the music sounds flat, not nearly what you'd want from a heavy metal album you undoubtedly want to play LOUD! We didn't have a copy of the original album around and so couldn't compare the music tracks to this Blu-ray; we certainly hope the album sounds better, otherwise it's a real waste of material. Alas, many CD's of old albums sound thin compared to their vinyl versions, which is why formats like DVD-Audio and SACD can be so great.

Speaking of material, the Blu-ray includes some 42 minutes of extra interview footage and some of it's very good. It looks like stuff that didn't make it into the running time of the TV show and that's too bad because if it were incorporated into the main film it would be more coherent. But it's still well worth your time.


Jim Bray's columns are available from the TechnoFile Syndicate.