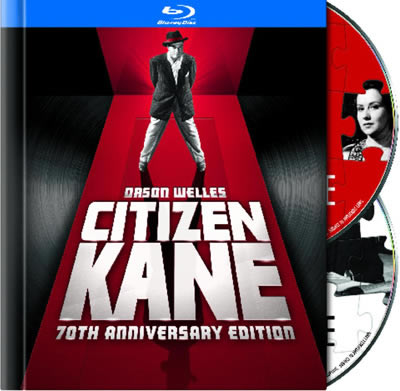 Citizen Kane, 70th Anniversary Blu-ray
Generally considered as one of, if not the best, movies ever made, Citizen Kane is indeed a tour de force that belongs in the collection of every serious movie fan.

Co-written, directed by and starring the wunderkind Orson Welles, it's the story of a poor little rich kid dragged from his happy home while little more than a lad, raised by strangers, and who spends the rest of his life trying to find the most elusive of all things: love.

Supposedly loosely based on the life of publishing tycoon William Randolph Hearst, the story opens with the death of Charles Foster Kane on his gigantic and rambling Xanadu estate in Florida. From there the film unfolds through recollections and flashbacks until its emotional climax in which all is revealed to the few people who still haven't heard the meaning of the term "Rosebud."

The film is basically a search for the meaning of Kane and his life, with Rosebud acting as the wild goose that's chased by a reporter trying to dig below the well known surface of the infamous Mr. Kane. The reporter visits Kane's friends (though perhaps "associates" is a more accurate term) and enemies and his ex-wife. They all offer their own views of the enigmatic Kane, but none can truly answer the core question of who or what the man really was.

Oh, they get fairly close, especially his estranged best friend Jedidiah Leland (Joseph Cotton), but they never get to the heart of the man. And the heart of the man was symbolized by Rosebud, but we don't find out what that is - what it was that made Kane tick and what it was he wanted more than anything - until the final frames when Rosebud is revealed.

Oh, how sorry I feel for all of you who've had the film spoiled for you because you know what Rosebud was. I didn't, the first time I saw Citizen Kane, and its powerful simplicity knocked my socks off.

The cast is spectacular, especially Welles himself, naturally, as Kane. Welles' legendary powerful magnetism is in evidence in his riveting portrayal. The supporting cast, made up mainly of Welles' Mercury Theater compatriots, include Cotton, Dorothy Comingore, Ruth Warrick, Ray Collins, and Everett Sloan. Special mention should be made of Agnes Moorehead as Kane's mother; it's a very small part, but she delivers an icily menacing performance that makes you glad she isn't your mom!

Then there's the film making itself. Though this was Welles' first film, and he was only 24 years of age at the time, it set a standard that most films have yet to match. The look, the feel, the direction - the camera angles and shots - all combine into a masterful movie that reminds me of Francis Copolla at his best.

Kane is definitely one of the best ever, but the best? Maybe. Technically it may be the best, but I personally find Casablanca a more enjoyable movie from that era. It's lighter and more entertaining, but that's like comparing apples to oranges.

The 70th anniversary Blu-ray has received loving treatment. The 2011 vintage, full frame black and white picture looks exquisite, with a very film-like look that's a delight. Fine detail is excellent, with deep blacks and amazing sharpness. Warners gave this a transfer befitting its place in movie history.

The audio is presented in a lossless 1.0 DTS-HD Master Audio track, and while you can only expect so much from a 70 year old film, it sounds surprisingly good. Dialogue comes through nice and clearly, and Bernard Herman's fantastic score has never sounded better. Of course there no LFE use, which isn't surprising, but overall and considering the source material, this is a very nice soundtrack.

Even better, you get a decent set of extras, too. The two disc set includes the full length PBS documentary "The Battle Over Citizen Kane," a fascinating look into Welles and Hearst (mostly Welles, fortunately) and the collision course they followed when Hearst found out that Welles was planning a feature based on his life.

Other extras include feature length commentaries (one featuring the knowledgable but increasingly mean spirited leftwing whacko movie critic Roger Ebert and one featuring director/Welles biographer Peter Bogdanovich). There's also a newsreel of the film's premier, a photo gallery and interviews with cast member Ruth Warrick and editor/director Robert Wise.

In all, an excellent, definitive version of this important Hollywood classic.

Citizen Kane, from Warner Home Video1.33:1) DTS HD mono,
Starring Orson Welles, Joseph Cotton, Dorothy Comingore, Ruth Warrick, Ray Collins, and Everett Sloan
Produced by Orson Welles
Written by Herman J. Mankiewicz and Orson Welles, directed by Orson Welles


Jim Bray's columns are available from the TechnoFile Syndicate.