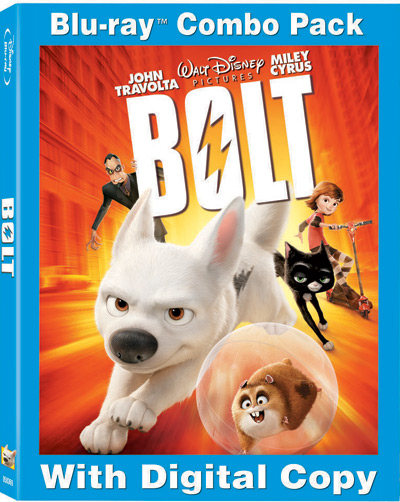 Bolt on Blu-ray Disc
Disney's Bolt is a non-Pixar Pixar-like toon that proves Disney still has a way to go to equal Pixar's quality.

Not that it's a bad flick; it isn't. But the best of the Pixar films, such as The Incredibles or the Toy Storys, are much, much better and we wonder why Disney would go into competition with itself anyway, when it now owns Pixar.

Enough Pixar references there for you?

Anyway, Bolt, like the Pixar films, is computer generation animation and as such it's a terrific treat for the eyes in your home theater, especially in this Blu-ray release.

Bolt is a dog (voiced by John Travolta), who's also the leading "actor" of the biggest TV show coming out of Tinseltown. As with many denizens of Hollywood these days, or so it appears considering the self-important pap that oozes from their mouths, Bolt thinks he's not in a TV show but that his outrageous life is the real thing. Look at it as a kind of "Truman Show" meets Sean Penn….

Then one day, Bolt is shipped off to New York City accidentally, separating him from his Person, Penny (Miley Cyrus), who's also his co-star on the show (though she knows it's only a show). This gives us a "fish out of water" story – or perhaps a "dog out of doghouse" story, that sees Bolt spend the rest of the moving finding his way home, even though he really doesn't know where home is.

In the Big Apple, he meets what Disney's press materials refer to as "hilarious new sidekicks" Rhino (voiced by Mark Walton) – Bolt's #1 Fan, and a fat hamster – and the street-wise cat Mittens (voiced by Susie Essman), the smartest character in the movie, and together they set off on a cross-country "Amazing Journey" (no Who pun intended) during which Bolt not only discovers that he's just an "ordinary" dog but learns that there's nothing wrong with that – and that you don't need super powers to get through life.

It's a pretty tried and true story, and very predictable, and we went into Bolt expecting it to suck, but it actually turned out much better than we'd anticipated. This is no masterpiece, but it's a pretty diverting time in the home theater.

Disney took the unusual strategy with Bolt of releasing the Blu-ray two days before the standard def DVD was "unleashed". We don't understand the rationale except for it being another welcome push to encourage people to head for Blu-ray technology if they haven't already done it. On the other hand, if you don't care about BD, you only have to wait two days – until the usual release date of a Tuesday – to get your DVD dose of Bolt.

Whatever, it's still a good Blu-ray disc; Disney's releases are usually very good, and this is no exception.

We received the three disc version that includes the Blu-ray, a standard definition DVD and a digital copy in iTunes or Windows Media formats you can put onto your notebook computer or portable device. Naturally, we concentrated on the Blu-ray.

The movie is presented in a beautiful 1080p widescreen (1.78:1, which fills the 16x9 TV screen perfectly). It looks fabulous, as you might expect from a digitally-created CG-based film such as this. There's a real sense of depth to the image, and the picture is overall bright and clean and sharp, with beautiful colors and blacks  – nearly perfect, in fact.

Likewise, the audio (offered for Blu-ray in dts-HD Lossless Master Audio 5.1 Surround) is beautifully "rendered." All of the channels get a good workout in a sound track that immerses you wonderfully. Channel separation is top notch, action scenes come alive all around you and the low frequency effects channel thumps your chest nicely.

As Disney is known for, there are also plenty of extras thrown in which add to the package's value. Many of these are in high definition, too, which is always nice.

First up is BD-Live capability – which features "Movie Chat", "Movie Mail", "Movie Challenge" and "Disney Movie Rewards" – a feature we can take or leave (and normally leave, cyber-curmudgeons that we are), but it's there if you want it.

Other Blu-ray-only features include "Bolt's Be-Awesome Mission" game, and "Bolt Art Gallery".

There's also a bonus animated short "Super Rhino", which we didn't find particularly entertaining, but it looks and sounds good.

And there's more, including "A New Breed of Directors: A Filmmaker's Journey", a short interview with co-directors Chris Williams and Byron Howard. "Creating the World of Bolt" showcases the use of painted backgrounds for the film, as opposed to the pure CG that's more common in CG films.

"Act, Speak! The Voices of Bolt" features Miley Cyrus and John Travolta, and some of the supporting voice actors, and if that isn't enough of them you can watch "In Session with John Travolta and Miley Cyrus" and catch the music video of "I Thought I Lost You".

There's also a couple of deleted scenes, with director's introduction.

This isn't as full a set of extras as Disney includes often, but that didn't bother us. It's the movie that really counts, and even if this is no masterpiece the studio has done a marvelous job on its presentation on the Blu-ray disc format.


Jim Bray's columns are available from the TechnoFile Syndicate.