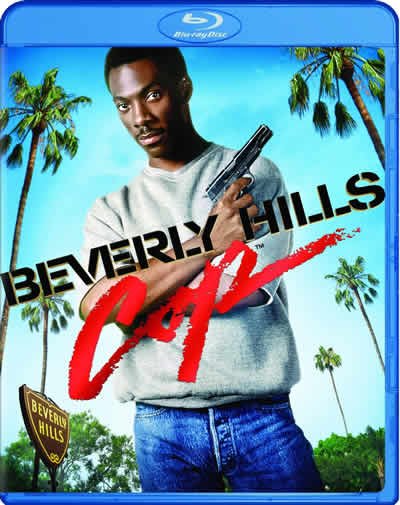 Beverly Hills Cop on Blu-ray
It became a pop culture sensation, for whatever reason but nearly 30 years later we find this "fish out of water" flick to be about the same as it was then: overrated, but with some good moments.

Axel Foley (Eddie Murphy) is a Detroit cop, a rising star – or he would be if he weren't such a loose cannon. His superiors recognize his abilities, but need to keep him in a box. He realizes this as well, but has no plans to be boxed.

Then his childhood friend is murdered in an apparent hit by organized crime and Foley – whose superiors don't mind the thought of him not being around for a while – heads to Beverly Hills to follow the trail. Once there, he's that proverbial fish out of water, especially since the antics that so endeared him (not!) to his Detroit bosses are even more outrageous to the by-the-book Beverly Hills police.

Naturally, he's always right and the stiff Beverly Hills cops are always wrong, trying to keep him in line while he short circuits their attempts and goes on to solve the case, much to their chagrin. In the end, they're glad he was there because he helped them out, but they're also just as glad to see him head back to Detroit at movie's end.

The supporting cast is very good, including Judge Reinhold as a wet-behind-the-ears cop whose partner (John Ashton) has a lot more experience but is kind of sleepy. Their superior, Lt. Bogomil (Ronny Cox, in the first role we can remember where he didn't play a dick – well, not the detective type of dick), goes from trying to stop Foley to covering for him at the end, when push comes to shove.  

Oh, there are some good lines and funny scenes, but there's too much of the smarty-pants out of towner who always knows best and is just too happy to show it, in a very smug way. We never got its popularity and still don't, but maybe it's just us.

Part of the reason might have been the 1980's music used in the soundtrack, stuff like Glenn Frey's "The Heat is On" and Pointer Sisters' "Neutron Dance," and the overused electronic theme by Harold Faltermeyer. Or may it's just the anti-establishment theme.

Whatever, Murphy is very likeable in the role and his supporting cast do a good job as well.

The Paramount Blu-ray is presented in 1080p at an aspect ratio of 1.85:1. It's pretty good, too. Blacks are generally solid, detail is good and there's even some depth. There's also some grain, which doesn't really detract from what's overall a satisfying presentation.

Audio, which is dts-HD Master Audio, is basically stereo so don't expect much from the rar speakers. But voices are audible and the music sounds good. There isn't a lot of the deep low frequency effects, not surprisingly for a movie of this age. But other than the whole soundtrack sounding a bit flat, it's not bad.

Extras include an audio commentary with director Martin Brest which is quite technical but dry. "Beverly Hills Cop - The Phenomenon Begins" is a pretty good look back at the film, including interviews with writers and the director, as well as and producer Jerry Bruckheimer and some of the cast. It's quite interesting to learn that this was originally going to be a Sylvester Stallone flick! "A Glimpse Inside the Casting Process" is exactly what it purports to be, with casting director Margery Simkin explaining her place in the filmmaking process and what she did on this movie.

"The Music of Beverly Hills Cop" features interviews with cast, crew and composer Faltermeyer, talking about the prominent music in the film. Location Map is an interactive map of Los Angeles and you can learn more about seven different locations.

You also get the trailer.

One of the films that cemented Eddie Murphy's star power back when he had it, "Beverly Hills Cop" has aged well, and though we are perhaps in a minority about not thinking it's a particularly great effort (of all the Murphy films we've seen, we still like "Trading Places" the best), it's a decent flick given a decent presentation on the high definition disc medium.

Beverly Hills Cop, from Paramount Home Entertainment
105 min. 1080p widescreen (1.85:1), dts-HD Master Audio
produced by Don Simpson and Jerry Bruckheimer, written by Daniel Petrie, Jr.
directed by Martin Brest
Jim Bray's columns are available from the TechnoFile Syndicate.