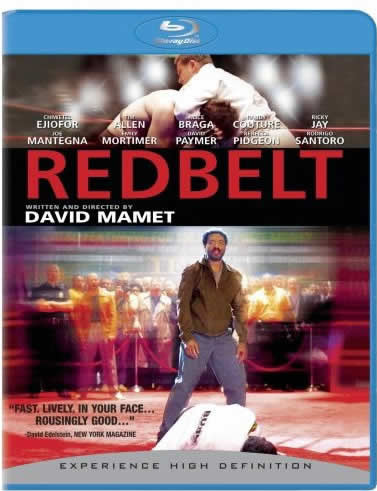 Redbelt on Blu-ray
With Hollywood making sports movie after sports movie after sports movie lately, it's rather refreshing to see a sports movie that manages to take the focus off of the sports.
Mike Terry (Chiwetel Ejiofor) is a respected Jiu-Jitsu master who prefers honor over glory. His martial arts studio has been having some financial difficulties, and his wife is becoming increasingly irate. One night, a random incident sets in motion a chain of events that will make a fairly entertaining movie.
Saying more would detract from the enjoyment of the film, which relies on Mamet's clever craftsmanship and unravelling story technique to drive it forward. His trademarks are stamped all over the place, with great dialogue, a well-suited cast, and a refusal to reveal any more information at any one time than is absolutely necessary.
Ejiofor evokes the wisdom and honor needed for the lead role, and backs it up with some mad Jiu-Jitsu skills. Tim Allen is the standout supporting player, if for no other reason than he does an admirable job of playing completely against type. Regular Mamet cast members are here, too, such as Ricky Jay and Rebecca Pidgeon.
What we didn't like about Redbelt was the ending. It's far too abrupt (even taking his other films into account), and seems as though they decided – at the last minute – to upgrade to "the mega-happy ending." Furthermore, in the last two minutes, more questions are created than answered. We appreciate the desire to leave a movie open to interpretation, but this seemed a little extraneous.
Despite the respect we have for David Mamet and his work, Redbelt is not a great movie. It's good, and certainly entertaining, but now that we've seen it we don't feel as though we'd ever want to see it again. One might consider it as a rental.
The Blu-ray of Redbelt is pretty solid. The video is typical 1080p 2.40:1 HD, and the audio is available in English, French or Portuguese Dolby TrueHD 5.1. The picture looks very nice, with no dust or grain, and colors showing up pretty well. Every once in a while we noticed a shot that, for whatever reason, didn't look quite as good. But overall some good work.
The audio stays pretty tame until the third act, when it really kicks into gear. The sounds of the fighters, announcers, and crowd are all meshed together perfectly, being audible but never getting in the way of the actors. There are no major volume fluctuations, either.
Extras include an audio commentary by Mamet and UFC champion/supporting actor Randy Couture, a couple of featurettes, a Q & A with Mamet, an interview with UFC president Dana White, and some fighter profiles.
Redbelt, from Sony Pictures Classics Home Entertainment
99 minutes, 2.40:1 1080p HD, Dolby TrueHD 5.1
Starring Chiwetel Ejiofor, Tim Allen, Alice Braga, Ricky Jay, Joe Mantegna, Emily Mortimer, David Paymer, Rodrigo Santoro
Produced by Chrisann Verges
Written and directed by David Mamet
Dude, Where's My Car? on Blu-ray
Not since Bill and Ted's Excellent Adventure have we rooted for two guys so utterly stupid. And like Bill and Ted's Excellent Adventure, Dude, Where's My Car? is surprisingly funny.
Jesse and Chester got a little too drunk last night (for shame), and they can't quite remember what they did. Naturally, today is their anniversary with their twin girlfriends, and the presents they bought are in the back of the car.
Not only that, but they trashed their girlfriends' house at some point during the night, so they're in hot water as it is. Thus begins the quest to answer the titular question.
Along the way, Jesse and Chester meet up with several people involved in their preceding excursion. There's Christie Boner, the transsexual stripper, the extremely hot chicks, the über-nerds, and even the "Super Hot Giant Alien." And somehow, the entire plot revolves around a little device called the Continuum Transfunctioner.
Once their girlfriends are kidnapped and held ransom by the nerds, they become the best boyfriends in history and set out to save their beloveds.
The nice thing about Dude, Where's My Car? is that the main characters' intentions are good. They just want to find their car, so they can give their girlfriends the anniversary presents, and get their "special surprise" in return.
The fact that the plot is completely inane only adds to the humor. There's not a single scene in the entire film in which it expects to be taken seriously. Many of the laughs come about because you can't help but laugh at how stupid these two guys are. A perfect example is the tattoo scene.
Ashton Kutcher<<(That 70's Show) and Seann William Scott (American Pie) are perfect for their roles. And the screenplay by Philip Stark is perfectly stupid. As long as you understand that this isn't a movie made to make you think (in fact, it's made to prevent you from thinking), you'll have no trouble laughing and enjoying.
The picture and sound are substandard for a Blu-ray, but better than a DVD. In fact, it looks like they took the DVD and then just recorded it onto a Blu-ray disc: it's better, but doesn't really look like they tried. The dts HD 5.1 Master Lossless Audio booms during certain scenes (such as the one in the strip club and the climax) but is otherwise pretty tame.
Extras include a theatrical trailer.
Dude, Where's My Car, from 20th Century Fox Home Video
83 min, anamorphic widescreen (1.85:1), 16x9 TV compatible, Dolby Digital 5.1
Starring Ashton Kutcher, Seann William Scott, Kristy Swanson
Produced by Wayne Rice, Broderick Johnson, Andrew Kosove, Gil Netter
Written by Philip Stark, Directed by Danny Leiner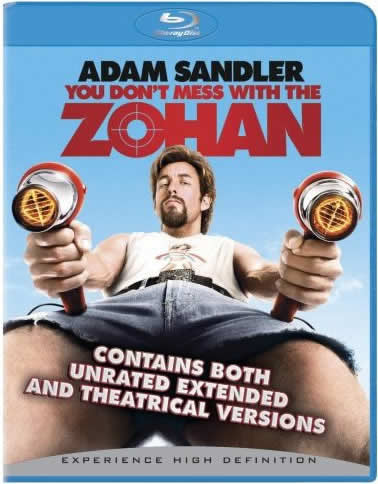 You Don't Mess With the Zohan (Blu-ray)
by Johnny Bray
Adam Sandler has been pretty reliable for years now. The only real stinker in his entire catalogue (that we can think of) is Bulletproof, from way back in '96. And man, that one was bad.
Nevertheless, he's been releasing one or two comedies almost every year since The Waterboy in '98, and they've all had their charms. You Don't Mess With the Zohan is the latest feature – one of the weakest, and it's still pretty funny.
Sandler plays The Zohan, essentially the Austin Powers of Israel. He kicks some serious terrorist butt on a regular basis, is revered by his home country, and wants nothing more than to settle down in America as a hairdresser. Wait…what?
As everyone makes fun of his dream, The Zohan concocts a plot to fake his own death and hustle off to the new world to follow said dream. We're certain there won't be anyone in New York who would recognize The Zohan and threaten to uncover his secrets. Will there? Of course there will. But not before he charms the hearts of nearly everyone in the city.
It may be no Billy Madison, but The Zohan has enough gags to keep it entertaining. If nothing else, it's worth watching for all the racial stereotypes which, if done well, are always amusing. The formula is pretty much identical to every comedy starring former SNL alumni, but that just means you don't have to think about it too much. Just enjoy.
If you fancy a potentially-offensive comedy starring a bunch of people who know how to make you laugh, you could do a lot worse.
The Blu-ray presentation of the film is pretty solid. In typical 1080p High Defintion, everything looks nice. There are plenty of vibrant colors and the level of detail is impressive, to be sure. In fact, there's nothing about it that detracts at all; it simply doesn't seem to be of the quality of the best Blu-rays. Not that it needs to be.
The audio is equally impressive, as there are plenty of action sequences that make good use of the home theater system. It leaps to life during such scenes, and remains more subdued during the quieter moments. dialogue is always crystal clear (even through all the fake accents) and there are no volume fluctuations.
Extras include two commentaries (one with Sandler, Robert Smigel, Rob Schneider and Nick Swardson, the other with director Dennis Dugan), some not-too-great deleted scenes, and a bunch of featurettes.
You Don't Mess With the Zohan, from Sony Pictures Home Entertainment
117 min. 1080p widescreen (1.85:1), Dolby TrueHD 5.1
Starring Adam Sandler, John Turturro, Emmanuelle Chriqui and Rob Schneider
Written by Adam Sandler & Robert Smigel & Judd Apatow
Directed by Dennis Dugan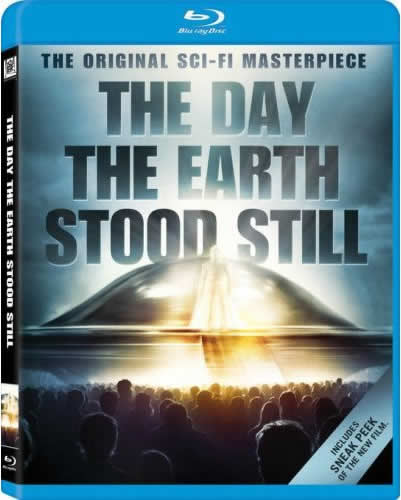 The Day the Earth Stood Still on Blu-ray disc
One of the best SF movies of the 1950's, Robert Wise's "The Day the Earth Stood Still" helped kick off 50's alien invasion movies on a high note.
Michael Rennie is Klaatu, an alien emissary from a kind of interplanetary United Nations, sent to Earth with an ultimatum for mankind.
He's shot and wounded when he first steps out of his flying saucer, however, which really sets the tone for most of the humans in this cold war-era tale of suspicion and futility.
But not all the humans are afraid or paranoid. After slipping out of the hospital where the military had him penned, Klaatu takes a room at a Washington, DC, area boarding house so he can study the human condition the way Jane Goodall studies chimpanzees.
Here he meets Helen Benson ( played marvelously by Patricia Neal) and Bobby (Billy Gray), a widow and her oh-so precocious son, who hit it off with Klaatu (masquerading as a Mr. Carpenter) right away - she because she needs a convenient baby-sitter and he because Carpenter has plenty of interesting and wild tales about science and nifty kid stuff like that.
While Bobby's showing Klaatu the sights of the US capital, they try to visit "the smartest man in the world" (Sam Jaffe) where Klaatu leaves a calling card guaranteed to pique the interest of the difficult-to-meet scientist. Jaffe's Professor Barnard agrees to host a meeting of the world's most influential people (other than politicians) and it looks as if Klaatu may finally get the world wide forum for his message that he insists is the only way he'll impart his words of wisdom.
But the military, aided by Helen's fiance (Hugh Marlowe), who are justifiably freaked out by a powerful demonstration Klaatu has given (at Barnard's suggestion) track down Klaatu and once again gun him down.
You can't keep a good alien down, though, and (with Helen's help) Klaatu's remains are rescued by his powerful robot Gort and he's resuscitated long enough to deliver his message - an ultimatum that mankind had better learn to live together or face extermination at the hands of the more civilized members of the galactic brotherhood (The message is basically "don't kill your neighbors or we'll kill you").
Michael Rennie is very good as Klaatu. He's warm and wryly amused by the foibles of the humans he finds around him. In fact, there isn't a bad performance here, but it's Edmund North's screenplay (based on the story "Farewell to the Master") that's the real star. It's intelligent, funny, and sobering all at the same time.
The Blu-ray disc is also very good. The 1080p picture shows its age for sure, but there are also times when it looks remarkably good, with very a nice sense of depth. The black and white, "full frame" picture is nice and sharp with good contrast. The aspect ratio is the film's original 4x3 which is as it should be. Thank goodness for non burn-in widescreen TV's these days!.
Audio is dts HD Master, and it sounds a little old - a bit shrill and thin compared to today's better soundtracks, but what can you do? But considering all that, the sound is fine.
Fox has included two never-before-seen, high-definition BD exclusive features: "Gort Command!," an arcade-style shooting gallery game and "Interactive Theremin: Create Your Own Score," where viewers can re-score the film's opening sequence. There's also an exclusive First Look At The New Movie The Day The Earth Stood Still Starring Keanu Reeves And Jennifer Connelly. We skipped this, not wanting to spoil the either version.
There's a feature on the Theremin, the weird electronic musical instrument used to such good effect by Bernard Herrman, the film's composer. And, with Interactive Theremin, you can create your own score. There's a commentary by Robert Wise and Nicholas Meyer, another byFilm & Music Historians John Morgan, Steven Smith, William Stromberg and Nick Redman, an iIsolated Score Track, he Day The Earth Stood StillMain Title Live Performance By Peter Pringle, The Making of The Day the Earth Stood Still and Decoding "Klaatu Barada Nikto": Science Fiction as Metaphor Featurette<.
And that ain't all! Fox also piles on A Brief History of Flying Saucers Featurette, The Astounding Harry Bates Featurette, Edmund North: The Man Who Made the Earth Stand Still Featurette, and tne new to disc Race To Oblivion: A Documentary Short Written And Produced By Edmund North and Farewell To The Master: A Reading By Jamieson K. Price Of The Original Harry Bates Short Story; (an audio only feature).
Fox isn't done yet: there's an Interactive Pressbook, Fox Movietonews from 1951, Original Theatrical Trailer & Teaser Trailer, Advertising Gallery, Behind-The Scenes Gallery, Portrait Gallery, Production Gallery, Spaceship Construction Blueprints, Shooting Script.
Whew!
So if you're a fan of "The Day the Earth Stood Still," this is the one to buy!
The Day the Earth Stood Still, from 20th Century Fox Home Video
92 min. 1080p (4x3) , dts HD Master Audio
Starring Michael Rennie, Patricia Neal
Produced by Julian Blaustein
Written by Edmund H. North, directed by Robert Wise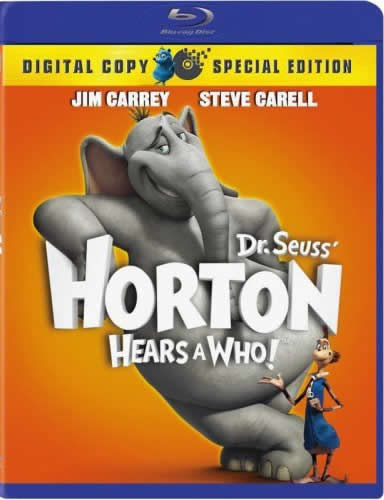 Horton Hears a Who on Blu-ray Disc
This was a pleasant surprise.
We figured going in that this movie would suck big time. Don't get us wrong; we love Dr. Seuss. Some of our best friends are Dr. Seuss.
Well, okay, but the original Chuck Jones/Dr. Seuss TV production starring Boris Karloff is a desert island disc. It soars with a joy that never gets old.
The DVD we have also included an old TV version of Horton Hears a Who. While it had its moments, it wasn't fit to be on the same disc as The Grinch. The live action Grinch didn't make the cut, either, and the live action Cat in the Hat looked so awful from the commercials we didn't want to see it. We had planned on avoiding this version of Horton, too.
Then we saw the trailer on another Fox Blu-ray we were reviewing. It looked like it might still suck, but the animation and the picture quality were breathtaking. And they sweetened the offer by using The Who's "Who Are You?" in the trailer. So when the disc came we slipped it into the old PS3 and fired it up.
It didn't suck. In fact, the story of the elephant who discovers a civilization (well, Whoville) that exists on a tiny speck of dust and even though he interacts with the people there - chiefly the mayor - he can't convince his peers that he isn't crazy, won us over. It's very Seussy and the entire film looks like a Dr. Seuss book brought to life. It's remarkable.
The animation is superb, giving us creatures that are solid and textured, and the Blu-ray 1080p high definition picture leaps off the screen. And the backgrounds look like 3D rendered Dr. Seuss.
The voice talent, which includes Jim Carrey, Steve Carell and Carol Burnett, do a very good job with the script, and the dts HD Master Audio soundtrack is as rich as the visuals.
It all combines to create a family movie that feels like classic Dr. Seuss. Well done!
The Blu-ray is presented in 1080p 1.85:1 and dts HD Master Audio.
BD bonus content includes exclusive special feature "Watch Horton Hears a Who! with a Who!" and a whole bunch of other stuff.
Babylon A.D. on Blu-ray disc
Vin Diesel stars in this "raw and uncut" version of the 2008 movie about a mercenary hired to spirit a spiritual girl out of a future Eastern Europe and get her to the Big Apple.
Here's how Fox describes it: "In the darkly futuristic world of Babylon A.D., the rules are simple: kill or be killed. Hard-hitting action superstar Vin Diesel (The Fast and the Furious, The Chronicles of Riddick), stars as Toorop, a ruthless mercenary hired to smuggle a mysterious young woman from the post-apocalyptic confines of Eastern Europe to the glittering megalopolis of New York City. Hunted at every turn, Toorop spirits his charge across a nightmarish wasteland only to uncover a shocking secret that will bring the entire world to its knees. Eye-popping action and mind-blowing science fiction clash head-on in this hard-edged thriller, where the only rule is survival."
Well, okay, that does describe the plot fairly well and it's an interesting flick with some interesting ideas and excellent production values. It has its share of clichés, unfortunately, such as the potential budding romance between Toorop and Aurora you just knew was going to happen – and it seems that one can't have a Hollywood movie these days without including some bashing of Big Business and Organized Religion, which this movie manages to do with one broad brush stroke that takes in both.
But if you can get past that, this isn't a bad 101 minutes in the home theater.
Diesel plays his part well, even showing some signs of emotion in the emotional finale. Michelle Yeoh, as Aurora's companion, is very compelling and Melanie Thierry is a believable and attractive "Virgin Mary."
There are times when the story grinds to a halt in favor of action sequences (not that we have anything against action) and the story seems more than a tad disjointed, making us wonder if there's actually a better 2.5 hour movie in here trying to get out.
The Babylon A.D. Digital Copy Special Edition is presented in 1080p widescreen (2.35:1 aspect ratio) and features 5.1 dts HD Master Audio – and both are fabulous. The picture quality is sharp and bright and clean, with pretty good depth and plenty of nuance. Audio quality is top notch, with all channels getting a nice workout and enough low frequency effects to make your heart thump. It envelops you in the action beautifully.
Fox has even thrown in D-Box motion code, for those who have those systems.
The package comes with a bonus Digital Copy disc as well as:
Babylon Babies –How author Maurice G. Dantec's novel went from page to screen
Arctic Escape – An inside look at the snow mobile chase
Fit For The Screen – A featurette about the martial arts and stunts of the film
Flight of the Hummers – The exciting Humvee chase is dissected
Genesis of Aurora – A graphic novel prequel to Babylon A.D.
There's also a stills gallery and BonusView BD features ("Scene Evolution" and "Commercials") and more.
Babylon A.D. won't go down in movie history as one of the great sci-fi epics, but it's an interesting and enjoyable flick nonetheless.
Babylon A.D., from 20th Century Fox Home Entertainment
101 min. 1080p widescreen (2.35:1), dts-HD Master Audio
Starring Vin Diesel, Michelle Yeoh, Melanie Thierry,
Screenplay by Mathieu Kassovitz and Eric Besnard, directed by Mathieu Kassovitz
The Pink Panther on Blu-ray disc
"When a star soccer coach is murdered and his priceless Pink Panther diamond stolen, France is in an uproar. Fortunately, Inspector Jacques Clouseau is on the case. He doesn't have a clue, but for Clouseau, that's just a minor detail. With his partner, Gilbert Ponton (Jean Reno), he careens from one misadventure to the next, leaving mayhem in his wake from the boulevards of Paris to the streets of New York.