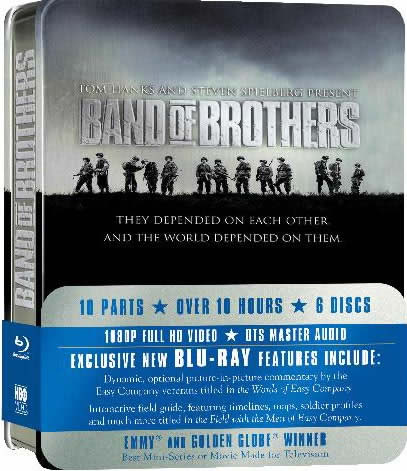 Band of Brothers on Blu-ray disc
By Jim Bray

An important historical drama, Tom Hanks and Steven Spielberg's miniseries version of Stephen E. Ambrose's book is as honest a look as Hollywood seems capable of at what it must have been like to be one of the heroes of the so-called "Greatest Generation."

The HBO miniseries, not surprisingly considering the Hanks/Spielberg connection, feels a lot like "Saving Private Ryan," except that Band of Brothers is better - if only because it's longer and therefore gives the audience a chance not only to get to know the characters better, but to better appreciate the hell through which these men willingly put themselves so we who follow wouldn't have to. And while "Private Ryan" only deals with D-Day and its immediate aftermath, Band of Brothers covers a longer period of World War II.

The story follows Easy Company of the Airborne, right from training camp to the end of the war. The grunts think they have it hard during basic training, with its forced marches and perceived unfair treatment - but it's nothing compared with what they're going to face when they parachute into harm's way in the wee hours of June 6, 1944. They, and the bomber crews we don't get to see in this series, are there to assist the massive invasion force that's about to land on the beaches of Normandy, and once that's done they're tasked with helping free the Western European countryside from Nazi forces.

It's ugly, it's brutal, it's graphic - and yet there are moments of surprising tenderness as we accompany Easy Company from the United States to England, to Normandy and through the Battle of the Bulge, the liberation of a concentration camp and the capture of Hitler's Eagle's Nest.

The ensemble cast is very good, and you really feel the bond between them as they march side by side into a hell they had no idea was waiting for them, yet from which they can't turn away.

This is an important series and needs to be seen.




The attention to detail is remarkable; the filmmakers have obviously done their best to be accurate, and it shows. If you want to find out just how accurate, pay attention to the supplemental materials.

Visually, Band of Brothers resembles quite closely the look of "Private Ryan," with its washed out color that gives it a realistic documentary look. The miniseries itself is presented in 1080p widescreen, 1.78:1, and the picture quality is very good indeed. While some of the more washed out-looking scenes don't benefit as much from the high def treatment as other sections do, overall this is a remarkably well presented work, with a high def picture that may leave you breathless.

Even more involving is the dts HD Master Audio soundtrack, the quality of which is frighteningly excellent. The filmmakers put you right into the middle of the action with their use of the surround and low frequency effects channels; the experience is not only riveting, but draining; our reviewer could only watch two episodes at a sitting because the experience was so intense.

The extras are just as good, for the most part. Best of them is on disc six, an 80 minute documentary "We Stand Alone Together: The Men of Easy Company," a heart-wrenching feature that interviews survivors of the real Easy Company (people played by actors in the series) and gives you their historical perspective. These are ordinary men who as youths were forced by circumstances to do extraordinary - and often very nasty - things. They, and their contemporaries, saved western civilization for the next half century, yet they remain to this day supremely ordinary men who never consider themselves to be the heroes they really are.

There's also another good documentary, the half hour "Making of" that gives some fascinating insight into the production and the producers, and their burning desire to do it right.

Each disc also contains a synopsis of its episodes as well as an interactive field guide you can bring up via the BD pop up menu that gives historical perspective of events leading up to World War II, maps, terminology guides, etc. There's also a picture in picture commentary with each episode "In the Words of Easy Company", performed by survivors of the real Easy Company.

The whole shebang comes in a metal case and it's a compelling presentation of a miniseries that should be required viewing in today's high schools and colleges. We'd recommend it for younger viewers, except that it's so graphic, in visuals, language and situation.

Band of Brothers, from HBO Home Video
705 min. 1080p widescreen (1.85:1), dts HD master audio surround


Jim Bray's columns are available from the TechnoFile Syndicate.