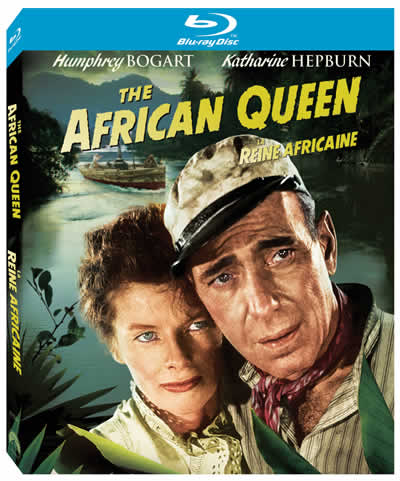 The Africa Queen on Blu-ray disc
John Huston's 1951 classic has never looked or sounded greater than it does on this high definition disc release, though the increased picture quality over previous video formats also works against it in places.

Humphrey Bogart, at this time late in his career (he died in 1957, of cancer), stars with Katharine Hepburn in this tale of an expatriate Canadian who runs the crummy old steamboat African Queen up and down a serpentine river in, naturally, Africa.

Bogart's Charlie Allnut is an unshaven, gin-loving boor - or so it seems - whose pleasant and solitary life gets turned upside down when he decides to help Christian missonary Rose Sayer (Hepburn) reach safety after the missionary she helped run was destroyed by German forces intent on bringing World War One to their doorstep. She's a prim and proper lady, though as it turns out she's also made of steel, and before Allnut knows what hit him he's taking her down the river – past rapids and waterfalls and leeches and other dangerous animals and people – to destroy the German boat that's now bent on keeping the area under the thumb of the invaders from Europe.

Thus begins a terrific adventure that pits Charlie and Rose against the forces of nature and human nature, testing them to their limits while also offering them the chance, albeit slight, to strike a blow for freedom in the dark continent, opening their own small front in "the war to end all wars."

And of course they also learn to respect, then like, then love each other in the process.

Filmed in Africa and featuring beautiful cinematography, the African Queen is a true classic, an adventure film the entire family can enjoy. It also features Oscar-winning performances from Bogart and Hepburn and similarly-honored direction from John Huston and writing from Huston and James Agee.

All are deserving. Hepburn and Bogart in particular play against type in their roles. Bogart, who was better known for such cynical roles as the ones he played in Casablanca, The Maltese Falcon and The Big Sleep eschews the usual Hollywood glamor in favor of grime and stubble, while the usually unabashed and "liberated" woman played by Hepburn is replaced by a prim and prudish (at least initially) God-fearing spinster who is very much a fish out of water when she takes to the, well, water.

Huston's decision to film the movie on location in Africa wouldn't cause a ripple of notice these days, but back then it was quite something. If you watch the documentary that accompanies the movie on this Blu-ray, you'll see the huge Technicolor cameras they used and, between them and all the rest of the equipment, the cast and crew, and everything else necessary to mount a major Hollywood picture, pulling it all off was a remarkable achievement.

Naturally, it wasn't all filmed in Africa, but there's enough that was to make the setting more believable – a tribute to Huston's vision and determination.

The exterior scenes that weren't shot in Africa really show up, thanks to the spectacular quality of the high definition Blu-ray format. This is the downside of such a great restoration and remastering, in which most of the scenes looks remarkably good for a movie nearly 60 years old.

Which brings us to the disc itself. Paramount's restoration is great for the most part. The disc is presented in 1080p at its original aspect ratio of 1.33:1 (the movie was made before widescreen became popular) and the image is usually razor sharp, with excellent contrast and colors. You can practically count the individual hairs in Bogart's stubble. Hepburn's solo shots come across as very soft – undoubtedly deliberately, but with this high resolution it sticks out like a sore thumb.

Since the film is in the "full frame" 1.33:1 aspect ratio, you'll get "keyholing", a set of black bars to the left and right of the image. This is as normal as the black bars above and below many  widescreen movies. It's a shame widescreen wasn't used back then, because the scenery in this exotic film would have looked really good in VistaVision or the like. Oh well.

Also obvious are the special effects shots, which undoubtedly used blue screens in the studio to help ensure the stars stayed safe and sound. But the matte lines and "blue spill" are really obvious here, which is a shame.

These aren't complaints, just observations; this is a great presentation overall and well worth your time. We watched the movie on a 106 inch LCD front projector and it looked really good.

The audio is unremarkable, which shouldn't be surprising from a film this old. It's presented in mono, so at least there's no fake stereo or surround (not that we  have a problem with enhanced sound as long as they do it well, but we prefer the original nearly every time).

There's only one supplement on the disc, but it's a good one. "Embracing Chaos: Making The African Queen" is about an hour long and uses surviving crew and cast members, along with others including directors Martin Scorsese and Nicholas Meyer, to tell the tale of the film's creation. It's fascinating – and it's shot in widescreen HD as well - and it looks great. We watched the documentary on a 50 inch plasma and the picture quality was everything you'd want it to be - the clips from the movie looking particularly outstanding.

These talking heads outline the production from pre to post, focusing mostly on the challenges of shooting in the middle of nowhere. We also get some interesting insight into the two main stars, producer Sam Spiegel and writer/director Huston as well, and it's very good stuff. It even touches on screenwriter  Peter Viertel's later novel based on the film, "White Hunter, Black Heart," which was eventually made into a very good film by Clint Eastwood.

The African Queen, from Paramount Home Entertainment
105 min. 1080p Full Frame (1.33:1), Dolby Digital mono
Starring Humphrey Bogart, Katharine Hepburn, Robert Morely, Peter Bull, Theodor Bikel
Produced by Sam Spiegel
Written by James Agee & John Huston (with Viertel), directed by John Huston.


Jim Bray's columns are available from the TechnoFile Syndicate.