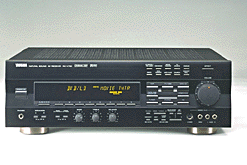 Yamaha RX-V793
Dolby Digital Receiver
By Les Enser
The race is on as electronic manufacturers speed towards lowering the price on Dolby Digital A/V receivers. As this continues, the era of Dolby Pro Logic is headed for the history books. It's beyond belief that prices can fall so quickly once the mass marketing technique is applied to an emerging technology such as Dolby Digital, which is only two to three years old and took some time to develop. C'est la vie, that life in the fast lane of home electronics.
Yamaha has taken this bold step by introducing their latest power priced receiver, yes with Dolby Digital for $799 U.S./ $1199 Cdn! It's a fully equipped unit with decent power output at 80 watts per channel x 5 and operates at 80 watts per side in stereo mode.
The box is somewhat more compact than the average mid-priced receiver, standing just 6 inches tall. The front panel is laid out logically with large function buttons next to the volume control with surround soundfield settings just above it. Just below the volume control are the standard RCA video and audio input jacks with the addition an "S video" input. Most of the receiver's functions are accessible from the front panel, along with Yamaha's unmistakable amber display. All functions can also be operated from the remote control via the TV monitor (on screen display).
One would think that Yamaha would cut a lot of corners to introduce a receiver with the latest in surround sound technology but they really thought things through with the RX-V793. For instance, instead of adding fancy features such as multiroom capabilities, Yamaha's designers included RCA outputs for all channels so that upgrading, such as adding external amplifiers, is not going to be a problem. You don't get the zillion video inputs found on more expensive units, but there is still enough for the average A/V user). Included are: phono, CD, tapes loop, DVD/laserdisc, VCR loop, TV/satellite plus the front inputs.
Accessing the rear of the receiver you will find the cheaper "clip on" speaker connectors for the center and surround channels but the more substantial binding posts are used for the front speakers. Yamaha even included a speaker "A" and "B" circuit, great for hooking up another set of speakers on the patio if one wanted to.
Digital audio inputs are confined to the DVD/laserdisc and TV/satellite settings, which of course is an integral part of the Dolby Digital surround experience. We should point out that the DVD input uses both co-axial (a single RCA connector for pure digital signal transfer) and optical input (special connector which transfers digital signals in the form of light). In turn the TV/satellite uses only a coaxial input, once again a wise corner cutting measure from Yamaha.
To keep the price from escalating, the designers also opted to leave out the S-video for everything except for the VCR loop and the monitor output. The only shortcoming of that is that if you wish to use the S-Video for a DVD or laserdisc you cannot mix the video and audio signals separately from one another. For example, if you wish to view your DVD through the S-video connection and listen to the Dolby Digital soundtrack at the same time through the RX-V793 you won't be able to. Yamaha could have added and extra digital input along with an S-connector but that would have added to the cost. A way around this is to run the S- video output from the DVD directly to the TV monitor, assuming you have an S input. This complicates switching a little but is not insurmountable; one could think of more difficult situations in life.
I hooked up the RX-V793 to the PSB Stratus Silvers (main left and right speakers) and PSB Stratus C-5 center channel speaker along with PSB ambient II rears; unfortunately no subwoofer was available at the time. I used a Pioneer combo DVD and laserdisc player, DVL700 and a Sony CDPC77ES CD player.
In regular stereo mode the RX-V793 seemed feisty enough, delivering good dynamics with clean bass. The music quality of this little receiver was quite impressive with very little amplifier noise. All in all I could not find any real shortcomings in its performance for general stereo listening and it seems this receiver would be a good match to just about any speaker system.
In Dolby Digital mode this little wonder also seemed impressive, with good detail, depth and smoothness. The soundfield generated was stable with pans (sound travelling from left, center, to the right speaker) and imaging kept in check. During "Spawn's" (DVD release) battle scenes, I at times had to duck to elude the bullets flying around my living room. I know that this may sound far-fetched but Dolby Digital opens a new realm of surround sound experience. This would certainly indicate that this receiver is first rate in delivering some outstanding surround sound effects.
Using the rest of the surround modes wasn't bad, but I feel at times that these modes are generally unnecessary since they can at times sound gimmicky. Besides, some of these modes just don't add to the purity of the music listening experience. Still, Yamaha's modes aren't too bad - I found the "Concert" setting useful in live music performances, which seemed to add just the right amount of delay in the rear speakers. Again there are enough surround settings to satisfy any taste if one likes to manipulate the original sound from a CD or anything else.
As far as the radio performance RX-V793 was no more than ordinary and exhibited good stereo sound from good strong radio signals. Once the station with a weaker signal was pulled in the stereo soundstage collapsed considerably but it kept noise and buzzing to a minimum. The tuner has plenty of presets, a total of forty with five group settings for different music stations. This allows you to group, say, classical stations together making access easier. In case you tend to doze off while listening to your favorite station you can even activate the sleep timer, which can be set in 30-minute increments.
I found the remote a nice touch; it's backlit for those dark home theatre rooms. The back lighting is achieved through luminance (absorbs and emits a green glow) that saves on battery power. The remote is relatively sophisticated and can be programmed for up to 13 different macros, more than enough for most cases. A flip door reveals all of the functions for tape deck, direct access key for TV/VCR, CD player, etc. Study of the manual is needed is one wants to get the full capabilities out of the remote, especially if you wish to teach it other manufacturer's functions. The way to perform this is to put the other manufacturer's remote head to head and match up the functions.
In summary, the RX-V793 is relatively easy to set up, and features excellent performance for a nice base price. As mentioned, there are some corners cut but they are fairly minor for the type of performance and price this receiver delivers. The surround and stereo this unit produces is well worth the tradeoffs. At this stage of the game, this unit just can't be beat for the price.
Hats off, Yamaha, for crossing the finish line at full speed.
Tech Spec:
Yamaha RX-V793
-Dolby Pro Logic, Dolby Digital and 11 other DSP programs
-Onscreen display
-Pre-outs for all Channels with Sub out
-Four audio and four video inputs
-Programmable remote (luminescent)
-Switchable impedance 4 to 8 ohms.
-40 station direct access preset tuning
-80 watts per channel times five
-Price $799 U.S./ $1199 Canadian