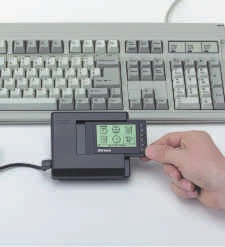 "REX - the Wonder PIM?"
Little Organizer for those with Limited Needs
By Jim Bray
In this day of Personal Information Managers that are basically miniature PC's, what can you do if you merely want a relatively cheap portable contact book and calendar?
You could try Xircom's $199 REX 5000 Pro, a PIM that's so small and handy you can carry it with you in a shirt pocket and still have room for your pens and handkerchief.
REX measures an incredible 3-3/8" x 2-1/8" x 1/4", which is about the same size as a credit card, though it's thicker, and it actually doubles as an honest to goodness PCMCIA card, so if your computer has such a slot you can jam it right in (well, slide it carefully) and exchange data that way.
If you don't have such a slot, REX comes with its own docking station that plugs into a vacant serial port.
Xircom claims that REX represents "the next-generation in ultra-portable technology." I don't know about that, but it sure works for people who don't want a PIM that does E-mail, word processing, and all the other overkill (I mean "value added") features that make Palms and Pocket PC's so flexible and pricey.
Despite its tiny size, REX can store thousands of names, phone numbers, appointments, notes, and "to-do's" with little to do. The data can also be synchronized with major personal information management programs like Microsoft Outlook, Symantec's ACT!, Lotus Organizer and online PIM's like Yahoo! Calendar and Excite Planner.
I use Outlook, for now, and REX downloaded my contact and calendar information with very little fuss, via the included TrueSync software. It didn't bring in all the notes I keep in Outlook, but neither has any other device I've tried (including other PIM software), so the problem may be in Outlook.
With such a tiny size you're going to sacrifice some usability, and I found REX's interface to be a mite frustrating at times. It's just too small to have any kind of decent keyboard (even a "virtual one" on the screen), so you have to scroll back and forth through letters and numbers, clicking the little button beside the screen to accept your choice.
It took a while to get used to accessing those tiny buttons, too. Oh, they worked fine, but it was weird learning to press 'em with the corner of a fingernail.
This scrolling and clicking can be particularly tedious, but Xircom has done its best to make REX as intuitive as possible by using tabs and menus whenever possible.
For instance, if you want to schedule a new event, a menu comes up offering you choices of "Event, Recurring Event, All-Day Event, Multi-Day Event, and Annual Event." You choose one and another menu pops up with choices like "Meeting," "Conference Call," "Presentation" etc. After a few more menus you can add the person with whom you're going to meet, either from your contact list or someone new.
This is an admittedly tiresome rigmarole, and I quickly learned it was far easier to plan my days ahead so I wouldn't have to use the interface. This turns the process into a relative snap, since you can do all you inputting at home on your PC's PIM, using your keyboard, then synchronize the data through the link without have to worry about hunting and pecking with your fingernail on REX.
Once you've figured that out, you can reserve the hunting and pecking for emergency additions that crop up, whereupon life with REX changes from being horrid to pleasurable.
Besides contacts and calendars, REX also has functions for keeping track of multiple To-Do lists, memos (with that "typing" caveat front and center) and a home/world clock with its own alarm.
Xircom says the pair of little lithium batteries should last about six months, and the whole unit carries a one year warranty.
You don't need a PC to use the REX, but you'd have to be some kind of nut to put yourself through that interface by choice if you don't have to.
Despite my angst over the interface, I have no suggestions as to how they could improve it besides having it read brain waves.
REX's size and shape limit the choices, but if you keep your wits about you and do your data entry at home, REX could just be the perfect PIM for those whose needs are limited.
Jim Bray's technology columns are distributed by the TechnoFILE and Mochila Syndicates. Copyright Jim Bray.