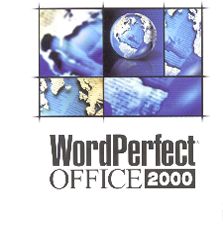 Corel WordPerfect Office 2000

Indulging Your Suite Tooth
by Jim Bray
Corel has decided to tread a different path from its main competitor in the Office suite wars.
While Microsoft is throwing everything but the kitchen sink into its new Office 2000 package, Corel's WordPerfect Office 2000 is more of a logical enhancement than anything else. Despite that, however, there are lots of welcome new features and benefits to this powerful package.
Though I was never a WordPerfect fan, Version 7 caused me to sit up and take notice - and Incarnation 8 was a lovely product that proved very hard to ignore. WPO 2000 continues that evolution, containing versions 9 of WordPerfect word processor, Quattro Pro spreadsheet, Corel Presentations 9, CorelCentral 9 PIM, Adobe Acrobat reader, and Trellix 2. Beefed up versions of the suite offer Paradox 9, Dragon NaturallySpeaking 3, Corel PrintOffice, and more.
Corel is concentrating on power and compatibility with this release, so users of earlier versions will find the new one looks and acts very familiar. In fact, WordPerfect's file format hasn't been changed since version 6.1, so all those old files will still work just fine with no conversion necessary - and there are so many other input/output filters that opening and/or saving to most competing applications shouldn't be a problem.
There are also some thoughtful touches that I wouldn't be surprised to see picked up by the competition, like "install-as-you-go," which lets you minimize the amount of sometimes-precious hard drive space the suite uses. You can choose to do a minimal installation, and if you later try to access something you didn't install the software will give you the opportunity to install it at that time.
What impressed me the most, however, was Corel's innovative "real time preview," which is a wonderful wrinkle that actually lets you see how your documents will look if you apply certain changes - before you actually make the changes.
For example, if you're working in WordPerfect and decide you want to change the font to "Arial" from "Times New Roman," you can rest your cursor over the new font in the drop down menu and the entire document will change to show you how it will look if you applied the font. If you like what you see, you click on the font normally and the document updates. If you don't like it, just move the cursor away and the document reverts to its previous look.
It's really slick
Corel has also beefed up the printing capabilities of WP, Presentations, and Central to make it easier to create things like books and posters. There's also an enhanced selection of shapes (like arrows, stars, etc.) and of course an abundance of fonts, clipart, and photos.
Perfect Words
WordPerfect's re-jigging includes an autoscroll feature that lets you navigate long documents quickly without using the arrow keys or scroll bar, kind of like using the wheel of an IntelliMouse-compatible pointing device without having to use the wheel.
A new print preview feature lets you look at single or double page previews so you can mess around with various formatting choices. You can still edit your masterpiece while in print preview mode, too, and it also gives you access to that nifty "real time preview."
Block Make It Fit lets you cram a section of your document into another section, without screwing up the formatting of other sections, and you can now embed your fonts directly into the document, so that what you see is what the reader gets even if that reader doesn't have the same fonts installed as you.
Sheet Disturber
Corel is really upping the spreadsheet ante with Quattro Pro 9. Not only can you now handle monster spreadsheets of a million rows, 18,278 columns, and 18,278 sheets, but you can work on Excel and 1-2-3 files as if you were in their native apps. Well, almost. While Corel says you can use toolbars and menus as if you were in the Microsoft products, the icons still have the WordPerfect look so there's still a learning cure. I wouldn't be surprised if the icon difference has something to do with copyright...
Toolbars, menus and shortcut keys are very customizable, and a new page break view lets you see how your spreadsheet will look printed out, excluding the white space you get in the WYSIWYG view, so you can adjust your page breaks before sending the document to the printer and discovering, much to your chagrin, that it doesn't fit.
There's also a new "formula marker," that puts a little blue triangle onto cells that contain formulas (making them easier for you to track down), and a formula composer lets you edit, create, and/or debug your formulas easily. Dynamic cross tabs reports lets you make summaries of data in cross-tabulated tables, and "SpeedFunctions" let you stick in functions you use all the time directly from the toolbar.
Powerful Points
Corel Presentations 9 has been redesigned to offer quicker and easier toolbar access to frequently-used features, as well as the abovementioned beefed up import/export capacity.
There are also new image tools - like brightness, watermark, and coloring book, for adding special effects to your slide show. A new Internet publisher gives step by step instructions on getting your show online, giving you control over parameters like page setup, layout, button styles, etc.
Central PIM
Corel says it has completely redesigned Central so it's easier to use and takes up fewer system resources than before. It includes a day planner, calendar, memo and card file functions, and address book. It can load whenever you boot up Windows (in fact, it defaults to this, unfortunately), making access a click away from your Windows taskbar.
There's also PalmPilot synchronization in Central.
Paradox, the database application, has also been retooled for Office 2000, but the version I tried didn't have it included.
Trellix is a web publishing tool designed for those who don't know much about html (and isn't that most of us?). It lets you share content ownership to various users - supposedly cutting down on the webmaster's work (though I'll believe that when I see it!). They say that Trellix lets you create, maintain, and update content easily. Its linking ability is designed to make it easy to create large documents that contain a lot of hyperlinks in them and converts standard pages designed for output on paper to online documents complete with navigation buttons, etc.
As mentioned, earlier users of WordPerfect Office will find the new version looks and feels very familiar, but the suite's more intuitive than before. Or mostly. I had difficulty finding an easy way to get a word count in WP, and couldn't figure out a nice way to put a button on the toolbar that would do it for me.
Still, other things - like the "shadow cursor" that lets you start typing anywhere on a page that you like, are wonderful Corel advances (that one's from version 8) that I'm surprised aren't being imitated more by the competition.
It's nice to see Corel concentrating on file compatibility, too. Unlike some companies, which regularly change their file formats - thus making it difficult to exchange files, even with users of earlier versions of the same software - Corel's continuation of old file formats (that still work fine) and beefing up of its import/export filters, makes life a little easier for everyone.
I also love Corel's "context sensitive toolbars," which change to give you different tools depending upon the task you're doing. This gives you the advantage of a whole pile of toolbars without taking up all your screen space.
In typical Corel tradition, there are also plenty of templates across the suite, and the whole package has a consistent look and feel that makes it more pleasant - and easier - to use. "Perfect Experts" can be set to appear beside the main window and offer you point and click help, kind of like having "Wizards" around all the time to bail you out when you bite off more application than you can chew.
There's also "Ask the Perfect Expert," with which you can type in a question and hope the onboard Help database has the answer. Like most "experts" that are included in software, however, it isn't nearly as smart as advertised and your "plain English" questions had better be darn specific if you expect the little Droid in your computer to understand what you're talking about.
Still, Corel WordPerfect Office 2000 is a nice package, and it offers a powerful set of tools for those who need them.
It's too bad this package gets overshadowed by Microsoft's Office suite because, while it definitely takes a different route to the same end, it's an excellent product that deserves its share of the limelight.