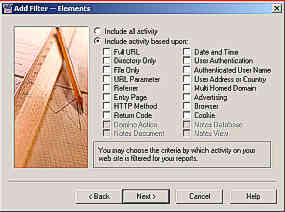 WebTrends Tracks Site Visitors
Trafficking on the Internet ...
By Jim Bray
If you have a Web site, and who doesn't these days, it's important to get usable data on who's surfing your site and where they're going. This is important not only to see how popular your site is, but to keep track of how it's being used and whether it's meeting your needs and goals.
One of the leading products to give you exactly that information is WebTrends, which has a variety of Web Analysis tools. Available as standalone products or in an online version whereby the WebTrends people do all the work for you, the products can let you track not only who's dropping by and where they're surfing, but how - or if - your ad clickthroughs are working, what streaming media people are taking advantage of, and plenty more.
Now in Version 7, the product analyzes the log files generated by your Internet or Intranet server and produces reports, complete with colourful graphs and well-laid-out tables, that give you the straight dope.
WebTrends lets you find out what pages people are visiting on your site, how long they're staying, and what paths they're taking in, through, and out of your site. It can not only show you how many people see your banner ads, but how many actually click on them, which lets you compare the quality of your visitors from one ad to another - which ad's working best? - while giving your advertisers the true dollar value of their advertisements – assuming you want them to know!
You can track visitors as "hits," "impressions" (in case Rich Little surfs by!), "page views" "unique visitors," and the like. This lets you see the difference between the total number of hits on your site - a misleading figure that also includes all the picture files a visitor sees on a page - the total number of HTML pages actually being viewed (and which ones they are), which and what percentage of your total traffic they generate. You can even find out when your site is the busiest and when it's slow, and from where your visitors are coming, including their domains if you use cookies on your site.
The product comes with a bunch of report templates built in and the setup is easy. Once you've installed the software, you merely direct it to the directory in which your web site's log file sits and give it the file name. It can even usually find the files on its own as long as you point it in the right direction.
From there, you tell it which type of report you want, set its parameters (for example, do you want a top ten list of pages or the top 100?), then let it chug away to its virtual heart's content.
The software is supposed to support all Web Servers and log file formats, as well as multiple domains and virtual web servers. It retrieves log files from http and/or ftp servers, and will save your report in a variety of file formats, including html, text, MS Word and Excel. We used the html format and found WebTrends' reports easy to read and, once we'd figured out what they were talking about, easy to understand.
And to help you understand what they're talking about, the product includes very good explanations.
You can even schedule WebTrends to log on and take your site's pulse automatically.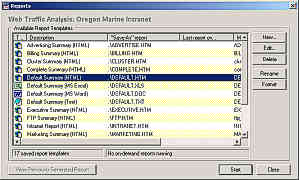 WebTrends works on web sites large and small though, naturally it takes a comparatively long time to pore over the log file from a big site as compared with more manageable ones.
WebTrends product line includes Log Analyzer, Analysis Suite Standard Edition, Analysis Suite Advanced Edition, and Analysis Suite Advanced Edition for Domino, different "strength" products aimed at different needs. The WebTrends people say the line is targeted toward the small to mid sized business, though it (or its complementary online service) should be able to handle just about any size of site.
The new version of the product features a new user interface that seems more intuitive than earlier versions we'd used. The company says the product's a lot faster than before, though we didn't time it. In our real world tests, it still seems to take forever for the analysis to be completed and the reports generated our site is very large, however), but it doesn't really matter because you don't have to sit and watch it work anyway; you can start it and go away.
The new version also lets you "fine tune" reports better than before (for instance you can customize the list of search engines it checks) and you can have the software compress its report to something manageable enough to send by E-mail, which is a nice touch.
There's also an optional database now, called GeoTrends, which you can use to help track visitors by city, state, region, etc.
WebTrends also lets you monitor your IP devices and services and can alert you via e-mail or pager whenever such a device stops responding. The company says it can also automatically recover failed services and devices, though we didn't actually try that.
You can use WebTrends to help keep your site up-to-date and free of errors by having it verify links, page sizes, and dates. You may already have other software to do such tasks (for example, Macromedia Dreamweaver will track your links), but it never hurts to have choices.
WebTrends' link analysis does more than just look for broken links, however. It also gives you a report with suggestions about how to improve your site (for instance, by adding page titles or "ALT" text to graphics), which is a nice touch if you don't mind being "virtually nagged."
WebTrends can also give you real-time analysis and reporting of your site's traffic, letting you access reports almost instantly. And you can set up more than one "profile," so if you're in charge of monitoring more than one site you can do it with the one application.
As if to sweeten the deal, WebTrends also offers periodic seminars in various areas. I attended one of these in my area and found it a very valuable morning spent; not only do you learn more about the product itself, but you can pick the brains of the WebTrends people at the same time. I highly recommend such a seminar if you have the opportunity.
Why is such a product necessary? Well, if you're going to have a Web site you might as well do it right, eh? And with the powerful and flexible reports you can get with WebTrends, you can actually improve your site's quality, performance and integrity by using WebTrends' Error and Performance reports. You can also use the product to analyze your streaming media content (if you have any), and to learn how fast (or slow) your site operates (if it's too slow, people aren't going to stick around).
As the Web becomes more commercial and more competitive, it's becoming more important to know what traffic your site is generating. WebTrends does a nice job of giving you information that's as up to date information as you want, in easy-to-read formats you can use to show your customers the bang for the buck they can expect from your operation.