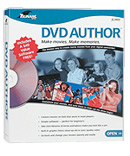 Tsunami Makes for Easy DVD Creation
By Jim Bray
Burning your own DVD's is becoming increasingly popular now that DVD burners have become affordable. There's an abundance of software packages on the market that can help you in the process of creation, and one of the easiest I've tried is the unfortunately named Tsunami MPEG DVD Author.
The company, Pegasys Inc., had the bad luck to announce this product just as the Tsunami disaster hit Asia during the Christmas season of 2004. I imagine they were hoping to make waves a different way, but what can you do? Despite the timing of the name, it's a decent product that offers a lot of power and flexibility.
DVD Author offers a step by step, button-based methodology for building your masterpiece. Once you've started your project you're ready to import the video files, and the software gives you two choices: import a file or open a DVD video. The second choice is meant for copying non-copyrighted material, for instance to make a copy or re-edit and reauthor a disc you or someone else made earlier.

I used this to remaster an old concert I recorded from TV many, many years ago that was never released on DVD. I had originally captured it to digital from a crummy old mono VHS cassette, but the machine I used at the time didn't have software like this Tsunami stuff (it was a standalone machine) and it added its own chapter stops arbitrarily. I wanted to change that so there'd be chapter stops for each song.
Enter Tsunami. After a couple of false starts where the software basically told me to get lost, I exited the program and fired it back up again, after which it worked just fine – so it could have been a Windows thing. I told DVD Author to open the DVD I'd made originally and then saved it to the PC's hard drive to speed things up (hard drives are generally faster than a CD or DVD drive).
Once captured, I went back in and zipped around the footage to find where I wanted to create the chapter stops. This was time consuming but not difficult. I found just the right frames to use for the chapter stops and added them, basically by pointing and clicking.
Once you've set your chapter stops you can create your own menu from a variety of themes you can edit. I liked the way you can choose a thumbnail image from each chapter you can use in the menu, though of course for a concert you basically get to choose from different shots of the band. Still, you can also type in your own text to label a chapter, which I did to create a menu organized by the songs in the performance.
You can also tell the software how you want your menu to operate; for example, if you want to go directly to a chapter menu as opposed to a main menu, and what you want the disc to do once it has played through (replay, return to the menu, etc.)
The job completed, I used Tsunami to burn it to a new DVD, and the result was just fine.
You can also start completely from scratch, assembling your own clips into a DVD disc, which I also tried with a variety of home movies I had collected over the years. DVD Author lets you edit the clips in the program, choosing your own start and end points, transitions and the like. This is great for cutting out crap you don't want saved for posterity. It can be time consuming, but it's easy enough to do, especially after you've messed with the program for a while and have gotten used to its ins and outs.
Here's a listing of some of the software's features:
• Create your own titles, transitions and menus with a library of buttons and artwork
• Import video from MPEG-1 or 2, AVI, DVD video or DVD-VR files;
• Import audio from MPEG-1 audio layer 2, Dolby Digital (AC-3), or WAV.
• High speed conversion from MPEG formats to .ifo & .VOB files
• Compatibility with TMPGEnc encoder series
• Home DVD-Video editing (IFO file)
• Stand-alone DVD-VR (VRO) authoring
• Motion Menu creation using movie clips
• Dolby Digital Audio (AC-3) support
• Workflow based interface
DVD Author lets you create a standard DVD format disc that should play on most DVD players. And as a bit of obsolescence proofing, it also offers DVD+R double layer support.
This isn't a program designed to let you pirate copyrighted movies, but if you have some non-copyrighted material (or material for which you own the copyright), it offers a lot of features and power with a quite user friendly interface.