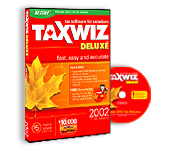 Tax Software Eases Filing Anxiety
by Jim Bray
(editor's note: this article refers to software aimed at the Canadian market)
It's tax time again.

Preparing your tax return is an annual ordeal that forces you to calculate how many kilos of flesh the various levels of government are going to extract from you this time. And with more than 80 changes to the regulations since last year even the initiated can expect some new wrinkles.
The good news is that computer software can ride to your rescue, turning hours of poring over arcane sheets and tables into a relatively painless experience.
The two main contenders for your after-tax dollars are Intuit's QuickTax family (starting at $24.95) and Taxamatic's TAXWIZ collection (starting at $9.95). Both offer a range of "less taxing" products including online versions that let you fill out and file your return using a Web Browser and the Internet.
Both products let you complete your return by filling in the virtual forms directly but, to make life easier for people who'd rather be torn apart by wild dogs than do their own taxes, both also offer fairly easy and reasonably "bozo proof" step-by-step methods that ease much of the pain.
TAXWIZ Deluxe (Windows CD or downloadable from www.taxwiz.ca), starts with a splash screen offering you choices that range from a Browser-like info source for first time users to the "interview" preparation method for beginners and other options for the more tax-savvy user. It also claims to import last year's QuickTax data.
The "newcomer" route begins with a little background advice and an admonishment to collect all your info together (T4's, receipts, RRSP contributions etc.) before sallying forth into the realm of the H and R bloc. You can screw up your courage with a rather dry video outlining all this stuff, or click "Taxes" and leap right into the fray.
Entering the data is fill-in-the-blanks easy and help is a click away. The Help system would be easier if every time the form says "check the guide" you could click there and link to the appropriate Guide section, but such isn't the case.
On the other hand, TAXWIZ Deluxe highlights many topics on the forms ("rental income" or "moving expenses," for instance) and if you click on them you're whisked to the appropriate help area. The program also uses those little yellow "tool tips" balloons periodically to offer advice.
And there's a "Whatif?" planner that uses sliding bars to estimate how the tax damage would change if you made more money, dumped more into RRSP's, etc. The booklet "Tax Tips for Canadians for Dummies" is included in the box, too.
The company also offers the $9.95 "TAXWIZ To Go" prepaid identity card available at such retailers as Esso, London Drugs and Future Shop. It's a way to complete up to two returns online without having to worry about your credit card's security.
QuickTax Deluxe ($34.95, Windows CD ROM) is littered with commercials for related features and products (including Live - but not free - Tax Advice: "Now you can speak to an accounting professional any time you have a tax question…"), but they're easy to click through quickly to get to the program's real meat.
The interface isn't quite as slick as TAXWIZ's, with its Help links, but it does include QuickTax' usual big red circles and arrows to point you to the right section of the screen, and many steps include their own video window offering dry advice for a particular topic.
QuickTax lets you import data from Quicken or QuickBooks, which is handy if you use those packages, and it offers some interesting advice along the way. For instance, it suggests you might benefit more from making a lump sum payment on your mortgage than from RRSP contributions; there's also an RRSP Wizard that helps you calculate your optimum contribution if you go that route.
The Deluxe version also comes with extras aimed at helping you ensure the tax person's reach doesn't exceed his grab, including RESP/retirement/loan planners and a capital gains analyzer.
QuickTax Deluxe also throws in "value added" optional features like "QuickRefund," which gets your money back to you (for a percentage of the refund) quicker'n you can say "Billion Dollar Boondoggle".
And there's an Internet-based version called QuickTax Web, where a single return can be prepared and filed for $19.95 (couples can do their returns for $24.95). There's also a $89.95 QuickTax version aimed at incorporated businesses.
On the whole, the CD-based QuickTax' new interface is inferior to its old one; it's still easy to use, but TAXWIZ has managed to close the gap between the two programs. Either one of these products will do the job just fine, however.
The CD-ROM-based TAXWIZ is less expensive than QuickTax, and you can do as many returns as necessary (QuickTax only allows five returns). On the other hand, QuickTax comes with extra extras and offers a Mac version.
Either package can let you do a straightforward tax return in little more than half an hour if you have your financial ducks collected into a row before starting. More complicated returns require more work, and more conscious thought, but the software does a good job of walking you through the ins and outs.
Both programs let you print out the return or Netfile it directly to that black hole in Ottawa.
Jim Bray's technology columns are distributed by the TechnoFILE and Mochila Syndicates. Copyright Jim Bray.