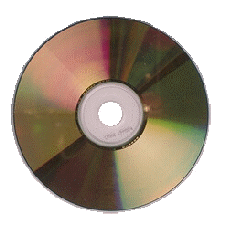 Superbit DVD's Arriving
New DVD Series Promises Better Audio, Video
by Jim Bray
As great as they are, and they're great, those DVD's you've been watching are getting competition.
Columbia Tristar Home Video, a branch of the Sony Corporation, has announced that starting this fall it's going to begin releasing a new series of "high end" DVD's that focus on disc quality rather than supplementary material.
The series, which debuts on October 9 with five initial titles, is called the "Superbit" collection and uses what the company says is a new encoding and reallocation process (whatever the heck that means!) to create what it claims will be the highest quality image and sound yet available on DVD.
Columbia Tristar Home Entertainment president Benjamin S. Feingold said in a press release that "The Superbit Collection will set a new benchmark in audio and video quality for the DVD format. This new process was developed by our outstanding group of engineers and technicians at the Sony Digital Studios and was designed to give consumers a choice between the highest quality audio and video transfer at a competitive price versus our standard, rich package of value added features."
Superbit DVD's take advantage of a special, high bit rate digital encoding process that optimizes video quality while offering consumers both DTS and Dolby Digital 5.1 audio on the disc. To me, this is good news; while CTHV has traditionally been one of the best exploiters of the DVD format, with its digitally mastered anamorphic widescreen releases, Dolby Digital 5.1 audio and (depending on the title) oodles of extra materials, the new collection sounds more like an audio/videophile's dream than a movie student's.
This is because, rather than piling on a whole bunch of extra materials such as directors' commentaries, documentaries and the like, they reallocate that disc space back to the movie itself.
Superbit DVDs can be encoded at double their normal bit rate, yielding (according to CTHV) outstanding picture quality that complements the performance of the new generations of progressive scan DVD players.
It obviously doesn't hurt for CTHV to be owned by one of the biggest and most innovative electronics companies around, where you can pick the brains of some pretty good engineers…
Mr. Feingold compares standard DVDs (the ones you see in stores right now) to fully loaded luxury automobiles, in that they're chock full of creature comforts, whereas the Superbit DVDs are like Formula One race cars - built for pure performance rather than convenience. "We believe that DVD enthusiasts will be thrilled with this exciting new concept," he says.
He could be right. I love all the special stuff on DVD's, but it isn't too often that I actually have time to go through them all, so what I end up doing is putting the discs back on my shelf, waiting for the day when I have time to go back and revisit them.
And while I'm constantly impressed with the video and audio quality of DVD's, if they can make them even better I'm all for it, even if it means losing the extra stuff. Besides, they can still include all the bonus material by releasing special, two disc Superbit titles - something that's already being done with conventional DVD's by most of the major studios.
The best part is that Sony promises the new DVD's will be fully compatible with the existing DVD video format, which means the discs will play in any DVD player already in stores or people's home theaters.
The first Superbit titles include the Oscar winning martial arts stunner "Crouching Tiger Hidden Dragon," "Johnny Mnemonic," "The Fifth Element," "Air Force One," and "Desperado." Columbia Tristar says the discs were put together by a team of Sony Pictures Digital Studios video, sound and mastering engineers and will come in a special package that includes a 4 page booklet of technical information on the Superbit process.
Each title will carry a suggested list price of $27.96, which seems quite reasonable.
I haven't seen the current DVD incarnations of all these discs, but I know that many stores and home videophiles already use "The Fifth Element" to show off their systems' quality, so I'm salivating at the prospect of trying an even better edition.
CTHV also promises that a Superbit 3-pack of "Crouching Tiger Hidden Dragon," "Desperado" and "The Fifth Element" will also be released, priced at $73.95.
Jim Bray's technology columns are distributed by the TechnoFILE and Mochila Syndicates. Copyright Jim Bray.