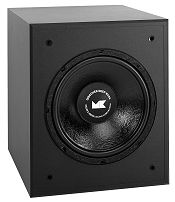 My Kingdom for a Subwoofer
M&K/PSB Subs Really Put Out
By Jim Bray
Note: TechnoFILE's M&K sample for this column was provided by K&W Audio of Calgary, Alberta.
I had always assumed my reference speakers had all the bass I'd ever need.
I was very wrong.
My audio epiphany came twofold, courtesy of subwoofers from Messers Miller, Kreisel and Barton, of M&K Sound and PSB Speakers, respectively – and I'm grateful.
M&K is well known in professional circles, and their $850 V-1250THX subwoofer is a beauty. As its name suggests, it's "THX certified," which means it's designed to reproduce the signal exactly as recorded in the studio.
I don't know about that (I wasn't invited to the recording sessions), but it sounds wonderful.
The 44 pound sub comes with a built in 125 watt power amplifier driving a 12" long-throw speaker. M&K says its "in room" frequency response is 20 - 125 Hz ± 3dB, which means it goes down to the limits of human hearing.
The V-1250THX is a sealed-box design and because the speaker driver itself is magnetically shielded, you can put it right next to your TV.
The rear panel controls are set up for THX and non-THX Dolby Digital systems. There's a switchable bass level control, and a phase switch. The THX setting basically hands control over to your THX-certified preamplifier/surround processor.
I liked this setting, which required no conscious thought (set it and forget it), and found I preferred it with much music, too - though not all.
The M&K comes with an attractive grille for the front panel, but the best performance in our room came by sticking the unit in a corner, aimed at the walls, which leaves the grille pointed away from you, exposing the rear panel and its protruding switches and the input jack.
It's kind of like being mooned…
The manufacturer's published specifications on the M&K V-1250THX are here.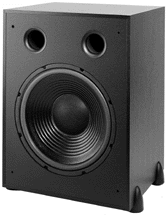 The $650 PSB Image SubSonic 6 isn't THX certified, and I don't think it's quite as good a sub as the M&K, but it's no slouch, either. Its "vented port" cabinet has a 12 inch driver, a 120 watts continuous and 440 watts peak amplifier and a frequency response that goes down to 25 Hz.
The SubSonic 6 has innumerable connectors and controllers on its buttocks, but the manual explains everything clearly and you end up marveling at the unit's flexibility. You can hook it directly to the "Sub Out" jack on your preamp/processor or receiver (if it has such), you can hook it between the preamp and amplifier, and you can even connect it directly to your speaker outputs, daisy chaining your speakers as if the SubSonic 6 were an unpowered subwoofer like those found in many "sub and satellite" speaker systems.
I hooked it directly to the "Sub Out" jack on a THX-certified preamp/processor, which, if you have the capability, is the preferred way to do it.
PSB recommends experimentation with the sub's placement and configuration, and after much fiddling I ended up plunking it near the TV, about two feet from the rear wall, with the speaker (and its covering grille) aimed into the room. I tried it in various places, of course, but once I'd tweaked to my heart's content I discovered I liked it best there. This also took advantage of the PSB's handsome grille, which wasn't wasted the same way the M&K's was (since it pointed away from the room).
Granted, the look of the subwoofer isn't the major consideration, but it's nice when everything works out.
The setup/calibration process is much more involved than the M&K's, and you'll probably end up tweaking it repeatedly over time, just because you can. Adjustments include "Sub volume" and "Sub Cut-off frequency" as well as "Phase."
The manufacturer's published specifications on the PSB Inage SubSonic 6 are here.
Listening to my "sub-enhanced" home theater (with either of these fine subwoofers) was an "ear opening" experience. Most of the time you never really know the sub's there or that it's working, which may make you wonder why you'd bother with it – but then a tympani is struck, a bass drum is kicked or an Imperial Star Destroyer comes into frame and it suddenly becomes very clear why that squat black box is sitting across the room from you.
You'll experience truly gut wrenching bass, when it's appropriate, as well as profound subtleties you may have never known were on your favorite CD. In short, it "fills out" the sound.
Since the low frequency (long wave length) signals aren't particularly directional, you don't need to worry about where to place the subwoofer nearly as much as you do for your "tweeters." You can stick it out of the way in a corner (as with the M&K), yet a bass guitar coming from a speaker on the opposite side of the room still sounds like it's emanating from the proper place.
It may sound like magic, but it works.
Now the only problem is convincing my wife that we can't go back to the old "pre-sub" ways.
Jim Bray's technology columns are distributed by the TechnoFILE and Mochila Syndicates. Copyright Jim Bray.
M&K V-1250THX Manufacturer's Specs:
Drivers: 12" long-throw MK350TV
Internal Amp Power: 125 watts RMS
In-Room Frequency Response: 20 - 125 Hz ± 3dB
Dimensions: 18" H x 15 1/4" W x 23" D
Weight: 44 lbs.
Suggested Retail Price: V-1250 THX in Black Lacquer Bead Finish $850 each
V-1250 THX in Black GLOSS Finish $950 each
PSB Image SubSonic 6 Manufacturer's Specs




Image SubSonic 6
FREQUENCY RANGE (Anechoic Chamber)
 Response
  On Axis @ 0° ±3 dB
  LF Cutoff (-10 dB)



25-150Hz
20Hz
SOUND
PRESSURE LEVEL
  Maximum @ 100Hz


110 dB
SENSITIVITY*
  Anechoic Chamber
  Listening Room

92 dB
94 dB
IMPEDANCE
  Nominal
  Minimum

4 Ohms
4 Ohms

AMPLIFIER POWER
  Continuous
  Dynamic
  Dynamic Peak
  Design


130 Watts
220 W
440 W
Class AB

ACOUSTIC DESIGN
  Woofer

12" (305mm)
Poly-coated Fiber Cone
Foam Surround
2" Voice-Coil

  Crossover
Variable 50Hz-150Hz
LR4

  Internal Volume
1.64 cu ft (45.9 liter)
  Design Type
Bass Reflex
2 x 2" Front Port

SIZE (W x H x D)
15"x19.37"x14.25"
381 x 492 x 362mm
WEIGHT
  Net
  Shipping

44 lbs (20.0Kg)/each
48 lbs (21.8Kg)/each
FINISH
Black Ash

FEATURES
  Controls


  Connections



  Other

Volume, Crossover,
Phase, On/Off,
Standby/Auto On
LL/LFE In&Outputs,
High Level Input and Output
Gold-plated RCAs,
5-way Binding Posts,
High Pass Filters
Horizontal or Vertical,
Feet

U.S. SUGGESTED PRICE
$649/each